Basketball Lineups Daily Fantasy
Expert Advice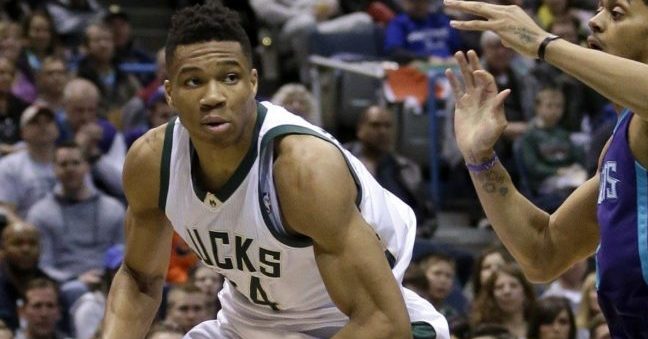 Daily Fantasy NBA Basketball Picks for FanDuel and DraftKings - 11/6/18
We've got four games on tap for Tuesday with some higher over/unders and very thin spreads. That could mean for shootouts across the board and there's plenty of value on both FanDuel and DraftKings.
Head on over a for your chance to get DFSR PRO, which will give you access to our NBA FanDuel and DraftKings optimizer, our NFL Optimizer, and our new player lab! Get started for free by clicking the button below.
First time with NBA or NFL? Be sure to read our free NBA and NFL Ebooks on building lineups, general strategy and more. We've got you completely covered.
Point Guard

Kemba Walker FD - $8800 DK - $9300
Opponent - ATL
Proj Pts FD - 44.08 DK - 45.58
Like we said in our breakdown of increases in drives to the basket for this season, Walker has definitely altered his game somewhat and is getting to the rack much more often. It's led to an increase in both usage rate and scoring where he's averaging 28 points per game on more than 20 shots a contest. He's also taking a boatload more three-pointers (10.4 per game, up from 7.5 last season). Walker is the go-to scorer in this offense and there's no doubt the Hornets intend to stick to the plan. He's seen something of a price decrease in the short term (especially on FanDuel) but is in a great spot against a very weak Atlanta team who are playing the fastest pace in the league at a bottom-third defensive efficiency. That's a perfect combination and we could see Walker as a chalk play on this slate.

John Wall FD - $10400 DK - $8800
Opponent - DAL
Proj Pts FD - 44.02 DK - 44.49
First off, I think he's a little expensive on FanDuel on an evening when you probably want to pay up for Giannis, but on DraftKings he's more than in play. Wall is struggling in two key areas to start the season. Though he's shooting more three-pointers per minute, he's only 28% from beyond the arc (37% last season). Also, the assists are way down. He's handing out 7.3 dimes per game compared to the 10 assists on lock over the last four seasons. I do think you see that number tick back up as the season rolls along and there's some chance Dwight Howard in the middle helps with some of the pick and roll stuff to the basket. This rates to be a close game with a higher (226) over/under and Wall is clearly a DK play.
Isaiah Canaan FD - $3900 DK - $3800
Opponent - BKN
Proj Pts FD - 26.62 DK - 27.59
Canaan is still locked into the Suns' starting point guard role and coming very cheap on both sites. He's playing north of 30 minutes a game and though he isn't going to see a ton of usage in this offense because of Devin Booker, there are enough minutes to hit value at these prices. The assist numbers are a bit low considering the PG tag, but he just does just enough across the box score to warrant punt play consideration. The Nets don't defend the position all that well, especially when they're starting Russell. Again, this is mostly a minutes and price thing.
Shooting Guard

Devin Booker FD - $7800 DK - $8200
Opponent - BKN
Proj Pts FD - 39.29 DK - 41.72
This game come is with a 219 over/under and a pick'em in Phoenix. So while sometimes we need to build in the possibility of the Suns getting blown out, that isn't as bit a worry for this matchup. Booker's dealt with some injury issues this season, but when on the court he's resumed his big usage ways. The three-point shooting is a bit under his career averages (35%, 38% last season) but his overall FG% is up thanks to more drives to the basket in the early going. The Nets are playing slower this season (4th slowest pace in the league) but are still one of the worst in terms of defensive efficiency. It still rates as a quality matchup for Booker and he's a great deal on FanDuel.
Kent Bazemore FD - $6400 DK - $5900
Opponent - CHA
Proj Pts FD - 31.66 DK - 31.75
The Hawks can't really be totally trusted on the minutes front and will often just play the starters limited minutes because, well they are the Hawks and they aren't all that interested in winning games at this point. He had seen a steady string of 30-minute games, but over the last two the Hawks got blown out by the Kings and played the bench most of the game against the Heat. But with Taurean Prince on the shelf, I do think we can *trust* Baze in this matchup. He's shot better from the field this season (49%) and has rebounded at a slightly better rate as well. There are games when he can pile on the defensive stats and I do think they'll want to front Kemba Walker with him some on Tuesday.
As for some other shooting guard options, I think we are still buying relatively low on C.J. McCollum. And Bradley Beal is coming way, way too cheap on DraftKings.
Small Forward

Giannis Antetokounmpo FD - $11800 DK - $12600
Opponent - POR
Proj Pts FD - 60.39 DK - 61.52
I mean, this is about as an easy a guy to write up as there in basketball right now. Giannis has started the season by instantly inserting himself into the MVP discussion and has the Bucks at 8-1 in the early going. And oh, the stats. My goodness. ABC is putting up some video game s@#$ right now with 26 points, 14 rebounds and six assists in five minutes less per game than he played last season. He's 10th in scoring, fourth in rebounds and imagine what will happen when/ if Giannis starts playing really high leverage minutes. The Bucks really haven't had to over-extend him to start the season because they've won a lot of games going away. This is a tougher matchup against the Blazers, but their personnel doesn't line up anyone who can realistically matchup with ABC (few teams do). He's expensive for sure, but definitely worth paying up for on shorter Tuesday slate.

Trevor Ariza FD - $5000 DK - $4900
Opponent - BKN
Proj Pts FD - 24.86 DK - 24.92
One noticeable difference in Ariza's game this season on the Suns as compared to his time with the Rockets is that, from a fantasy perspective, he's contributing much more across the box score. The scoring is just about the same even though he's shooting below his career averages in three-point efficiency. The big change comes in the form of an uptick in rebounds (about one more board per game) and a big jump in assists (3.8 per game, more than double the 1.6 per game average from last year). If TJ Warren sits again, there should be even more minutes for Ariza, but even if the Suns are fully healthy I see him as a fantastic cash game value.
After these two guys, it's a bit tougher to find the small forward value on this shorter slate. I want to trust Nicolas Batum in a pace-up, defense down matchup against the Hawks, but the dude's performance has been all over the map. It doesn't help him that Kemba's taking all of the shots this season. But he still does contribute across a number of different areas of the box score and won't break the bank on salary.
Power Forward

Ryan Anderson FD - $3500 DK - $3200
Opponent - BKN
Proj Pts FD - 21.73 DK - 22.93
For starters, PF is a nightly crapshoot on FanDuel where you have to roster two of these losers. It often means either paying all the way up for a superstar (none on this slate) or completely punting it away (likely to be the strategy on Tuesday). This play is contingent on TJ Warren sitting again on Tuesday. It's worth noting that Anderson's biggest struggle has been from his single best skill. He's shooting crazy bad from beyond the arc at 25% and I do think even moderate regression could see him crushing value on these prices. He's still putting up the shots (more than 3 per game) and this is a guy who's shot 38% for his career. The per minute rebounding rate is still there and we are getting him at the absolute minimums.

Markieff Morris FD - $5300 DK - $5300
Opponent - DAL
Proj Pts FD - 25.95 DK - 26.45
Again, this is more about not wanting to spend any money at the position on FanDuel and simultaneously not wanting go just take an auto-0 from one of the many losers you have to choose from. From a defensive perspective, Markieff is helped with having Dwight Howard back because he won't be called on as much to body up with opposing bigs. I'm bullish on the Wiz, in general, moving forward considering they've had some weird game logs and have too much talent to continue struggling the way they've been. That being said, 'Kieff is here mostly because the position sucks so bad on FanDuel and making reasonable cases for a bunch of guys really isn't all that easy.
Other guys you can consider at power forward all require caveats. Rondae Hollis-Jefferson would be in play if he could hit the starting lineup and/or just get in there for consistent minutes. Since coming back from injury he hasn't been able to crack the starting five. Omari Spellman started last game for the Hawks, but that didn't end up meaning much. He's still coming cheap and could be a punt play if he starts again and is able to stay on the court.
Center

Dwight Howard FD - $6800 DK - $6100
Opponent - DAL
Proj Pts FD - 33.49 DK - 34.84
He's been in a Wiz uniform for two games now and is already starting to do Dwight Howard things. Sure, he doesn't really make the team a whole hell of a lot better, but there's definitely fantasy implications for the big guy getting minutes. He double-doubled last game against the Knicks with 10 points and 10 rebounds. And the game before he went 20 points and three rebounds in only 23 minutes in a blowout loss to the Thunder. On Tuesday he'll get a Dallas team, who as we mentioned, isn't playing much in the way of defense this season and has DeAndre Jordan who's more flair than anything close to a block post defender. I'm all over Howard for cash in this game and think he realizes big minutes at a mid-tier price.

Deandre Ayton FD - $8500 DK - $7500
Opponent - BKN
Proj Pts FD - 41.68 DK - 43.81
He's struggling to find consistency on a game-by-game basis, but there's no doubt this dude has big upside games in his repertoire. Hell, against Toronto he went for 17 points and 18 rebounds and against OKC there was a 16 point, 11 rebound game. And last game, against Memphis, when the scoring and rebounding weren't there, he managed three steals and two blocks. This is all to say, when it all gets put together we could be staring down some monsters for Ayton. The Nets are once again struggling to defend the interior and have no one with anything close to the size to deal with the Suns' first pick in the draft. He's a fantastic play on DraftKings.
GRAB A FREE TRIAL OF OUR PROJECTION SYSTEM, AND CHECK OUT DFSR PRO!
FREE EBOOK
SECRETS TO CRUSHING DAILY FANTASY FOOTBALL!
DON'T SET ANOTHER LINEUP BEFORE YOU READ THIS BOOK.