Nascar picks Daily Fantasy
Expert Advice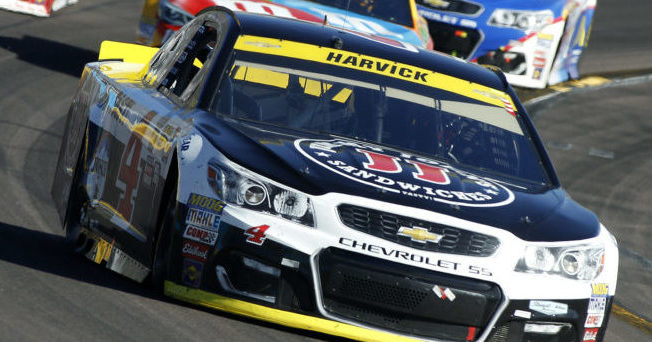 Daily Fantasy NASCAR Race Preview & Picks for DraftKings - Can-Am 500
DFSR is proud to bring you Chris Durell. He'll be bringing weekly NASCAR picks, analysis, and a FREE cheatsheet to help you cash on DraftKings.
Now's your chance to get DFSR PRO, which will give you access to our MLB optimizer and our new player lab! Get started for free by clicking the button below.
First time with MLB? Be sure to read our free MLB Ebooks on building lineups, general strategy and more. We've got you completely covered.
Can-Am 500
ISM Raceway - Avondale, AZ
Track - 1 Mile Tri-Oval

The final elimination race before the finale at Homestead is finally here and everything is on the line for the seven drivers not locked in. That is right, Kevin Harvick won in dominating fashion last week at Texas but was hit with a huge L1 penalty after NASCAR found their spoiler to be illegal. Like the rule or not, he was stripped of the benefits of the win and was docked 40 points leaving him just three points above the cutline going into Sunday's race.
That race will take place at ISM Raceway in Avondale, Arizona this week but won't be like any other race held there before as the track was reconstructed after the Spring race. Turns 1 and 2 are now turns 3 and 4 with the start/finish line moved to the other side of the track right before the dogleg. This will produce some crazy restarts with drivers going four and five wide as we saw in the truck race on Friday night.
From a fantasy perspective, dominator will be key to constructing the core of our lineup. There has been one driver to lead 100 or more of the 312 laps in each of the last six races and two or more drivers to lead 50 or more laps in five straight here at Phoenix. With that in mind, let's take a look at some of the track trends and top drivers to target going into the race.
Last Six Winners at ISM Raceway
Kevin Harvick(started 10th)
Matt Kenseth(started 7th)
Ryan Newman(started 22nd)
Joey Logano(started 4th)
Kevin Harvick(started 18th)
Dale Earnhardt Jr.(started 3rd)
Top 5 Current Track History at ISM Raceway

Bad news for Kevin Harvick, his win from last week doesn't give him an automatic bid into the finals. The good news is that he returns to a track in ISM Raceway in which he has dominated lately with two wins(2018, 2016), four Top 10's and has finished each of the last five races inside the Top 10. While Kyle Busch doesn't have a win here in that time, he has been just as consistent with four Top 5's, five Top 10's and leads all drivers with 317 laps. After those two, Chase Elliott, Erik Jones, and Alex Bowman are the only other three drivers with a sub 10.0 average finish in the last five races. Joey Logano, Matt Kenseth, and Ryan Newman have the other three wins in the last five races but have not been nearly as consistent.
Top 5 Career Track History at ISM Raceway
Not only has Kevin Harvick dominated lately, but he has also dominated over the entire course of his career leading all active drivers with nine wins a 9.5 career average finish and 1,522 laps led. Jimmie Johnson has struggled here at ISM Raceway recently with just two Top 10's in his last eight races but sits second among active drivers with four wins which all cam in a short period from November 2007 to November 2009. Matt Kenseth and Ryan Newman are the only other two active drivers with multiple wins here with Newman leading the way with 10 Top 5's but Kenseth holding the slight edge with a 16.6 career average finish. Five other drivers have a win here and teammates Kyle Busch(11.9) and Denny Hamlin(11.5) have been the most consistent when looking at career average finishes.
Top 5 Current Track Type History(One-Mile Intermediate)

All three of the one-mile tracks are different with New Hampshire drawing the closest comparison in the flat category in terms of banking. For this reason, I will be weighing track type a little less this week but it is worth noting that Stewart-Haas has been very good this season on these tracks. Kevin Harvick won the Spring Phoenix race, the Spring Dover race and the New Hampshire race in July and followed that up with a 6th in Dover in October. Kurt Busch hasn't won on the track type in 2018 but has finished each of the four races inside the Top 10 with two Top 5's. Aric Almirola finished 7th here in the Spring and hasn't finished worse than 13th in the four races. After those three teammates, Chase Elliott stands out with a 3rd here in the Spring, 12th at the first Dover race, 5th at New Hampshire and picked up the win at the second Dover race. Kyle Busch sits fifth but only because of a crash and 35th place finish at the first Dover race as he finished 8th or better in the other four races.
Top 5 Current Form (Last Six Races)

After a third-place finish last week at Texas, Joey Logano continues to dominate the form ranks with six straight Top 10's and leads all drivers with seven Top 10's in the eight playoff races. Chase Elliott has flashed a ton of upside in these playoffs with two wins(Dover, Kansas) and six Top 10's but unfortunately also has two finishes outside the Top 30(Las Vegas, Talladega) putting him behind the 8-ball going into Sunday sitting 17 points behind Harvick on the bubble. Kurt Busch has four Top 10's in his last six races in the playoffs and Aric Almirola has three but also has the win at Talladega.
Top Targets
Kevin Harvick
Like I mentioned above, Harvick has absolutely dominated here at ISM Raceway with nine career wins including seven of them coming in the last 12 races. He comes with a premium price but will start on the pole on Sunday and have a great shot at leading the most laps and to top it off he needs a strong effort to hold the drivers below the cutline.
Chase Elliott
If I had to pick one driver outside the "Big 3" who I thought could win and upset the standings and Championship Four outlook it would be Chase Elliot. After finishing 17th here in his first trip in the Cup Series, he has reeled off four straight finishes of 7th or better including a third-place finish here in the Spring. He will also be starting on the front row beside Harvick and is a strong candidate to lead 50+ laps.
Erik Jones
It is an even smaller sample size but Erik Jones has been very consistent here with four finishes of 11th or better here at ISM Raceway. He was eliminated after the first round of the playoffs but has been very consistent since with four Top 10's in his last five races with three Top 5's. I don't expect him to win the race but should be able to do enough to pay off his mid-tier price range.
Below you will find a copy of my DFS NASCAR cheathsheet which includes Track History, Current Form, DraftKings points averages, Track Type History, Practice/Qualifying Ranks and much more.

Chris Durell has been playing Daily Fantasy Sports for four years and fantasy in general for more than a decade. He is an active player in NFL, MLB, NHL, PGA, and of course NASCAR. He lives in Saskatchewan, Canada with his wife and two daughters. You can follow him on Twitter at @jager_bombs9 for advice, strategy, answers to any NASCAR questions or how he copes with the winters up north.
FREE EBOOK
SECRETS TO CRUSHING DAILY FANTASY FOOTBALL!
DON'T SET ANOTHER LINEUP BEFORE YOU READ THIS BOOK.