Nascar picks Daily Fantasy
Expert Advice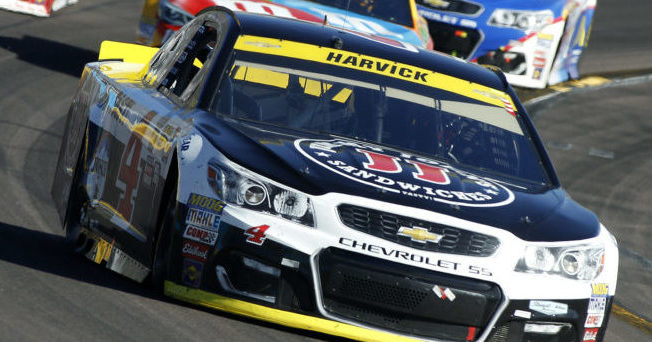 Daily Fantasy NASCAR Race Preview & Picks for DraftKings - Ford EcoBoost 400
DFSR is proud to bring you Chris Durell. He'll be bringing weekly NASCAR picks, analysis, and a FREE cheatsheet to help you cash on DraftKings.
Now's your chance to get DFSR PRO, which will give you access to our MLB optimizer and our new player lab! Get started for free by clicking the button below.
First time with MLB? Be sure to read our free MLB Ebooks on building lineups, general strategy and more. We've got you completely covered.
Ford EcoBoost 400
Homestead-Miami Speedway - Homestead, FL
Track - 1.5 Mile Oval Intermediate

After 35 races and nine long months, the championship weekend is finally here. As everyone expected throughout the season, the "Big 3" of Kyle Busch, Kevin Harvick, and Martin Truex Jr. made the final four like last season and this time around Joey Logano replaces teammate Brad Keselowski with the final spot. All four are definitely deserving with multiple wins each and combined for 22 wins in the 35 races(63%) thus far. On top of that, they finished first through fourth in laps led, average finish, and for us in fantasy first through fourth in average fantasy scoring.
As always the final race of the season will take place at Homestead-Miami Speedway which always produces excellent racing with its multiple lines and an abrasive surface which wears tires quickly and makes for some crucial pit stop planning. While it is not necessary for the eventual champion to win the race(just has to finish better than the other three drivers), each of the last four champions has won here at Homestead.
For fantasy, it is the 12th race on a mile and a half track in 2018 and while Homestead is different from the others, it is still very important to look at the form on this specific track type. There are 267 laps in the race and looking at the last six races here there has been one driver lead 100 or more laps in five of those races putting dominator points at the top of the list. As always, qualifying determines how important place differential is and looking back there has been five or more drivers pick up double-digit PD in five of the last six races as well. With all that said, let's take a look at some of the top trends heading into championship weekend and then some of the top drivers to target in your fantasy lineups.
Last Six Winners at Homestead
Martin Truex Jr.(started 2nd)
Jimmie Johnson(started 14th)
Kyle Busch(started 3rd)
Kevin Harvick(started 5th)
Denny Hamlin(5th)
Jeff Gordon(started 15th)
Top 5 Current Track History at Homestead

Martin Truex Jr. and Jimmie Johnson have won the last two races here at Homestead but haven't been the most consistent. That honor goes to Kyle Larson who hasn't been a part of the final four but has back to back Top 3 finishes here and may have had the fastest car a year ago but let Truex and Busch battle it out on the final laps. Kevin Harvick has been equally as consistent with back to back Top 5's here and led 79 laps from the pole in 2016. Championship drivers Kyle Busch and Joey Logano are up next with both having a Top 5 and two Top 10's here at Homestead. Rounding out the Top 5 is a driver in Matt Kenseth who is likely in his final race and comes back with a 7th and 8th place finish the last two years.
Top 5 Career Track History at Homestead
Looking at the career numbers here at Homestead, no driver has been as impressive than Kevin Harvick who has a win, nine Top 5's, and 15 Top 10 finishes in 17 career races. Kyle Larson in a much smaller sample size has also been very impressive here and after a 15th and 13th place finish in his first two races here at Homestead has finished Top 5 in three straight. Look out for the #42 to be a spoiler on Sunday. Chase Elliott has only raced here twice with a mix of results finishing 5th in 2016 and 18th last year. Denny Hamlin is the only active driver with multiple wins here and has nine Top 10 finishes in 13 races. Martin Truex Jr. picked up his first career win here a year ago and it was huge as it clinched him the championship. He has also been consistent here throughout his career with eight Top 10's in 13 career races for an 11.5 average finish.
Top 5 Current Track Type History(Intermediate)
Looking at the performances on the mile and half tracks in 2018, Kevin Harvick leads the way with four wins and 867 laps which is good for an average of 76.1 DraftKings points per race. Of the Top 5 drivers listed above, he has the worst average finish, however, as he finished 39th at Las Vegas and 40th at Charlotte. The most consistent driver on the track type this year has been Kyle Busch who has three wins, 10 Top 10's, 572 laps led and a 5.4 average finish in the 11 races. That is more than enough to put him #1 in FanDuel scoring and the driver to average over 70 points per race. Kyle Larson is the only driver in this group who has not won a race this season but has been a fantasy stud on mile and a half tracks with seven Top 5's, 10 Top 10's, and 472 laps led in the 11 races. After dominating the track type a year ago en route to a championship, Martin Truex Jr. has just one win this season(Kentucky) but 10 finishes of 11th or better with 320 laps led. Brad Keselowski closes out the Top 5 in this category with back to back wins at Darlington and Las Vegas and also finished Top 10 in eight of the 11 races.
Top 5 Current Form (Playoffs)

Instead of looking at the last six races form this week I decided to take a look at the form over the course of the playoffs. Maybe the most surprising thing to some is that Aric Almirola leads the way with an 8.6 average finish in the nine races but unfortunately for the #10 team he just missed the final four with a 4th place finish at ISM Raceway last week. Joey Logano and Martin Turex Jr. are a close 2nd and 3rd and the only two other drivers with a sub 10.0 average finish in the playoffs but Logano has the slight edge with a win while also leading all drivers with five Top 5's and seven Top 10's. Truex was one turn away from a win at both the Charlotte Roval and Martinsville but was edged out of the way both times. Kyle Busch is the only driver in the championship four with multiple wins(Phoenix, Richmond) in the playoffs and is one of just four drivers with at least four Top 5's. Kyle Larson rounds out the Top 5 in playoff form after back to back Top 5's at ISM Raceway and Texas and has four Top 5's in the nine races.
Post Qualifying Targets
Kevin Harvick/Kyle Busch
They both come into this championship race with eight wins and I will be building 100% of my lineups around them(not necessarily together). They have also combined for seven of the 11 races on mile and a half tracks and both have won here at Homestead to lock down a championship in the last four years. Kyle gives us the best chance to lead laps starting second and Harvick gives us some place differential upside starting 12th. What I will likely do is build a lineup with Harvick who is more expensive on both sites then duplicate that lineup with Busch doign this several times over.
Kyle Larson
If you think there is a chance a non-playoff driver could win here at Homestead and break the four-year streak, look no further than Kyle Larson. He has three straight Top 5 finishes here and is a driver who loves running the high line right against the wall and that works very well here. He also qualified 11th which gives him some place differential upside on top of his discounted price at the bottom of the top tier.
Austin Dillon
I would have preferred if Dillon had qualified further back in the field this week(starting 16th) but that may just help with his overall ownership for GPP formats. The good news is that he returns to Homestead with three straight Top 15 finishes.
Jamie McMurray
Jamie McMurray is most definitely on my value radar this weekend for a couple reasons starting with his price and place differential upside as he will start 21st. He has finished better than that starting position here at Homestead in four straight eight of his last 10 trips with three Top 10 finishes. Stay tuned for final practice but at his price, he is an excellent target in all formats.
Below you will find a copy of my DFS NASCAR cheathsheet which includes Track History, Current Form, DraftKings points averages, Track Type History, Practice/Qualifying Ranks and much more.

Chris Durell has been playing Daily Fantasy Sports for four years and fantasy in general for more than a decade. He is an active player in NFL, MLB, NHL, PGA, and of course NASCAR. He lives in Saskatchewan, Canada with his wife and two daughters. You can follow him on Twitter at @jager_bombs9 for advice, strategy, answers to any NASCAR questions or how he copes with the winters up north.
FREE EBOOK
SECRETS TO CRUSHING DAILY FANTASY FOOTBALL!
DON'T SET ANOTHER LINEUP BEFORE YOU READ THIS BOOK.