featured Daily Fantasy
Expert Advice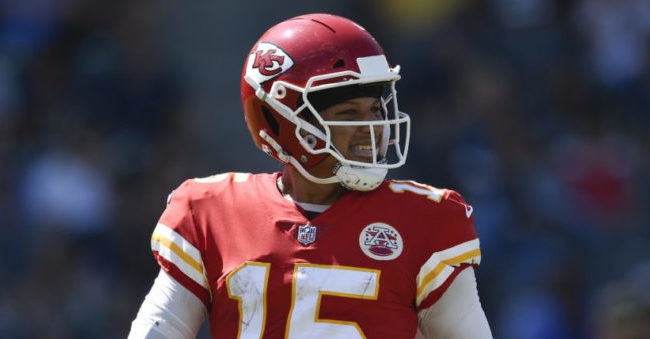 Daily Fantasy Football Cash Game Picks for FanDuel and DraftKings Week 13
Now's your chance to get DFSR PRO, which will give you access to our NFL optimizer for FanDuel and DraftKings, our MLB Optimizer, and our NFL Player Lab! Get started for free by clicking the button below.
First time with NFL? Be sure to read our free MLB and NFL Ebooks on building lineups, general strategy and more. We've got you completely covered.
Quarterback

Patrick Mahomes FD 9500 DK 7600
Opponent OAK
Proj Points FD - 26.46 DK - 27.04
Will this mark the first week where we recommend Patrick Mahomes for cash games? It just might be. The Chiefs' young superstar is the undisputed king of the position this season, and it would take an act of God for anyone to catch him in the race for most fantasy points at the position. He's fully 40 (forty!) fantasy points ahead of Drew Brees for the top spot, and this match-up with Oakland should only extend his lead. The Raiders rank dead last in the NFL in terms of yards per attempt allowed, and now they are supposed to face the league's best passing attack? Best of luck, my dudes. The only issue with Mahomes, as always, is the price. There is a lot of value at other positions this week, so running Mahomes out there is a real possibility, and it will probably be the only time we recommend considering a QB at this price tag for the rest of the season.

Jameis Winston FD 7500 DK 6000
Opponent CAR
Proj Points FD - 22.3 DK - 22.3
Realistically, we'll probably end up going just a hair cheaper at quarterback this week. About 20% of the field took a chance on Jameis last week after he looked promising in taking over for Fitzpatrick in the Giants game, and he rewarded them with a 23 fantasy point performance on a very reasonable price tag. Winston is still a threat to take off on the ground, but real story of his 2018 campaign is his accuracy. His 67.8% completion rate is a full 4 points higher than his previous best, and he's improved his accuracy in every season since he came up. He seems to reliably be able to hook up with even his low efficiency receivers (like Evans), and the Bucs appear to have the tools to sustain this offensive production. The Panthers have been a slightly above average match-up for opposing quarterbacks this season, and the Bucs have a healthy 26.25 implied total in spite of being 3 points underdogs. I think we can confidently trot Winston out there once again.

Lamar Jackson FD 7500 DK 5900
Opponent ATL
Proj Points FD - 21.33 DK - 21.09
Here's one I am a little less confident in, but still willing to try. Things were looking perilous for Jackson's DFS viability after one half last week. The Ravens were trying to turn him into a pass-first QB, and only gave him 3 carries (and those looked somewhat unplanned) by the time the second quarter ended. Then they seemed to remember that Jackson is really only viable because of his running, and he had 8 excellent carries (and a touchdown) in the second half. So how do we project him going forward? It stands to reason that the Ravens saw what the rest of us did last week, and given how great their running game is in general when Jackson is looking to run first it's hard to believe they'll make the same mistake twice. This match-up with a porous Atlanta defense is a forgiving one - the Falcons are a bottom three team against the run and a bottom 7 team against the pass. They've allowed the fourth most points in all of football. I am not sure you can call it safe, but given that Jackson's price has barely moved he at least has to be on your radar.
Also considered: Cam Newton. We have him projected for the second highest fantasy points at the position in a great match-up with the Bucs, but his price is high enough that our lineup optimizer seems to prefer you just go up to Mahomes or down to Jameis or Jackson. Still, you could do a lot worse than taking Cam against a terrible defense that he's already picked apart once this season.
Running Back
Much like last week, there's a lot to like at the running back position with *value* plays all around. You can't play them all of course, but I'll outline the cases for a couple of guys in each price tier.
The Expensive Guys
Todd Gurley FD 9800 DK 9300
Opponent DET
Proj Points FD - 24.21 DK - 25.57


Kareem Hunt FD 8900 DK 7800
Opponent OAK
Proj Points FD - 20.2 DK - 21.38
Both Gurley and Hunt are in prime spots for Week 13, each coming off a bye after that epic Monday Night Showdown in Week 11. Crazily, neither saw touches commiserate with their season averaged (Gurley 15 touches, Hunt 18) in such a high-scoring game. Both the Rams and the Chiefs are big road favorites (LAR -10, KC -14.5) against the Lions and Raiders respectively. Both are vastly inferior opponents and blowouts could be in order for these games. It helps both backs that neither the Rams nor Chiefs have their playoff seedings anywhere close to set and these are still very much win-now games. Expect both squads to keep feet on the gas. Of the two, I prefer Gurley's floor considering he's second overall in running back usage (24.2 touches per game) while Hunt sits much lower at 11th. But there's a price gap to consider and the $1K+ saving you get, depending on site, makes a difference. Both Oakland and Detroit are well below average against the run so there's no clear distinction in which matchup appears better on paper. But assuming we find some cheaper value at wide receiver, both of these running backs are firmly in play.

Christian McCaffrey FD 8800 DK 8800
Opponent TB
Proj Points FD - 21.84 DK - 23.64
If you are a premium subscriber to our projection system, then you had McCaffrey in all of your cash games for Week 12. We saw him getting a bump in the passing game with Devin Funchess out of the lineup and that bore out perfectly. He finished with 17 carries and 11 targets, turning in one of the best fantasy days around with 237 yards from scrimmage and two touchdowns. Now he'll get matched up against the Bucs who've struggled to contain opposing running backs (27th in DVOA against the rush) and are particularly susceptible to RBs who feature heavily in the passing game. CMC saw a week-over-week price increase, but his usage upticks help raise the overall projection. The Panthers are 3.5 road favorites with a 29.5 implied total, one of the highest of the main slate.
The Middle Tier Guy(s)
Aaron Jones FD 7600 DK 6700
Opponent ARI
Proj Points FD - 17.93 DK - 19.06
Jones has entered the higher usage tier of backs though the price hasn't totally caught up yet. Over the last four weeks, he has 22, 17, 20 and 18 looks (carries + targets) and has five touchdowns in the last three weeks. Jones doesn't have tremendous usage in the passing game, but does have 11 targets over the last three weeks. The Packers are 14.5 home favorites over the sputtering Cardinals who have a top ten DVOA defense but rank worse against the run (15th). I don't think Jones' price quite reflects his fantasy floor and he should be in line for high teens carries at least with looks in the passing game as well.
I also think you can strongly consider Nick Chubb in this tier as well. Over the last five weeks, since being named the starter, he has touch counts of 20, 21, 23, 23 and 31. That usage was seemingly independent of game script with the Browns going 2-3 in that stretch. They get a tougher matchup against the Texans in Week 13 which is the only reason I'm not a little more bullish on Chubb.
The Cheaper Guys
Gus Edwards FD 6400 DK 4800
Opponent ATL
Proj Points FD - 15.51 DK - 15.06
After experimenting (and kind of failing) with the Lamar Jackson passing game in the first half against the Raiders, the Ravens turned back to the run-pass option in the second half. They should have just started with what worked. Edwards carried the ball 13 times for 65 yards in the second half (finishing with 23/118 for more than five yards per carry). He's not going to touch the ball in the passing game (0 targets over the last two weeks) but should continue to garner a heavy workload as long as the Ravens stick to working Lamar Jackson out of sets that benefit his skill set. The Falcons rank dead last in stopping the run this season and Edwards saw only a moderate price increase week-over-week.
Dion Lewis FD 5500 DK 5300
Opponent NYJ
Proj Points FD - 13.9 DK - 14.99
I still very much want to believe in Dion Lewis here though it's getting harder to do so. After 19 and 20 carries in Weeks 9 and 10, he's carried it only 17 times combined over the last two for 32 total yards. Woof. It's not an encouraging sign and the snaps were almost split down the middle between Lewis and Henry on Monday night against the Texans. But between the work in the passing game and the idea (mine at least) that Lewis is the much better running back, I wouldn't be surprised to see a bounce back against the Jets. New York is a below average run defense on the season and Lewis's price will look silly if he pushes back toward upper teens touches which is realistic considering he still had 14 against the Texans: (7 carries, 7 targets).
Wide Receiver

D.J. Moore FD 6400 DK 5600
Opponent TB
Proj Points FD - 14.4 DK - 16.07
Moore was a highly owned option last week at a dirt cheap price, and while you're paying a little bit more for him now, it's probably justified. He and Cam hooked up for 8 catches on 9 targets, and pumped out 91 yards in the process. Moore and McCaffrey accounted for 20 of Cam's 30 targets. This week he'll go up against one of the league's very worst passing defenses in Tampa Bay, and in a game that Vegas sees as being competitive it's very hard to believe that Moore won't be a huge part of the plan. He should be hugely owned given that he's probably 10% too cheap given his current role.

Kenny Golladay FD 7300 DK 6700
Opponent LAR
Proj Points FD - 15.94 DK - 19.11
Speaking of guys who are underpriced relative to their opportunity, we are still there with Golladay. Stafford targeted Golladay 8 times against a brutal Bears defense, and Golladay put up 90 yards on 5 catches. He'll be in an interesting spot with the Rams this week for a couple of reasons. First, the Rams are 10 point favorites - a wide enough spread that you can project the Lions to be playing from behind, but not so far ahead that you're too worried about a blowout. With Jones officially done for the season and Tate in Philly, Golladay seems like the last man standing. I love the floor here.

Tyreek Hill FD 8400 DK 9100
Opponent OAK
Proj Points FD - 19.86 DK - 22.5
There are a lot of interesting options if you elect to pay up at wide receiver, but I'm the highest on Hill. The Chiefs' explosive playmaker has seen 24 targets in his last two weeks, and has turned those into 17 catches for 332 yards and 4 touchdowns. Yikes. He's also walking into his best match-up of the season, and while the Chiefs are the biggest favorites on the slate by a mile, double digit targets seem like something of a sure thing. Still, I wonder if the potential blowout gives him a little more opportunity risk than you want at this price point given that you can get far safer running backs at the same price.
Also considered: Robert Woods, but I'm a little concerned about the fact that he seems to have conversion risk AND target risk. Still, he's cheap if you think he gets double digit targets this week again.
I also like Davante Adams for the a lot of the same reasons I like Tyreek Hill, but Hill just seems like a higher upside and better version of him. The Packers are also huge favorites, and there is plenty of blowout risk for them against Arizona. Adams is more of a possession receiver than Hill though, so you could argue that he has the higher floor of the high priced options.

Tight End

Eric Ebron FD 5600 DK 4200
Opponent JAX
Proj Points FD - 11.97 DK - 13.97
Even in basically a timeshare with Jack Doyle (Ebron barely out-snapped him 48-39), Ebron managed a 5/45/2 line last week. In fact, on the season Ebron is the third overall fantasy TE behind only Travis Kelce and Zach Ertz. This is kind of amazing considering Jack Doyle's presence. But Ebron's 11 TDs are nearly lapping the field and now Doyle is out for the season. In the five games Doyle missed earlier in the season Ebron saw targets of 11, 10, 15, 7, 7 for an average 5/52/1 line. The price is definitely in the cash-game range here and I suspect you see him as one of the more popular tight end plays on the main slate. The touchdowns are for sure running hot, but the increased volume he's bound to see with Doyle out make up some of that difference if there's regression coming.

George Kittle FD 6800 DK 5900
Opponent SEA
Proj Points FD - 16.37 DK - 19.23
Over the last five weeks, Kittle has the third-most tight end targets in the league behind only Jordan Reed and Zach Ertz. And on the season, he ranks sixth in TE red zone targets (11). Nick Mullens struggled in Week 11 against the Bucs (the one team you really shouldn't struggle against as a QB) but still targeted Kittle 12 times (6/48) line with Marquise Goodwin and Pierre Garcon out of the lineup. Some of Kittle's upside target share does depend on the rest of the 49ers WR corps being banged up, though the return of either of those guys would likely increase the *quality* of targets all around. I'm still bullish on Kittle's upside because few other tight ends see his kind of usage in the passing game and the price is still firmly in the upper middle tier.
Also considered: I'm still convinced that more targets are en route for Cameron Brate, but he might only be a tourney play given Ebron's price and opportunity this week.
This week in defense
In week 12 the expensive Ravens wound up being the best defense you could choose, putting up 18 fantasy points in a great match-up with the hapless Raiders. There has been an interesting tension between the expensive defensive options and the cheap ones this season, and it's not clear which direction we should head so far this week.
On the surface, I am not very excited about the super-cheap options on FanDuel. I'd really not rather play the Cardinals, Raiders, or Lions against the league's best offenses. In the next tier you get the Browns against the Texans (gulp), the Cowboys against the Saints (nope), the Bucs against the Panthers (lol), and the Vikings against the Patriots (yikes). Oh, baby.
I'd guess most people wind up going up to grab the Green Bay Packers against the terrible Cardinals or the Seattle Seahawks against the San Fran B team. Maybe we'll get some more news that changes things, but I'm not excited about the position.
On DraftKings, you've got great options in the Packers at $2,800 and the Chiefs at just $2,500. They aren't electric defenses, but they are favored by so much that their opponents should be playing from behind, leading to more opportunities for sacks and picks.
Now's your chance to get DFSR PRO, which will give you access to our NFL optimizer for FanDuel and DraftKings, our NBA Optimizer, and our new Player Lab! Get started for free by clicking the button below.
First time with NFL? Be sure to read our free MLB and NFL Ebooks on building lineups, general strategy and more. We've got you completely covered.
image sources
Chiefs Chargers Football: (AP Photo/Kelvin Kuo)
FREE EBOOK
SECRETS TO CRUSHING DAILY FANTASY FOOTBALL!
DON'T SET ANOTHER LINEUP BEFORE YOU READ THIS BOOK.