Basketball Picks Daily Fantasy
Expert Advice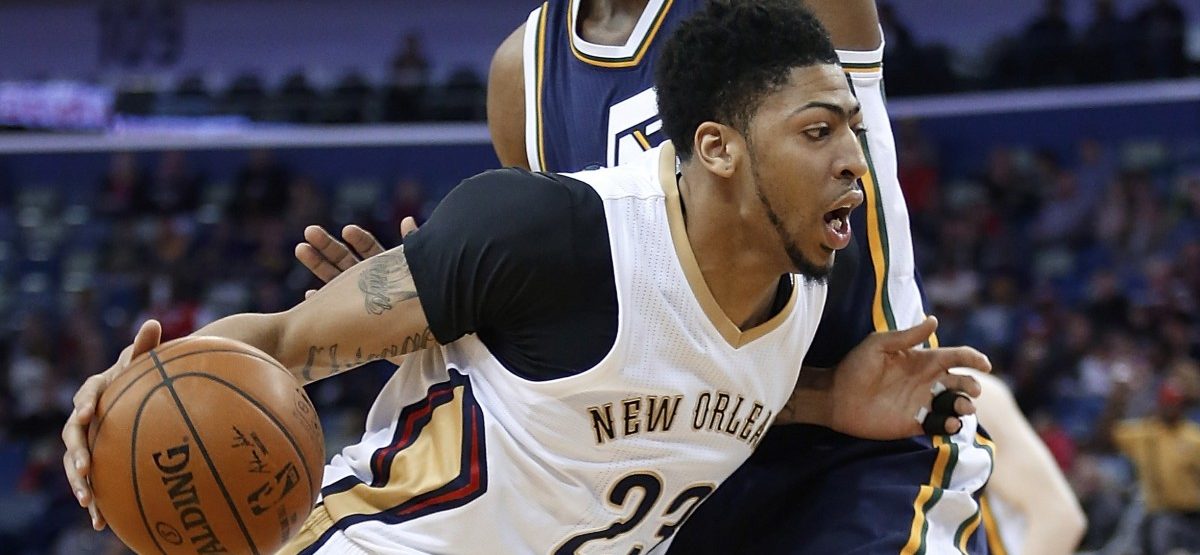 Daily Fantasy NBA Basketball Picks for FanDuel and DraftKings - 12/9/18
DFS NBA is going head to head with season long fantasy football playoffs, so we've got a little ol' four game day. Is that stopping us from writing an article about it? Hell nah. Instead of doing picks, we'll head back to doing a game by game breakdown. It's looking like it'll be an early slate or late slate decision for all but the psychos that play all-day slates, so let's see if we can give you everything you know to do work today.
Now's your chance to get DFSR PRO, which will give you access to our NBA optimizer and our new player lab! Get started for free by clicking the button below.
First time with NBA? Be sure to read our free NBA Ebooks on building lineups, general strategy and more. We've got you completely covered.
New Orleans Pelicans at the Detroit Pistons
The Pelicans are favored by 1.5 in a game with a 228.5 total
At first blush this slate looks a heck of a lot more attractive than the mess we dealt with on Thursday. We start with a game with a very solid total and a tight spread - a DFS player's dream.

Julius Randle FD - $8200 DK - $9000
Opponent - DET
Proj Pts FD - 43.75 DK - 46.38
The first fundamental questions of the slate: Will Randle start, and if so, how many minutes will he get? He filled in admirably for Mirotic, and sure seems to compliment Brow better than Mirotic does. He's shot 59 times in the last three games, and chipped in 33 rebounds as well. He could be the true center that the Pelicans have always thirsted after (RIP Boogie), and it seems to be working thus far. I am guessing the Pels will try and answer Detroit's beastly front court with as much size and strength as they can, and just love Randle here.
Our system also likes Anthony Davis well enough if you can afford it, and can tolerate Jrue Holiday if shooting guard looks rough.

Andre Drummond FD - $9100 DK - $11200
Opponent - NO
Proj Pts FD - 45.83 DK - 46.42
Things get interesting in Detroit, and we have another premium center play to dream on. Drummond would have been universal chalk if not for some late breaking news in the Philly game, and he didn't disappoint, going for 21 and 10 with 2 blocks and 2 steals. And that was in spite of a run-bad 7/19 from the field. Our system loves him against the Pels here, though you'll probably go with Randle for cash games.
The rest of the Detroit roster is intriguing as well. Stanley Johnson was a late scratch on Friday and is currently listed as questionable, and if he were to miss it would open up a decent amount of value. Bruce Brown Jr. got the start and played a health 32 minutes, but the production wasn't really there. Reggie Jackson played 34 minutes and was excellent for his prices. Blake Griffin led all Pistons in fantasy scoring, and the Pelicans have been a bottom 5 team against opposing power forwards since Davis joined the team. The Pistons look like a team full of value today.
The Milwaukee Bucks at the Toronto Raptors
The Raptors are favored by 5 points in a game with a 229.5 total.
Another game with a fat total and a tight-ish spread - why should we be so blessed? 50% of the field took Giannis against the Warriors in a similar spot and were largely disappointed, so how should we proceed today?
As far as our system is concerned, you should proceed cautiously.
Giannis has a similar points per dollar projection as Anthony Davis, but I'd be awfully concerned taking him against one of the few teams in the league that boasts a player that can cover him in Kawhi Leonard. After him, basically every Buck looks like a terrible play, with one exception.

Brook Lopez FD - $5400 DK - $4600
Opponent - TOR
Proj Pts FD - 25.89 DK - 25.74
It kind of looks like the Bucks actually plan to play BroLo 30 minutes a game right now, and if they do, he's just going to be a good play almost regardless of the match-up. He's paid value on these prices in five straight games, and should have a solid match-up regardless of who the Raps throw at him. Both Siakam and Ibaka would be under-sized, and Valanciunas has always struggled with solid post-up centers. He's just a solid value play on an early slate that's begging for them.
It's worth noting that George Hill might make his Bucks debut on Sunday as well. This could do even more to upset the balance of guys like Bledsoe or Middleton, but shouldn't affect Giannis or Lopez.
On the Raptors side, our system sees a little bit more value.

Jonas Valanciunas FD - $5100 DK - $5300
Opponent - MIL
Proj Pts FD - 28.76 DK - 28.97
JV drew the start for Ibaka against the Nets, and paid 7x points per dollar in 26 minutes. If he starts again, he'd be an even better play than Lopez, and you can easily justify playing both on DraftKings. The Raptors seem to only be comfortable playing Valanciunas bigger minutes against teams that can't punish them down low, and while Lopez is solid he isn't exactly scary. Don't play him if he's coming off the bench, but as a starter? Sure.
The rest of the Raptors are bordering on pretty expensive, but I do like their floor considering the consistency around their minutes. Kawhi Leonard presents you with a solid pay-up option that doesn't break the bank on a slate that lacks a lot of top tier punts. Pascal Siakam is a much needed reprieve at a terrible power forward position. I'm not buying Kyle Lowry, though. 8 shots in three straight games? Pass.
Utah Jazz at the San Antonio Spurs
The Jazz are favored by 2.5 in a game with a 219 total.
WOOF! A tight spread, but a very low total, and two teams that are largely uninteresting from a DFS perspective in the first place. Let's see what we can pull out here.
Rudy Gay FD - $6100 DK - $5600
Opponent - UTA
Proj Pts FD - 27.7 DK - 27.89
I guess? The case for Rudy Gay sounds something like this. In normal game scripts against teams with decent wing players, the Spurs have tried to get Gay a 30-35 minute rotation. In games where he's topped 30 minutes he's averaged 34 fantasy points. Utah is a below average match-up, but nowhere near as bad as it's been in the past. You inspired yet? Me neither
The rest of the Spurs? Oy. You can really only make a case for Aldridge, and that's a tenuous one.
The situation in Utah doesn't look any less dire. The Spurs are an actively good match-up this season thanks to playing a bottom 2 defensive efficiency, but they still play pretty slow. More importantly, the consistent minutes for the Utah starters have them all looking pretty over-priced as far as normal standards go. Mitchell, Rubio, Gobert and Ingles are all near season highs price wise.
The one bright spot might be Jae Crowder, if you believe that the plan is to play him 30+ minutes. On a slate this bad you might just need to roll the dice.
The Charlotte Hornets at the New York Knicks
The Hornets are favored by 5.5 in a game with a 225 total.
Hey, at least one of the two games has some fantasy value.
Noah Vonleh FD - $5100 DK - $5700
Opponent - CHA
Proj Pts FD - 29.36 DK - 30.67


Emmanuel Mudiay FD - $6000 DK - $6100
Opponent - CHA
Proj Pts FD - 32.55 DK - 33.08
Two legitimately elite plays that we considered for cash in the large Saturday slate. Mudiay is playing 35+ minutes in normal game scripts, and Vonleh is playing 30-34. Both are still solidly in "price and opportunity mismatch" range, and it's one of the better match-ups on the slate for point guards and power forwards. You could see 85%+ ownership in cash here, so I won't go crazy with all the details here.
Enes Kanter is also playable for cash games, and has arguably the biggest upside on the slate for big tournaments.

Cody Zeller FD - $5200 DK - $4000
Opponent - NY
Proj Pts FD - 27.29 DK - 26.44

Marvin Williams FD - $4900 DK - $4900
Opponent - NY
Proj Pts FD - 24.81 DK - 24.78
The biggest value on the Charlotte side comes from the front court. Williams returned to 32 minutes and 31 fantasy points against Denver, and if he is going to play minutes like that he is simply underpriced. It doesn't hurt that the Knicks will throw out Vonleh and Kanter, who have basically struggled to stay starting in the NBA primarily because of their terrible defense. It was nice to see Zeller stay above 30 minutes in Williams' return as well. The price has come up slightly on him, but he probably has the highest points per dollar floor of any center on the slate.
Kemba Walker is probably what passes for a good payoff play on this slate, which tells you most of what you need to know about it. Mudiay is aggressive on defensive, but mistake prone, and Walker should get into the lane with regularity here.
GRAB A FREE TRIAL OF OUR PROJECTION SYSTEM, AND CHECK OUT DFSR PRO!
image sources
JAZZ-PELICANS: (AP Foto/Tyler Kaufman)
FREE EBOOK
SECRETS TO CRUSHING DAILY FANTASY FOOTBALL!
DON'T SET ANOTHER LINEUP BEFORE YOU READ THIS BOOK.