Basketball Lineups Daily Fantasy
Expert Advice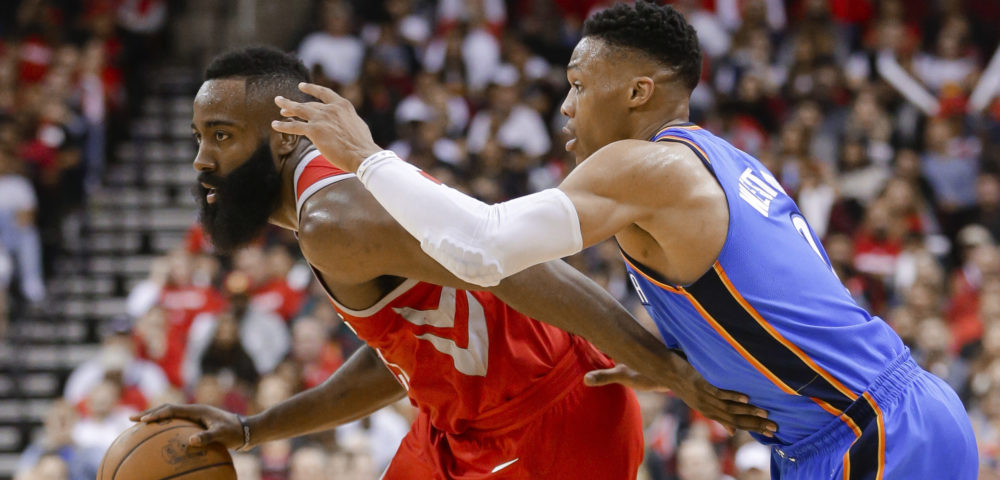 Daily Fantasy NBA Basketball Picks for FanDuel and DraftKings - Friday 1/25/19
We've got a Friday of NBA action coming your way with ten games on the schedule. Can James Harden continue his historic run for one more game before Chris Paul returns? That's the biggest question at his peak pricing.  That plus much more on a packed slate of basketball for FanDuel and DraftKings.
Now's your chance to get DFSR PRO, which will give you access to our NBA optimizer and our new player lab! Get started for free by clicking the button below.
First time with NBA? Be sure to read our free NBA Ebooks on building lineups, general strategy and more. We've got you completely covered.
Point Guard
Elie Okobo FD - $3600 DK - $3000
Opponent - DEN
Proj Pts FD - 22.74 DK - 22.84
De'Anthony Melton went down with what looked to be a not-insignificant ankle injury on Thursday against the Blazers and I very much doubt he plays on Friday. That should open up plenty of minutes for Okobo who played 28 against Portland and finished with 12 points and seven rebounds. There's not going to be a lot of usage for this role in the Suns' offense with Devin Booker controlling so much of the point of action, but Okobo is coming cheap enough to roll as a punt play if Melton is ruled out.

Patrick Beverley FD - $4800 DK - $4800
Opponent - CHI
Proj Pts FD - 25.39 DK - 26.14


Shai Gilgeous-Alexander FD - $4300 DK - $4300
Opponent - CHI
Proj Pts FD - 25.84 DK - 25.61
Even with Lou Williams back off the bench, the Clippers still kept big minutes for their guards with Danilo Gallinari out of the starting lineup. They are rolling these two guys at the 1-2 with Avery Bradley shifting to the three in the lineup. What you are looking for out of SGA and Beverley at these price points is the ability to stack on stats across the box score. Neither does any, one thing all that well, but both can hit value simply by the number of minutes they've been running in the short term. They get a good matchup against a Bulls' team that's a total mess right now, playing a bottom third defense in the league.
The Timberwolves' point guard situation is in flux right now. If Jeff Teague were to sit again, then Derrick Rose would be right back in play on Friday. Teague was ruled out very early on Thursday which could mean he's some time from being able to return. That being said, Rose is questionable after leaving Thursday's game and not returning. If both were out then Jerryd Bayless would likely soak up every single point guard minute. And finally, if Teague were giving the full go to play, he could possibly be a value. See what I mean? Stay tuned on this one.
And finally, with Spencer Dinwiddie out, we should see plenty of Shabazz Napier coming off the bench for the Nets.
Listen to "Friday NBA DFS plays and Betting Angles for FanDuel and DraftKings 1/25/19" on Spreaker.
Shooting Guard

James Harden FD - $14000 DK - $13800
Opponent - TOR
Proj Pts FD - 69.62 DK - 72.65
Look, at this point, we are in relatively unchartered territories with Mr. James Harden. This guy is sustaining a run of production the likes of which we really haven't seen in a lifetime. I could cite any number of bat sh#$ insane stats over his last month plus. He has 57 or more points in three of his last five games. He's scored 263 straight unassisted(!!!) points. Since December 13 (21 games), he's averaging 43 points, eight rebounds and eight assists per game. This is against other NBA teams. It's just completely unreal and it's had to imagine we see another run like this for quite some time (maybe ever, with Chris Paul coming back Saturday). So there's seemingly one last shot to buy in on Harden. Sure, he's at peak pricing against a Raptors team that can throw all kinds of defenders his way. There hasn't been much reason to fade him over the last month or so and I'm not starting now.

Andrew Wiggins FD - $6300 DK - $5700
Opponent - UTA
Proj Pts FD - 31.49 DK - 31.82
I would like Wiggins a lot more if the above Timberwolves' point guard situation played out with both Teague and Rose out, but still think the Minny shooting guard is in play regardless. Though he can be a frustrating player to watch at times, drifting out of the action much more than you'd like to see, there are plenty of high usage opportunities for him if he wants. Wiggins took 23 shots against the Lakers on Thursday, though struggled in converting only nine to finish with 23 points. This isn't an ideal matchup (and maybe I'm not painting the rosiest picture), but this slate is full of good defenses. We won't be able to avoid them all. Wiggins is still coming very cheap for his potential scoring upside.
Consider Avery Bradley on the cheap against Chicago.
Small Forward

Giannis Antetokounmpo FD - $11500 DK - $10700
Opponent - CHA
Proj Pts FD - 57.96 DK - 59.17
On FanDuel, you might be able to find enough savings to play both Harden and Giannis on this slate. If point guard shakes out with a couple of cheap punts (and I think it will) then I actually don't even think it will be all that much of a salary stretch. Giannis continues to dominate and in close games can easily put up a line similar to what he did against Dallas on Monday with 31 points, 15 rebounds and five assists. The issue for him this season, from a fantasy perspective, is that the Bucks just blow a lot of teams out and the Greek Freak loses his run. Vegas sees that as a possibility on Friday as well with Milwaukee opening as 11 points home favorites against Charlotte.

Tobias Harris FD - $7900 DK - $8200
Opponent - CHI
Proj Pts FD - 40.13 DK - 41.26
With Danilo Gallinari out of the lineup, Harris has been called on to play even more minutes in the short term with a bump in usage rate to go along with it. He struggled with only nine shots in a loss to Dallas and was also in foul trouble that game. But his other three games without Gallo saw him average 19 shots and 29 points plus eight rebounds and six assists. The minutes floor is as high as anyone in the game with the current state of the Clippers' rotations and he draws a cake matchup against the Bulls. Gallinari is set to return next game so we have one more chance to buy on Harris here who now qualifies as a small forward on FanDuel.
Consider Nicolas Batum coming cheap. Not a play I love but small forward doesn't have a ton of viable options.
Power Forward

Kenneth Faried FD - $6200 DK - $5300
Opponent - TOR
Proj Pts FD - 33.74 DK - 34.78
The Rockets draw a tough matchup against the Raptors on Friday, but are only two-point home dogs to a Toronto team that has laid waste to some opponents this season. But the Rockets still have James Harden and if the game stays close we should see a lot of minutes from Faried. He entered the starting lineup last game against the Knicks and played 26 minutes. He finished with 11 points, eight rebounds, three blocks and three steals. The defensive stats piling up like that are outliers, but the 11 shots are encouraging and I think we could see more minutes from him going forward. It helps that Toronto rolls out a smaller starting lineup with Ibaka at the five, so Faried won't get immediately played off the court being undersized. This is still a value point for Faried even with the short term price increase.
Dragan Bender FD - $4600 DK - $4600
Opponent - DEN
Proj Pts FD - 24.57 DK - 25.49


Josh Jackson FD - $5300 DK - $5500
Opponent - DEN
Proj Pts FD - 28.9 DK - 28.89
Oof, I know the Suns are massive (+15.5) underdogs going into this game pointing a very likely scenario where the game is completely out of hand come the fourth quarter. I get it. And I still think we can consider both of these guys in this spot. The fact of it remains the Suns get blown a lot of games and Bender has still seen steady (30-ish) minutes in his last three starts for DeAndre Ayton. He double-doubled in two of them and is still reasonably priced on both sites. He'll get all he can handle trying to guard Nikola Jokic, but I think the minutes and price win out.
Meanwhile, Jackson got the start for T.J. Warren against Portland on Thursday finishing with six points and nine rebounds on 2-10 shooting. It was an underwhelming performance to say the least. But, like Bender, I do think the minutes will be there again on Friday and I'm not counting on him shooting this poorly again (0-4 from three to boot). Outside of Faried, I don't think we are going to want to allocate many dollars to the position and the Suns guys give you a chance to get out of PF relatively cheap.
Center
Bismack Biyombo FD - $4800 DK - $4100
Opponent - MIL
Proj Pts FD - 25.52 DK - 24.34
Something of a theme today is getting value at positions other than shooting guard (Harden) and small forward (Giannis). Biyombo is coming rather cheap on both sites and has played 24 or more minutes in the last three games. It's a risk (as we saw with the 9-minute game against the Kings) but I think they'll want some interior defensive presence to deal with Giannis getting to the rim. In his last three, Bismack is averaging 10 points and 12 rebounds and does have a five-block game thrown in there as well. With Wily Hernangomez waiting off the bench, Biyombo can always see the minutes buzzed but I think there's a high enough floor in this matchup.

Brook Lopez FD - $5600 DK - $5500
Opponent - CHA
Proj Pts FD - 28.67 DK - 27.79
As with Giannis, there's some blowout risk in rostering Bucks on Friday. But Lopez draws a fine enough matchup against Biyombo in that he'll be able to pull the latter away from the basket. With Milwaukee, Lopez has ceded much of his rebounding in an effort to get up a ton of threes as a stretch five. He's taking 6.6 shots from beyond the arc this season and knocking them down at a 38% clip. Not bad for a seven-footer. Because he's very scoring dependent the price seems permanently rooted in this 5K range, but it's worth noting that he is averaging more than two blocks per game this season, which can help especially on FanDuel.
GRAB A FREE TRIAL OF OUR PROJECTION SYSTEM, AND CHECK OUT DFSR PRO!
FREE EBOOK
SECRETS TO CRUSHING DAILY FANTASY FOOTBALL!
DON'T SET ANOTHER LINEUP BEFORE YOU READ THIS BOOK.