Baseball Picks Daily Fantasy
Expert Advice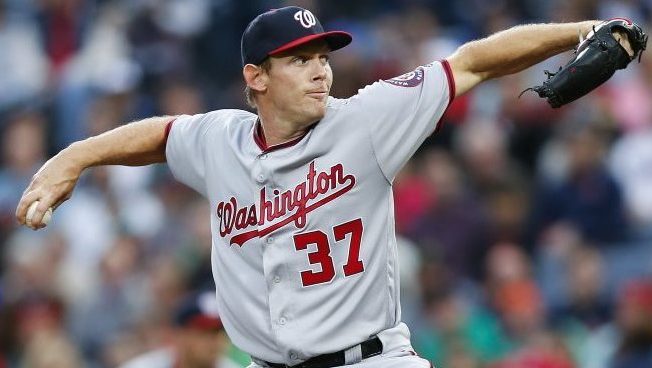 DraftKings and FanDuel MLB Picks for Sunday 3/30/19
Greetings, MLB fans! It's my first baseball article of the season, and it's not a moment too soon. I've been knee deep in prospect reports, spring training news, and of course the first few days of the season, and I couldn't be any more pumped to finally be able to write about it. It's unclear as to whether that enthusiasm will still be here in July, but hey, let's make some hay while the sun is shining!
Now's your chance to get DFSR PRO, which will give you access to our MLB and NBA optimizers and our new player lab! Get started for free by clicking the button below.
Early
Pitchers
James Paxton FD 10400 DK 10800
Opponent -
BAL (Nate Karns)
Park -
NYY
FD
- 40.77
DK
- 22.4
On a small slate with a lot of big names, our system is calling out James Paxton in his first start in pinstripes. Paxton was an ace's ace last season, raising his already elite K/9 to 11.68 while shaving a little bit off his walk rate as well. I don't knwo that it's fair to project a similarly incredible season given that he'll be in the meat grinder that is the AL East (and Yankee Stadium), but I still think we can reasonably forecast him to be pretty awesome. Match-ups with the Orioles should help that. A team that was already dead last in the AL in terms of wOBA against left handed pitching lost their best rest right handed bat, and on a tiny slate they represent the best match-up on the slate. Paxton is also a cut above his peers here thanks to the truly absurd -340 money line, where the other big names are basically in pick'ems.

Stephen Strasburg FD 9600 DK 10600
Opponent - NYM (Noah Syndergaard) Park - WSH
FD - 37.61 DK - 20.27

Noah Syndergaard FD 10100 DK 10200
Opponent - WSH (Stephen Strasburg) Park - WSH
FD - 33.02 DK - 17.68
The Mets and Nationals get back to work trading haymakers. After opening day's intense Scherzer-DeGrom match-up, we get treated to an encore of Syndergaard and Strasburg. Vegas sees Stras and the Nats getting their revenge after getting shut out on opening day, but man does this one rate to be close. So where do we land? Let's give you a tale of the tape.
While Syndergaard and Strasburg are both ace level pitchers, there are some fundamental differences here. These two had nearly identical 3.28 and 3.29 xFIPs last year, but Strasburg struck out 1.76 more batters per 9 innings. That's naturally going to make him a bit better for fantasy purposes. On the other hand, Syndergaard went slightly deeper into games on average last year.
It's hard to say who exactly has the better match-up since these teams look very different this year, but given that both DeGrom and Scherzer topped double digit strikeouts on opening day I think it's safe to say that you're probably happy facing either lineup. When in doubt I'll go ahead and take the pitcher who is favored, and this time around I'm going with Strasburg.
Team Cash Stacks
New York Yankees
Park - NYYOpposing Pitcher - BAL (Nate Karns)Vegas Implied Run Total - 6.15
Potential Players to Stack
So it feels like a little bit of a cop out to write up the Yankees every day, but this is sort of how baseball works. The Orioles had one of the worst opening day starters, one of the worst day 2 starters, and you guessed it, they have one of the worst day 3 starters in the majors as well in Nate Karns. Well, it's actually tough to just label Karns that way just yet, since the man hasn't thrown a professional inning since 2017. In fact, the 31 year old Karns has only thrown 140 innings since 2015. And it's not that Karns has been especially bad over the course of those innings, it's just that we have no idea what we can expect. On an early slate that features some legitimate ace level pitchers and a solid handful of conventional #3 pitchers, Karns has to be considered among the worst of the bunch. Vegas concurs, with the Yankees having by far the best implied total on the slate.
Potential Players to Stack
Brett Gardner (FD $2700 DK $4300)
Gary Sanchez (FD $3200 DK $4900)
Giancarlo Stanton (FD $4300 DK $5400)
Aaron Judge (FD $4700 DK $5500)
You're going to recognize some of the names here. With Hicks sidelined for the entire opening series against the O's, Brett Gardner will continue to be a value simply by the virtue of batting leadoff against right handed pitchers. Our lineup optimizer is also a big believer in a bounceback season for Gary Sanchez, who was a $4,000 player when he was really popping off. Stanton and Judge are more in the "if you can afford it" category, but both are very tempting against a pitcher who could really struggle to miss bats here. Honorable mention to Greg Bird if he starts as well, since he qualifies at catcher.
Toronto Blue Jays
Park - TOR
Opposing Pitcher - DET (Spencer Turnbull)
Vegas Implied Run Total - 4.6

Potential Players to Stack
Hey now, we're recommending the Blue Jays yet again! Yes, the Blue Jays had a terrible opening day. No, that doesn't really matter here. Like the Orioles, the Tigers have had a difficult time fielding intimidating pitchers thus far this season, so we'll go ahead and land on the Jays once again.
You might not be familiar with Spencer Turnbull, but he's a 26 year old righty that struggled mightily in the minors before finally finding his footing in AA and AAA last season. He flashed plus swing and miss stuff, averaging double digit strikeouts per nine innings across three levels in the minors, but scouts aren't convinced that that will translate to the majors thanks to his control issues. He might ultimately stick as a starter here, but on a slate with few known bums you have to consider him the most speculative guy going.
Potential Players to Stack
Randal Grichuk
(FD $2900 DK $4200)
Brandon Drury
(FD $2200 DK $3300)
Justin Smoak
(FD $3100 DK $3900)
No mind-blowing bats for the Blue Jays, but what you do have is some significant opportunity as discount prices. Grichuk and Drury are both batting at the top of the order, and you're getting both at bargain basement prices. Smoak is much better from the left side of the plate, with an OPS and an ISO both .050 points higher against right handed pitching. This is more of a value stack than an upside stack, though.
Philadelphia Phillies
Park - PHI
Opposing Pitcher - ATL (Bryse Wilson)
Vegas Implied Run Total - 4.72

Potential Players to Stack
The new-look Phillies (minus Bryce Harper) have looked pretty good so far, and Vegas likes this lineup of professional hitters for the second highest total on the slate. Today they'll face Bryse Wilson, and while Wilson is not a household name he is a legitimate prospect with serious strikeout upside. That might be useful information for you in your dynasty leagues, but for DFS purposes you can forgive us if we are skeptical.
Wilson has excellent swing and miss stuff, but is the 21 year old ready for prime time? He looked very rocky in the 7 major league innings he saw last September, and the track record of 21 year old pitchers in the majors is not exactly stellar. I'll happily stack the Phillies here and make Wilson prove me wrong.
Potential Players to Stack
Andrew McCutchen
(FD $3600 DK $7800)
Jean Segura
(FD $3400 DK $7600)
Bryce Harper
(FD $4300 DK $9400)
Maikel Franco
(FD $3000 DK $7000)
No reason to overthink this one. If I had to call one of these players a "must play" I'd probably go with Harper, who is flat out too cheap on
FanDuel
when he's facing a right handed pitcher. You'd rather play Segura, McCutchen, and Franco against left handed pitchers but especially the veterans McCutchen and Segura should be able to wait out the young Wilson and take advantage.
One off plays

Jesse Winker FD 2600 DK 4000
Opponent -
PIT (Trevor Williams)
Park -
CIN
FD - 11.3 DK - 8.59
Winker does exactly one thing well, but he's does that one thing really well. That thing? Get on base against right handed pitchers. Through 378 career plate appearances against right handed pitchers, Winker has a .425 on base percentage. He's got a hit tool like you read about, and while he does little else, you don't need a whole lot more at a sub $3k price tag on FanDuel.
Late Slate
Pitchers

Kenta Maeda FD 8200 DK 10100
Opponent -
ARI (Zack Godley)
Park -
LAD
FD - 35.53 DK - 19.04
If you're strictly playing the 7pm slate, Maeda is the cream of the crop. He's the biggest money line favorite on the slate, and the team he is facing has the lowest implied total. He's very reasonably priced, and he's pitching in one of the best pitchers' parks on the slate as well. It's not all roses for Maeda, of course. The Dodgers are now notorious for not allowing their pitchers to go deep into games, and given that he pitched almost exclusively out of the bullpen for the last two months of the 2018 season it's hard to imagine him springing right into a 6+ inning per game workload. Still, Maeda should be good for a strikeout an inning, and given our options here he looks like a fine place to land for cash games.
Eduardo Rodriguez FD 8900 DK 9000
Opponent - SEA (Mike Leake) Park - SEA
FD - 33.13 DK - 17.69
Eduardo Rodriguez was flat out impressive last year, topping 10 K/9 and bringing his ERA and xFIP under 4. It kind of feels like E-Rod has been around for a while, which makes it easy to forget that he's actually just 25 years old. The control is still an issue for him, but there's also plenty of upside built into his young arm going forward, and we've seen plenty of pitchers find the strike zone more as they mature. The Mariners were a middle of the road team against lefties last season, and rate to be somewhat better than that with their off-season moves, but I still think Rodriguez is the second best option for FanDuel and a fine play on DraftKings as well.
Team Cash Stacks
Chicago Cubs
Park - TEXOpposing Pitcher - TEX (Edinson Volquez)Vegas Implied Run Total - 5.45
Potential Players to Stack
While we could only offer tepid recommendations of some of our early slate stacks, this one looks pretty darn easy. The Cubs have one of the NL's best offenses, and tonight they'll face one of the league's worst pitchers in one of the league's best parks.
The 35 year old Volquez was quite simply awful last season, posting a 5.19 BB/9 and a 4.78 xFIP through 92 innings with the Marlins last year. And that was in one of the league's friendliest pitchers park! Bringing him to Arlington really ought to be a disaster, and the Cubs should be well poised to punish him here.
Potential Players to Stack
Kyle Schwarber
(FD $3000 DK $4800)
Kris Bryant
(FD $4000 DK $4900)
Anthony Rizzo
(FD $4200 DK $5000)
You've always got to keep your eye on Schwarber when the Cubs are facing a righty, as he's one of the purest platoon guys in the game. His OPS against right handed pitching is a solid .240 OPS points higher than it is against lefties, and he should be able to abuse a guy like Volquez.
As for the big Cubs' sluggers in Bryant and Rizzo, we don't have them as the best value plays on the Cubs overall, but they are squarely in the part of the lineup that you want to be targeting here. Rizzo is a big time platoon guy in his own right, owning an OPS that's .100 points higher against righties than lefties. While Bryant is certainly better against lefties, his .878 OPS against righties is basically as good as Rizzo's. Both should have huge upside here today, and arguably a decent floor as well.
Texas Rangers
Park - TEX
Opposing Pitcher - CHC (Yu Darvish)
Vegas Implied Run Total - 4.55

Coming back the other way, I also don't think it's crazy to want to run some Rangers here. Weather is just such a huge concern early in the season, and getting players in a game with reliably good conditions for hitting just can't be a bad thing. Darvish is probably the biggest name that we're going to consider stacking against today, but that doesn't necessarily mean he's the best pitcher.
I won't lie, though - this stack is not without its risk. Darvish only threw 40 innings last season, and in those he did manage to strike out 11 guys per 9 innings. This one could very well get away from the Rangers, but I still think there is room for optimisim. First of all, Darvish's already questionable control looked much worse last season, as he walked 4.73 batters per 9 innings. You also have to think that the Cubs will exercise caution with a guy who threw just 40 innings and 5 innings per start last season. I think the Rangers are a great big tournament stack that you might get lower ownership on.
Potential Players to Stack
Shin-Soo Choo
(FD $3000 DK $3900)
Nomar Mazara
(FD $2900 DK $3900)
Rougned Odor
(FD $3300 DK $4200)
One of the most platoon happy teams in the league, the Rangers areq uite likely to run out this trio of lefties in the top 5 in their batting order today, and each is quite a bit better against right handers than southpaws. The young Mazara might seem like the flashiest play here, but it's easy to forget that
Shin-Soo Choo
had nearly a .900 OPS with plenty of slugging against righties last season as well. As for Odor, he's a solid player at a premium position at a very affordable price.
I should note as well that I could see playing any of these three guys as a one off if you wind up not being able to stack the Rangers overall.
Boston Red Sox
Park - SEA
Opposing Pitcher - SEA (Mike Leake)
Vegas Implied Run Total - 4.71

We're potentially back in the "no duh" category with the Red Sox, but what can I say? They're a team full of great hitters, and they have one of the more stackable match-ups on the slate in Mike Leake. The Mariners' righty is a notorious control freak, coming it at less than 2 walks per 9 innings in each of the last season. The thing is, he just doesn't strike anyone out. His 5.77 K/9 was the very lowest among qualified pitchers last year, and lots of contact means lots of potential for the Boston lineup. Leake does generate a lot of ground balls, but he gives up a lot of hard contact as well, and I'd be totally fine running out some BoSox to see what they can do against him.
Potential Players to Stack
Rafael Devers
(FD $2900 DK $3800)
Andrew Benintendi
(FD $4300 DK $4800)
Mitch Moreland
(FD $2600 DK $3900)
J.D. Martinez
(FD $4800 DK $5200)
Mookie Betts
(FD $4900 DK $5400)
Benintendi, Devers, and Moreland are very much in the "play these guys against righties, but probably not against lefties" camp. In Moreland's case, that's also sort of assuming that the plan is still to bat him toward the middle of the lineup against righties. If he winds up sitting or batting 7th or something you probably don't want to go there. Devers is a flat out value play at far too cheap a price at the top of that Red Sox lineup.
A quick note on the super-stars. Our system is actually skeptical about them being huge value payoffs, but it's worth noting that both Martinez and Betts topped an incredible 1k OPS against righties last season. Martinez was even a reverse platoon split guy last year! It's hard to believe that both of these guys won't be among the highest owned big money plays on the late slate.
One off plays

Joc Pederson FD 2700 DK 4100
Opponent -
ARI (Zack Godley)
Park -
LAD
FD - 11.32 DK - 8.48
Pederson might be the highest owned player on the slate on FanDuel given his price and his opening day performance. He's sub $3000 and batting leadoff, which would be enough almost regardless of how good he was, but given that he's got legit clean-up power against RHP and two homers on opening day you'll see him owned all over the place tonight.
GRAB A FREE TRIAL OF OUR PROJECTION SYSTEM, AND CHECK OUT DFSR PRO!
FREE EBOOK
SECRETS TO CRUSHING DAILY FANTASY FOOTBALL!
DON'T SET ANOTHER LINEUP BEFORE YOU READ THIS BOOK.