Baseball Picks Daily Fantasy
Expert Advice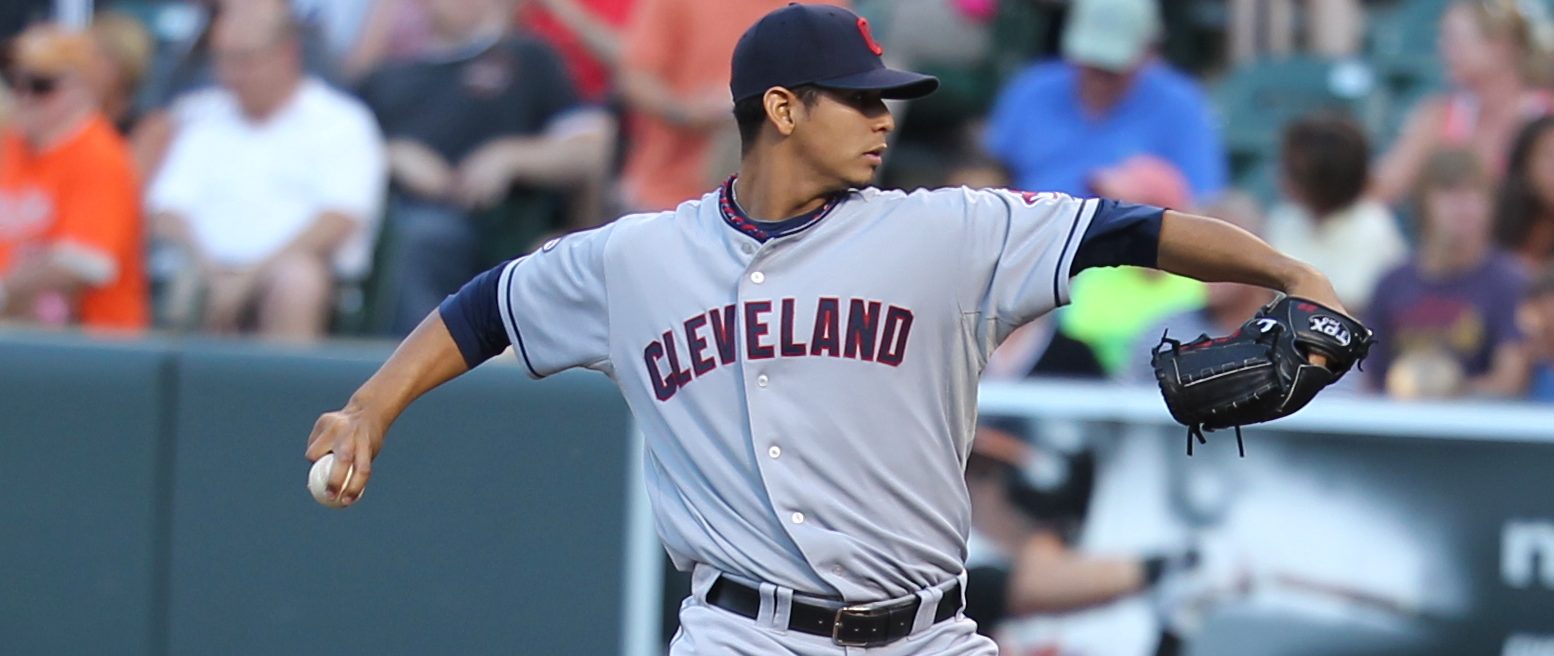 DraftKings and FanDuel MLB Picks for Friday 4/12/19
Now's your chance to get DFSR PRO, which will give you access to our MLB and NBA optimizers and our new player lab! Get started for free by clicking the button below.
Pitchers

Carlos Carrasco FD 10500 DK 11000
Opponent -
KC (Brad Keller)
Park -
KC
FD
- 40.48
DK
- 22.53
It's been the tale of two starts for Carrasco at the beginning of this season. His opener was a disaster, allowing six runs in 4.1 innings against the Twins. But he bounced back with 12 Ks' in six innings against the Blue Jays, allowing two runs and getting the win. The truth lies somewhere in between for the righty, but that still leaves him firmly in play against the Royals. who don't strike out a ton but are a below-average offense in general. Carrasco struck out about 11 batters per nine over 192 innings in 2018 with a 5.4:1 K:BB ratio. The 2.90 xFIP was actually a bit better than the 3.38 ERA. It all spells good things and he should be a popular play on both sites considering the peripherals and matchup.

Patrick Corbin FD 10000 DK 10100
Opponent - PIT (Trevor Williams) Park - PIT
FD - 38.13 DK - 20.7
Our system isn't as high on Corbin on the simple basis of the money-line here, which has him as a significantly worse favorite than guys like Happ or Eduardo Rodriguez. Still, it's tough to ignore the man's last two seasons of pitching. Corbin jumped from 8.45 K/9 to 11.07 K/9, maintaining a double-digit K rate in spite of most people (including us) calling for significant regression. He's striking almost 10 batters per 9 innings through two starts this year, so it looks like those trends could continue. The Pirates have been kind of tough on lefties this season, striking out at a bottom 10 rate while posting a middle of the pack wOBA, but I still like Corbin as a very solid pitcher 2 on DraftKings tonight.
J.A. Happ FD 9400 DK 9200
Opponent - CHW (Lucas Giolito) Park - NYY
FD - 35.76 DK - 18.93
Happ draws the White Sox tonight, which sounds like it should be a big step up from his prior match-ups this season, until you realize he has faced the Orioles twice. He also happened to be pretty bad in those two games. Some of that comes from pitch count maintenance (75 pitches on Opening Day, up to 88 in his second start) but he also let up three home runs in his 8.1 total innings (two of the three to Mancini). But if we assume the HR/FB rate comes back to his career levels and the pitch count goes up another 15% (bringing him to about 100) then I think we are buying a little low on Happ here. The ChiSox will K a lot (27% against lefties so far this season after striking out the most against them last year) and Happ is a big -225 home favorite.

Also considered: Eduardo Rodriguez. I know, I know. The first two starts this year were stone cold terrible, even if they were against two of the early season's best offenses in Seattle and Oakland. Vegas just loves the guy as a -260 favorite against Hess and the Orioles, though, and he's now coming cheap for a guy coming off a season where he had a 10 K/9. You can't call him safe, but he's lurking as an interesting pitcher 2 play on DraftKings (particularly if you don't trust Happ).
Team Cash Stacks
Oakland Athletics
Park - TEXOpposing Pitcher - TEX (Drew Smyly)Vegas Implied Run Total - 5.23
We, and much of the industry, have been on the A's in the short term and how could you not be? They've faced a ton of bad pitchers and get another on Friday in
Drew Smyly
. In two starts, Smyly has failed to get through four innings, walking (5) almost as many as he's struck out (6) with a small sample xFIP closing in on 7.00. He'd basically been out of baseball for two years before the Rangers signed him and it's unclear how long he's going to stick around.
Potential Players to Stack
Marcus Semien
(FD $3900 DK $4200)
Khris Davis
(FD $4600 DK $4900)
Stephen Piscotty
(FD $3800 DK $4100)
Chad Pinder
(FD $3200 DK $4400)
Marcus Semien
should hit leadoff against the lefty and instantly becomes one of the best SS options on the slate. Over his career, he's been much better in this split with a 116 wRC+ and .788 OPS against lefties. Those numbers aren't overwhelming across the whole baseball landscape, but for a shortstop, they are excellent.
Khris Davis
is off to a blistering start, smacking his 8th and 9th home runs of the season on Thursday. Now he'll move into one of the best power parks in baseball in Globe Life Park. He's been platoon neutral for his career with a .352 wOBA against lefties (.357 v rhp) and similar OPS numbers as well (mid .800s). He's not going to continue this torrid HR pace, but we are still talking about one of the best long ball guys in the game going into a park that's begging for the home run.
The rest of the A's lineup rounds out as ways to work into this stack. Though it should be mentioned, the team is starting to get a little expensive just because their production and ownership have been awesome in the short term. Pitching won't cost you a ton, so there's ways to fit these guys into lineups. But they aren't coming on the cheap anymore.
Boston Red Sox
Park - BOSOpposing Pitcher - BAL (David Hess)Vegas Implied Run Total - 5.92
If the A's are going to be popular here, the Red Sox might come in with around the same ownership. They come in with the highest implied run line of the slate, opening at 5.9 at home against Davis Hess. The latter had a solid start against the Blue Jays, but came back down to earth against the Yankees, going five innings and striking out just two. Hess's 116 innings in the majors tell the tale of a well-below average arm (to put it nicely). He has a career 5.49 xFIP with a strikeout rate under seven innings per nine. He barely scrapes a 2:1 K:BB ratio and could be in real trouble against a very patient Boston lineup.
Potential Players to Stack
Mookie Betts
(FD $4800 DK $5400)
Andrew Benintendi
(FD $3600 DK $4600)
Rafael Devers
(FD $3100 DK $4200)
It says quite a bit that
Mookie Betts
is *only* $200 more expensive than
Khris Davis
on
FanDuel
. From a fantasy perspective, Betts rates as a much better cash game play considering he was a 30-30 guy last season and the league's MVP. He's gotten off to a *slow* start with no stolen bases and three home runs in his first 60 or so plate appearances. Even though he's expensive, we are getting a value on his projected production.
Benintendi is in much the same ballpark. He's off to an even slower start, with an early season OPS under .700, 0 home runs and one stolen base. That's well off his near 20-20 pace of the last two seasons. He's not exactly cheap, but is priced under what the expected production should be going forward. If there is a way to stack a big arm plus Betts-Benintendi on Friday then you are off to a great start in cash games.
And finally,
Rafael Devers
is hitting fifth in the lineup when the Red Sox face righties and coming firmly in the middle salary tier on both sites (slightly better deal on
FanDuel
). He's showing a bit more patience this season with a 10% walk rate though has yet to hit a home run so far (21 last year). If we are buying low on future power expectation from the Red Sox, then this becomes possibly the easiest cash stack on the slate.
If he's anywhere in the lineup, then
Dustin Pedroia
makes for an awesome value at the minimum on
FanDuel
($3,700 on
DraftKings
).
San Diego Padres
Park - ARIOpposing Pitcher - ARI (Luke Weaver)Vegas Implied Run Total - 4.45
The Padres don't have the highest expected run line on the slate, but the price is right on these guys. They are heading into Arizona to face
Luke Weaver
who's failed to return to anything close to his 2017 breakout campaign with the Cardinals. He went from a 10.75 K/9 guy that year, to 8 K/9 in 2018 to 6.75 K/9 so far this year with the D-Backs. The walk rate is up each season as well and he's been a high 4's xFIP guy over his last 150 innings. Very little has changed about the approach, but the results are mostly garbage.
Potential Players to Stack
Wil Myers
(FD $3000 DK $4600)
Eric Hosmer
(FD $2900 DK $3900)
Manny Machado
(FD $4200 DK $4500)
Ian Kinsler
(FD $2600 DK $3700)
While Machado and Renfroe are priced accordingly, some of the other top of the order bats on the Padres are coming on the cheaper side on
FanDuel
(some on
DraftKings
).
Wil Myers
hit leadoff on Thursday and could find himself in that spot again on Friday. Over the last season he's got an 11% walk rate and .805 OPS against righties with a 118 wRC+. He's off to a strong start this season even though the walks are down a bit. He's coming far too cheap on
FanDuel
.
Hosmer is struggling early with an OPS under .700 even though the walk and strikeout rates are right in line with last year. It's because he's seen a dip in BABIP thanks in one part to the shift but mostly just bad luck. His 50% hard
contact
rate suggests he's right on the ball. He had a .353 wOBA And .829 OPS against righties last season and is coming as a great value if he's hitting second or third in the lineup.
GRAB A FREE TRIAL OF OUR PROJECTION SYSTEM, AND CHECK OUT DFSR PRO!
image sources
Cleveland Indians starting pitcher Carlos Carrasco (59): By Keith Allison on Flickr [CC BY-SA 2.0 (http://creativecommons.org/licenses/by-sa/2.0)], via Wikimedia Commons
FREE EBOOK
SECRETS TO CRUSHING DAILY FANTASY FOOTBALL!
DON'T SET ANOTHER LINEUP BEFORE YOU READ THIS BOOK.