Basketball Picks Daily Fantasy
Expert Advice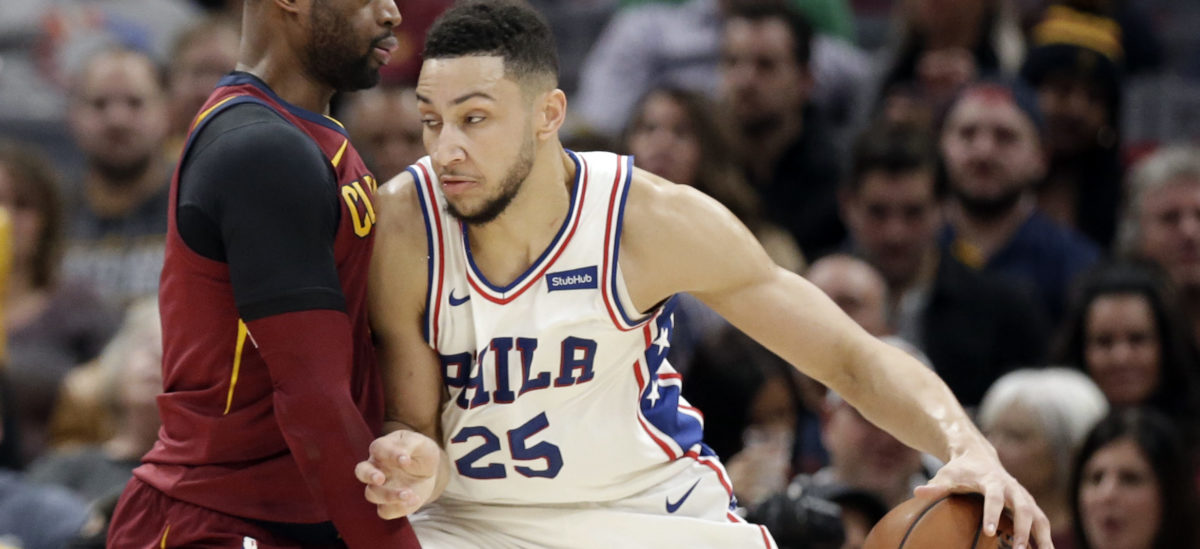 FanDuel NBA Picks and DraftKings NBA picks for 4/13/18
Now's your chance to get DFSR PRO, which will give you access to our NBA optimizer and our new player lab! Get started for free by clicking the button below.
First time with NBA? Be sure to read our free NBA Ebooks on building lineups, general strategy and more. We've got you completely covered.
Brooklyn Nets at the Philadelphia 76ers
Philadelphia is favored by 8 in a game with a 225.5 total.
The 2019 playoffs kick off with what is, in my opinion, the most interesting game on Saturday's slate. Brooklyn and Philly split their season series in 2018-2019, with each team taking 2 games and Brooklyn holding a +13 point differential. So what's with Philly being so heavily favored, here? Well, the Sixers have gone all-in in a well documented fashion this season, adding Jimmy Butler and Tobias Harris to an already exciting young core, and it's fair to suggest that this is not the same team that the Nets beat by 25 points in November.
The Nets were also a part of the rather indistinguishable group of bottom-feeders in the East, who seemed to be stumbling over one another to avoid making the playoffs before winning their last three games en route to the 6 seed.
And then there's Philly, who was doing a weird mix of sitting guys for "rest" and light injuries given that their seeding and potential match-ups were relatively secure for the last week of the season. We are still officially unsure about Embiid's status, but Vegas seems confident enough that he'll be out there doing his thing. Given that we've now eliminated the bottom 50% of the league, Brooklyn has to be considered the best fantasy match-up on the slate (if not the whole playoffs).
So where do we go here for fantasy purposes?
Well, I'd actually like to start with the Nets. On the surface, this just seems like a terrible spot to play any Brooklyn guys unless you just find yourself short at a given position. Their minutes were crazy all season long, and only Joe Harris and D'Angelo Russell averaged more than 30 minutes per game for them this year. Given that you can get actual safety from teams with shorter rotations, it probably makes sense for you to do so for cash game purposes.
For big tournaments, though? It wouldn't shock me at all to see Brooklyn do what most sensible teams do and dramatically shorten their rotation come playoff time. If they luck into something that seems to be working I could absolutely see them riding it out. Philly actually landed in the middle of the pack in terms of defensive efficiency this season, and played a top 7 pace, making them a totally reasonable DFS match-up. For today's slate, though, it seems a little nuts to guess how that might shake out.

Joel Embiid FD - $11000 DK - $10000
Opponent - BKN
Proj Pts FD - 60.06 DK - 62.12

Ben Simmons FD - $9900 DK - $7800
Opponent - BKN
Proj Pts FD - 51.57 DK - 52.25
I simply don't buy that Embiid won't be out there against the Nets, but thankfully we will almost certainly know what amounts to the biggest outstanding news on this slate before tip off on Saturday. If he's out there, you know the drill. As you'll see in very short order, the playoffs are stuffed with the very best defenses and much smaller slates. Brooklyn ranked in the bottom 5 in the whole NBA against opposing point guards and centers, which naturally makes them a great spot here. I'm not overthinking this one, and I'll be running Embiid and Simmons unless I get news that they won't be playing.
As for the rest of the Sixers, both Tobias Harris and Jimmy Butler are excellent high floor options here. Not feeling Redick at his current prices though.
Orlando Magic at the Toronto Raptors
Toronto is favored by 8.5 in a game with a 216 total.
Another game, another rather wide spread. Like the Nets, though, the underdog Magic equaled that Raptors 2-2 while maintaining a positive point differential against them across four games this season. Given all the comings and goings on the Raptors this season, though, it's fair to say that they could have the most to gain from tightening rotations in the playoffs. They were fairly conservative with Kawhi, Lowry, and Gasol during the regular season, and it will be interesting to see what this team looks like when they go all out.

Kawhi Leonard FD - $9300 DK - $7900
Opponent - ORL
Proj Pts FD - 45.84 DK - 46.07

Pascal Siakam FD - $7800 DK - $6800
Opponent - ORL
Proj Pts FD - 37.77 DK - 37.87
While Orlando represents one of the better match-ups in the playoffs, the Raptors may not be equipped to attack them where they are weakest, at least from a DFS perspective. Marc Gasol could wind up playing more minutes than we have projected him for since he really is the perfect answer for Nikola Vucevic on the other end, but it's just not a sure thing at this point. What does seem like a sure thing is the minutes and roles of Kawhi Leonard and Pascal Siakam. The Raps have been waiting all season to unleash Kawhi, and have been quietly unleashing Siakam all season. Pascal quietly outshot Kyle Lowry this year while also securing the team's highest field goal percentage at 54.9%. If there's one guy on this team that can abuse the Magic's poor interior defense, you'd think it would be him.
I also wonder if we haven't seen Kyle Lowry's final form this season. He's laid pretty low this year, deferring to Leonard and Siakam, but he's now awfully cheap for a guy that used to be $9,000 and has an alpha-dog mentality. I don't think you can be thrilled to run him in cash games though.
On the Magic side, we're once again in a position where things are looking great unless we see tightened rotations in the playoffs. With the addition of Marc Gasol, the Raptors now feature plus defenders at every position. They were a top 3-4 defensive team all season, with upside for more if we assume full minutes out of Leonard. In other words, I'm not trusting the Magic for cash games.
I will be watching the Magic for tightened rotations, though. There's certainly a chance that DJ Augustin starts grabbing more minutes, or even Evan Fournier and Jonathan Isaac. The Magic's second unit is just filled with forgettable players, and while their first unit isn't going to blow you away it could make sense for them to push the minutes there.
Los Angeles Clippers at the Golden State Warriors
Golden State is favored by 12.5 in a game with a 232 total.
Good luck forecasting the minutes in this one. On the heels of back to back championships and three in the last four years, the Warriors have shown plenty of confidence in limiting their big players' minutes in the early rounds of the playoffs. With little injuries to Steph Curry and Draymond Green, it's hard to imagine the Warriors pushing the envelope here unless it's absolutely necessary. The Dubs won the season series 3-1, including two blowout victories and an overtime loss. The Clippers spent the better part of the year trying to figure out how to tank before realizing they just had too much talent in a Western Conference that falls off fast after the top 8 teams.
At the end of the season, the Clips seemed pretty motivated to duck the Warriors in round one, but they just lacked the personnel to get themselves over the hump. For my money they have the least inspiring roster in the entire playoffs, and by far the worst shot at keeping things competitive. I also don't know if they even can shorten their rotations, as I'm not sure there's a fundamental difference between guys like Garrett Temple and Landry Shamet or whatever. Still, if games do stay close, there are some clearly interesting big tournament plays.

Lou Williams FD - $6700 DK - $6200
Opponent - GS
Proj Pts FD - 32.62 DK - 33.79

Shai Gilgeous-Alexander FD - $6000 DK - $5300
Opponent - GS
Proj Pts FD - 28.56 DK - 28.26

Montrezl Harrell FD - $6700 DK - $5600
Opponent - GS
Proj Pts FD - 31.14 DK - 30.33
I'll start with Shai Gilgeous-Alexander, the one player that the Clippers seem to believe deserves 35+ minutes per game regardless of the game script. He's actually got a very nice track record of paying 5x+ points per dollar on these prices, and he's the type of player that can sneak up on opposing teams with his unassuming style. I think there's even an argument for playing him cash.
For tournaments, though, I'm very interesting in Lou Williams and Montrezl Harrell. Both are clearly among the top 5 most talented players on this team, even if they aren't going to be in the starting lineup. Williams has caught the Dubs off balance in the past with his fearless energy off the bench, and Harrell seems like he has a much better chance to stay on the floor against the Dubs than any of the other Clips big men. He is a perfect guy to play small ball with, and has the toughness to credibly stand up to Boogie for short stretches as well. I think both carry significant risk for cash games, but for big tournaments there's a great case to be made here. A with Brooklyn and Orlando, I'll really be watching closely to see if the Clips shorten their rotations here.
San Antonio Spurs at the Denver Nuggets
Denver is favored by 5.5 in a game with a 211 total.
The game with the tighest spread is also the game with the lowest total. Way of the road, I suppose. Denver and San Antonio split the season series 2-2, though Denver did win the point differential battle here.
This series is the most interesting one for me to watch here, because I think there is good reason to believe that we see the Nuggets dramatically tighten their rotation for this one. The Nuggets made a half-hearted play for the one seed before ultimately coasting for the last week of the season before being forced to tip their hand to keep the two seed in the season's final game. That game told us a heck of a lot about what their plans should likely be here, though, which is sort of a relief.

Will Barton FD - $4400 DK - $4200
Opponent - SA
Proj Pts FD - 28.12 DK - 29.21

Paul Millsap FD - $5800 DK - $5400
Opponent - SA
Proj Pts FD - 36.31 DK - 35.66

Gary Harris FD - $4200 DK - $3900
Opponent - SA
Proj Pts FD - 24.71 DK - 24.95
While the roles of Jokic and Murray were very much solidified, we really didn't have great answers as to where Denver wanted to invest the rest of their minutes until the season's final game. In that game, Barton and Millsap played 33 minutes, and Gary Harris topped out at 39. If this is the plan for the playoffs, then Harris and Barton are comically under-priced, and Millsap is an excellent value. While the Spurs weren't a terrible defense this year, they do own the 2nd worst defensive efficiency in the playoffs (behind the Clippers), and they are certainly not a match-up we can fade on these short slates.

LaMarcus Aldridge FD - $8500 DK - $7500
Opponent - DEN
Proj Pts FD - 41.39 DK - 40.84
On the Spurs side, things are a little murkier to me. I'm not sure they've totally tipped their hand as to their playoff plans just yet, but one thing that is clear is that the plan will revolve around the now cheap-ish LaMarcus Aldridge. He averaged 39.3 FanDuel points a game this season in spite of playing 10% fewer minutes per game that we're projecting him for here, and you could very well see him play 40 in these games. Millsap represents a tougher match-up for him, but Denver is good against every position, and the Spurs have to try something. At a thin power forward position, I could absolutely see playing him here.
After Aldridge, I'm struggling a bit. It would be tough for the Spurs to run Aldridge at the 5 against Jokic, but can they really leave Rudy Gay's scoring on the bench? Is this the series where we see DeMar DeRozan show us why he was brought to San Antonio? Will one of the Bryn Forbes/Derrick White duo try and exploit some potential defensive weakness in Jamal Murray? I'm not sure, but I'm pretty damned excited to find out!
GRAB A FREE TRIAL OF OUR PROJECTION SYSTEM, AND CHECK OUT DFSR PRO!
FREE EBOOK
SECRETS TO CRUSHING DAILY FANTASY FOOTBALL!
DON'T SET ANOTHER LINEUP BEFORE YOU READ THIS BOOK.