Baseball Picks Daily Fantasy
Expert Advice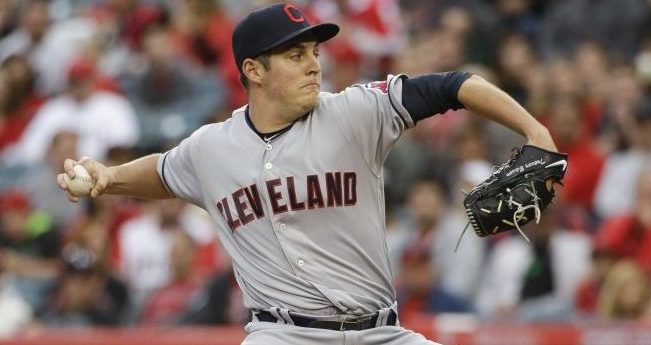 DraftKings and FanDuel MLB Picks for Monday 4/15/19
It would be tough for Monday to live up to Sunday's sports' goodness. Tiger wins the Masters, four games of NBA playoff action, baseball all day. It was glorious. Let's deal with a slight sports hangover by rocking through the best MLB value plays for
FanDuel
and
DraftKings
.
Now's your chance to get DFSR PRO, which will give you access to our MLB and NBA optimizers and our new player lab! Get started for free by clicking the button below.
Pitchers

Trevor Bauer FD 11200 DK 10400
Opponent -
SEA (Yusei Kikuchi)
Park -
SEA
FD
- 39.04
DK
- 21.37
On Sunday, we wrote up
Gerrit Cole
against the Mariners despite that being somewhat of an unpopular move. It's easy to see with the Mariners off to such a torrid offensive start. But as we mentioned, some of the M's early season success relies on them being among the tops in the league in both BABIP and Hr/FB ratios. When those numbers regress more to standards we will see this team slow down a bit. Bauer has mostly maintained his 11 K per nine rate from last year though this season the walks have been something of a problem. It's meant his 3.92 xFIP is trailing the 2.29 ERA which could lead to some pessimism going forward. There are other quality arms on this slate, so I don't see Bauer as a clear cash lock, but I do think we'll get him slightly lower owned because of the matchup.

Noah Syndergaard FD 9900 DK 10000
Opponent -
PHI (Aaron Nola)
Park -
PHI
FD
- 33.38
DK
- 18.04
There are a number of quality arms on this slate, though some are a little rough coming out of the gate. Nola hasn't looked all that good, it's Kershaw's first game back, Darvish has been mostly a disaster and Castillo has a tough matchup. That kind of leaves us by default with Syndergaard. He's been excellent to start the season with a 10:1 K:BB ratio, striking out about 9.5 batters per nine and limiting batters to a 26% hard
contact
rate. The problem, of course, is the Phillies lineup that ranks among the best in the league. They are a righty-heavy group, with only one lefty bat (Harper) in four of the first five batters. But I'm buying Thor as the best of the rest of the group on Monday.
Freddy Peralta FD 7800 DK 8800
Opponent -
STL (Dakota Hudson)
Park -
MIL
FD - 35.5 DK - 19 It's easy to get seduced by Peralta's strikeout upside. After all, this is a dude with 115 K's over his last 92 innings pitched. That's an elite number for any starter. But he's had trouble going long in games consistently because of some control issues. He's offered up a 4.3 BB/9 rate in that same span and averaged only about five innings per start. But on a fuzzy day with starting pitching, I think taking the risk on Peralta with his upside could be worth it. He'll get a mostly righty Cardinals' lineup and could make for a high upside
DraftKings
SP2.
Team Cash Stacks
Texas Rangers
Park - TEXOpposing Pitcher - LAA (Matt Harvey)Vegas Implied Run Total - 5.38
The Rangers will get one of the worst arms in the slate in one of the best power parks in baseball. Last year Globe Life Park yielded the third-most home runs per game in baseball and the most runs per game. Clearly, some of that had to do with the Rangers' pitching staff, but this is still a bandbox especially as the weather keeps getting warmer.
Matt Harvey
continues his descent into oblivion after a moderate bounce back last season. This year is much like his 2017 season with the xFIP (after 14 innings) sitting above 5.00 (ERA is over 10.00) and the strikeout rate less than seven K's per nine. He's a gas can and I love the Rangers' stacks today.
Update: Harvey was moved out of this start and it is now Trevor Cahill. That reduces the expectation on the Rangers' bats though they do still have an implied run line of 5.
Potential Players to Stack
Shin-Soo Choo
(FD $3600 DK $4200)
Joey Gallo
(FD $4100 DK $4900)
Nomar Mazara
(FD $3500 DK $4200)
Harvey's high walk rate should play well with
Shin-Soo Choo
who's have a 13% BB rate over the last two seasons. He had an .892 OPS against righties last season with a .382 wOBA. He's a patient hitter who does have some power in the bat. He hasn't gone yard yet this season, but has back-to-back seasons of 20 (or more) home runs.
Gallo could see heavy ownership on this slate despite the price climbing on both sites. He's coming off back-to-back 40 home run seasons (41 in 2017) and has exhibited a bit more patience this season with a 20% walk rate. His biggest downfall is the swing and miss (38% for his career) but that's mitigated to a great degree by Harvey's repertoire. This is a smash spot for Gallo.
Finally, Mazara could represent some value in the middle tier, coming in the mid-$3K range on
FanDuel
and low $4K-range on
DraftKings
. The 23-year-old has basically done the same thing over his first 3+ MLB seasons. That means a mid-.700's OPS and some decent power.
And finally, we could find some low-end, cheap value if Logan Forsythe continues to hit second with Odor injured.
Milwaukee Brewers
Park - MILOpposing Pitcher - STL (Dakota Hudson)Vegas Implied Run Total - 5.11
While
Dakota Hudson
's career 2.68 ERA might make you think we are running a stack into an adequate arm, some of his other numbers are downright alarming. Through 37 major league innings, he has a BB/9 rate over 6.00 and the 4.62 xFIP sits nearly two runs higher than the ERA. He's lived off of some run hot with the BABIP and the LOB%. I think he could be in real trouble against the Brewers who've shown a willingness to stack lefties in the lineup when they see fit. They did as much on Sunday.
Potential Players to Stack
Christian Yelich
(FD $4800 DK $5400)
Travis Shaw
(FD $3000 DK $3900)
Ryan Braun
(FD $3300 DK $4600)
Christian Yelich
is following up his breakout 2018 MVP season with, well, almost a better year starting in 2019. It's only 70 plate appearances, but he's already dropped the K rate from 20% to 15% and upped the walk rate from 10% to 15%. Sure, he's run hot with his 35% Hr/FB rate, but this dude obviously ranks as one of the elite hitters in the game. He's often very expensive, leaving us to decide the exposure in cash, but this is a slate to pay up for the guy.
Much of
Travis Shaw
's value lies in where he falls in the lineup. But as long as it's fourth or fifth, then we are in great shape with him, especially on his
FanDuel
price. He's gotten off to a very slow start, with strikeouts as a major problem. He's K-ing 32% of the time, up from only 18% last year. It's early and it stands to reason this number corrects, but it's at least mildly concerning.
There are other things to like about the Brewers depending on how the lineup shakes.
Ryan Braun
in the middle of the lineup doesn't look too bad in the middle tier even on the worse side of his splits. If
Yasmani Grandal
or
Mike Moustakas
remain near the top of the lineup against the righty then both would make for value plays.
Chicago White Sox
Park - CHWOpposing Pitcher - KC (Heath Fillmyer)Vegas Implied Run Total - 5.03
The White Sox could be another potential way to stack on the cheap.
Heath Fillmyer
has 85 major league innings of a 4.65 xFIP and 6.22 K/9 rate. His only *saving grace* is his ability to generate ground balls but that isn't enough. He'll get the White Sox in one of the league's best hitter's park in Chicago and we do get some of the top-of-the-order bats for a little less than the teams above.
Potential Players to Stack
Yoan Moncada
(FD $3700 DK $4800)
Leury Garcia
(FD $2800 DK $4200)
Yonder Alonso
(FD $2600 DK $3900)
Eloy Jimenez
(FD $3000 DK $3900)
Moncada has cut some of his strikeout rate this season (down to 24% from a career 33%) though sacrificed some of the walks in the process. It's still leading to positive results on the early season with a mid .800's OPS and three home runs. He's yet to steal a base, but one has to imagine those trickle in some over the course of the year.
Leury Garcia
should be in the leadoff spot, and while not a patient guy (4% walk rate) does have some speed (15 SBs in his last 325 PAs) and has still managed to find a way to get on base around 34% of the time.
Yonder Alonso
is the patient one in the bunch, taking walks at a 20% clips (10% for his career) and hitting in the cleanup spot. He's been tougher to strike out for his career and is a heavy favorite for
contact
of a free pass in this matchup considering Fillmyer's pitcher profile.
GRAB A FREE TRIAL OF OUR PROJECTION SYSTEM, AND CHECK OUT DFSR PRO!
FREE EBOOK
SECRETS TO CRUSHING DAILY FANTASY FOOTBALL!
DON'T SET ANOTHER LINEUP BEFORE YOU READ THIS BOOK.