Baseball Picks Daily Fantasy
Expert Advice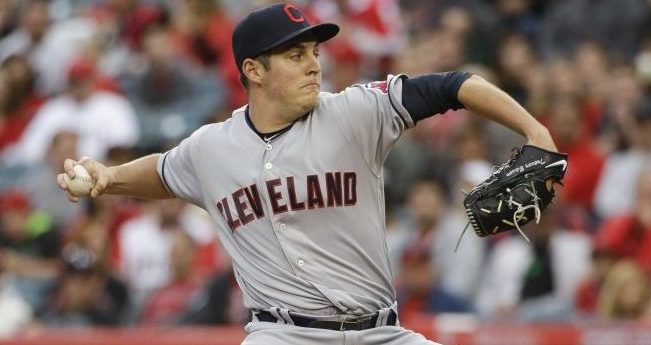 DraftKings and FanDuel MLB Picks for Saturday 4/30/19
Now's your chance to get DFSR PRO, which will give you access to our MLB and NBA optimizers and our new player lab! Get started for free by clicking the button below.
Weather has been a nightmare recently, so that's the top priority before filling out lineups. This slate is no different, as we have ugly forecasts all around the country. The cities/states we need to focus on are Washington, New York, Minnesota, Chicago, Kansas City, Philadelphia and Texas. That's about half of the slate and that's a disaster for DFS players. So, while we don't have accurate enough forecasts to predict what these games will do, it's definitely something you need to keep an eye on.
Pitchers

Trevor Bauer FD - P 11400 DK - SP 10900
Opponent - MIA (Sandy Alcantara) Park - MIA
FD - 41.63 DK - 22.62
This is easily my favorite pitcher on the board, as Bauer should obliterate this lineup. Let's start with the Marlins, with their best hitter being Starlin Castro. That says a lot about this team and it's no surprise that they rank dead-last in total runs. The peripherals back up that run total, with Miami ranking 27th in xwOBA and 28th in wOBA. That makes any pitcher worth starting against them but especially a stud like Bauer. The right-hander currently owns a 1.99 ERA and a 1.03 WHIP to go along with an incredible 28.3 percent K-rate. Not to mention, he gets to pitch against an NL lineup with a pitcher hitting in the best pitcher's park in the majors.

Vince Velasquez FD - P 8200 DK - SP 8700
Opponent - DET (Tyson Ross) Park - PHI
FD - 32.33 DK - 16.78
Velasquez has always been a personal favorite of mine and he appears to be finding some consistency. So far this season, Velsaquez has posted a 1.99 ERA and 1.01 WHIP while striking out 22 batters across 22.2 innings of action. Those strikeout numbers are why we like him here, with Velsquez posting a 25.4 percent K-rate for his career. That becomes particularly intriguing in a matchup like this, with Detroit having the second-worst K-rate in the majors. They don't just struggle with plate discipline, the Tigers also rank 25th in wOBA and 27th in runs scored.
Blake Snell and Gerrit Cole are two of the highest priced pitchers on the board but are worth considering with their strikeout potential and quality matchups. Jakob Junis is also worth considering if you're in need of a cheap arm, as he's at home against the Tampa Bay Rays.

Catcher/First Base
Mitch Moreland FD - 1B 3200 DK - 1B 4200
Opponent - OAK (Aaron Brooks) Park - BOS
FD - 11.7 DK - 8.81
Moreland is often forgotten about when making a Red Sox stack but he really shouldn't be, batting in the heart of their order. He's arguably their second-most dangerous left-handed bat and that becomes particularly intriguing against a weak righty like Aaron Brooks. Over the last three years, Moreland owns a .786 OPS against righties. Brooks is not a righty we need to fear either, as his 5.33 ERA and 4.75 xFIP are far from impressive.
Josh Bell FD - 1B 3700 DK - 1B 4800
Opponent - TEX (Adrian Sampson) Park - TEX
FD - 11.94 DK - 9.06
Bell is truly in the midst of a breakout season and he becomes tough to fade in a matchup like this. Hitting in Globe Life Park is one of the biggest reasons why we like Bell, as that ballpark suffered the most runs in the majors last season. That should be beneficial for a guy like Bell, who's posting a .947 OPS and .392 xwOBA this season. Facing Adrian Sampson is simply the icing on the cake, with Sampson sitting with a .382 xwOBA to go along with his 1.46 WHIP. Not to mention, Bell gets the platoon advantage and always hit betters against right-handers.
If you're in need of a catcher, consider Francisco Cervelli in the same matchup as Bell.
Second Base

Wilmer Flores FD - 2B 2200 DK - 1B/2B 3700
Opponent - NYY (CC Sabathia) Park - ARI
FD - 10.68 DK - 8.21
The second baseman pool is a bit weak on this slate, so we're going to go with a couple of value plays. What makes Flores interesting here is the fact that he gets the platoon advantage against C.C. Sabathia, with Flores posting a .766 OPS against southpaws over the last three seasons. While that's not necessarily a special OPS, it's all you can ask for from a player who is so cheap. Sabathia has some regression headed his way too, as his 2.40 ERA and 5.04 FIP simply don't match up.

Adam Frazier FD - 2B 2700 DK - 2B 4200
Opponent - TEX (Adrian Sampson) Park - TEX
FD - 11.64 DK - 9.03
Frazier has been battling lead-off for the Pirates and it doesn't really show in his price. While his recent production is nothing to write home about, this matchup is hard to overlook. Hitting in one of the best ballparks in the majors would make any lead-off hitter an intriguing option but it's simply impossible to fade with a guy like Sampson opposing him. Frazier happens to own a .788 OPS against right-handers over the last three years and he's been doing that damage in a pitcher's haven like PNC Park.
Shortstop

Francisco Lindor FD - SS 3600 DK - SS 4600
Opponent - MIA (Sandy Alcantara) Park - MIA
FD - 12.08 DK - 9.21
Hitting in Marlins Park is no treat for any hitter but Lindor should have success in a matchup like this. It's hard to argue with Lindor's early-start, as he has three homers in his first eight games of the season. We always want to use Lindor from the left side too, as he has a .934 OPS against righties throughout his career. Alcantara is not a pitcher we need to fade either, as his 6.30 ERA and 1.90 WHIP since a flukey opener is downright ugly.
Jose Iglesias FD - SS 2300 DK - SS 3100
Opponent - NYM (Jason Vargas) Park - NYM
FD - 7.46 DK - 5.88
Iglesias is more known for his glove than his bat but this matchup is hard to overlook. We want to get as many righties as possible against Jason Vargas because he's simply one of the worst pitchers in the majors. That's crystal clear by his 7.20 ERA and 1.93 WHIP, as his .432 xwOBA isn't much better. Iglesias comes into this matchup rolling too, as he's 11-for-26 at the plate over his last seven games.
Also Consider Wilmer Difo against Adam Wainwright if he gets the start.
Third Base

Rafael Devers FD - 3B 3100 DK - 3B 4100
Opponent - OAK (Aaron Brooks) Park - BOS
FD - 11.63 DK - 8.84
Devers has been a disappointment for season-long fantasy owners but we want to get as many Red Sox lefties as possible into our stack. The simple fact is, Brooks can't pitch outside of Oakland Coliseum. That pitcher's park has helped a lot of A's ERA's and it's no different with Brooks. In fact, the righty owns a 5.68 ERA and 1.42 WHIP outside of home and that spells disaster in a little league field like Fenway Park. That alone puts all the Boston players in play, especially considering that Devers gets the platoon advantage from the left side. It's not like Devers has been terrible either, as his .287 average is a solid number.

Colin Moran FD - 3B 2400 DK - 3B 4100
Opponent - TEX (Adrian Sampson) Park - TEX
FD - 10.61 DK - 8.16
Moran is yet another piece to our Pirates stack, as he too gets the platoon advantage from the left side. We don't really need to discuss Sampson's numbers any further, as he's simply a Triple-A arm. What we like about Moran is the fact that he's abused righties throughout his career, posting an OPS north of .800 against them. That OPS is even better this season, as he doesn't even have a hit off of a lefty yet. The price tag may be the best part of this play though, as there aren't many players in this price range with this high of an upside.
Outfield

J.D. Martinez FD - OF 4000 DK - OF 4900
Opponent - OAK (Aaron Brooks) Park - BOS
FD - 15.02 DK - 11.27
Martinez is the final piece of our Red Sox stack and he very well may be the best play on the board. Not only did Martinez finish top-five in fantasy points last season, but he's also posting a .949 OPS so far this season. He's simply one of the best hitters in the majors and his .455 xwOBA would indicate that he's only going to get better. The aforementioned numbers from Brooks makes Martinez even tougher to fade.

Wil Myers FD - OF 2800 DK - 1B/OF 4300
Opponent - ATL (Julio Teheran) Park - ATL
FD - 11.3 DK - 8.59

Franmil Reyes FD - OF 2400 DK - OF 3700
Opponent - ATL (Julio Teheran) Park - ATL
FD - 10.24 DK - 7.76
While I do have some interest in Julio Teheran here, stacking Padres isn't the worst idea either. One major reason why is because Teheran has struggled in this new ballpark. In fact, Teheran owns a 4.71 ERA and 1.36 WHIP at home over the last three years, in what's become one of the best hitter's parks in the majors. That puts many of the Padres in play but specifically, these two. Not only does Myers rank second on the team in fantasy points, Reyes leads the club with an absurd .433 xwOBA. These prices are hard to overlook too and they make it much easier to get a pitcher like Bauer into your lineup.

Kyle Schwarber FD - OF 2400 DK - OF 3600
Opponent - SEA (Felix Hernandez) Park - SEA
FD - 11.18 DK - 8.32

Ben Zobrist FD - OF 2500 DK - 2B/OF 3300
Opponent - SEA (Felix Hernandez) Park - SEA
FD - 11.06 DK - 8.45
Looking at these two's numbers this season makes them tough to recommend but King Felix has become a player we want to stack against. Since 2016, Hernandez has posted a 4.57 ERA and 1.34 WHIP. That's obviously not the hall-of-famer we all knew and loved, as it's worth picking lefties against him any time he toes the rubber. In that same span, left-handed batters are posting an OPS north of .800 against Hernandez. That puts both of these struggling bats in play, as they've traditionally been more successful against right-handed pitchers.
Don't forget about Gregory Polanco to round out our Pittsburgh stack in Texas.
GRAB A FREE TRIAL OF OUR PROJECTION SYSTEM, AND CHECK OUT DFSR PRO!
FREE EBOOK
SECRETS TO CRUSHING DAILY FANTASY FOOTBALL!
DON'T SET ANOTHER LINEUP BEFORE YOU READ THIS BOOK.