Baseball Picks Daily Fantasy
Expert Advice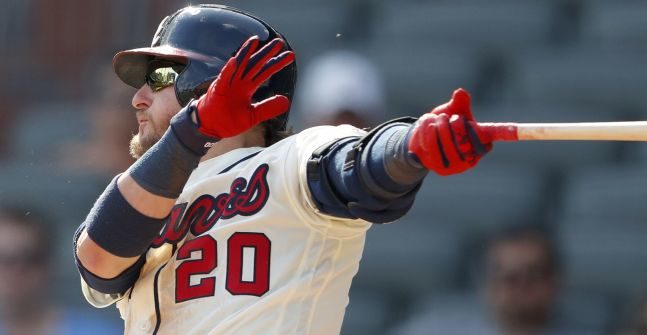 DraftKings and FanDuel MLB Picks for Wednesday 5/1/19
Now's your chance to get DFSR PRO, which will give you access to our MLB and NBA optimizers and our new player lab! Get started for free by clicking the button below.
Pitchers
Early Slate

Carlos Rodon FD - P 9400 DK - SP 9400
Opponent - BAL (David Hess) Park - CHW
FD - 36.83 DK - 18.78
The starters from yesterday's rainout are slated to go head to head today in game one of the double-header and while there is rain in the forecast it is early on and fades late afternoon. That is good news that they should at least get one game in so I will be turning to Carlos Rodon as my core pitcher. The ERA(4.94) spiked after allowing eight runs to the Tigers in his last start but before that, he had held opponents to two or fewer runs in four of five starts. On top of that, he is striking out 28% of batters he faces which is by far the highest on this slate. To cap it off, he and the White Sox face an Orioles team sit near the bottom of the league in almost all offensive categories and have been worse against lefties with .293 wOBA, 80 wRC+, and 25% K rate. Fire up Rodon in all formats today.
Also Consider: Mashiro Tanaka(NYY)
Main Slate
Corey Kluber FD - P 10100 DK - SP 9400
Opponent - MIA (Caleb Smith) Park - MIA
FD - 38.39 DK - 21.14
Tonight's slate is definitely not short of pitching options at the top(Scherzer, Kluber, deGrom, Nola) and I wouldn't knock building around any of them but I will be starting with Kluber for a couple of reasons. It starts with the matchup as the Indians are big(-) favorites as they take on the Marlins who have scored a league-low 78 runs while striking out 25% of the time(27.5% against right-handed pitching). For Kluber, he has been up and down to start the year and sits with an ugly 5.81 ERA but there are signs he will get back to being consistent. He sits with LOB%(64%) which is over 10% lower than his career average while the BABIP(.363) sits over 60 points higher than his career number. On top of that, he is allowing just an average exit velo of 85 mph which is Top 50 among all pitchers and while he is striking out just 24% of batters, he is producing a 12.5% swinging strike rate. All things considered, Kluber is my top pitcher in all formats on Wednesday night.
Aaron Nola FD - P 9100 DK - SP 9000
Opponent - DET (Daniel Norris) Park - PHI
FD - 39.4 DK - 21.52
Nola is one of three pitchers on this slate to finish at the top of the CY Young voting in the NL a year ago but like so many pitchers early this season he has experienced struggles. The good news is that he has been better as of late and the price is still down on both sites giving him excellent PTS/$  upside, especially given the matchup. The Phillies are early -205 home favorites against a Tigers team that has scored the third-fewest runs in 2019(91) and have been considerably worse against righties with a .288 wOBA, 77 wRC+, and .138 ISO. Nola will be a target for me in all formats tonight.

Catcher/First Base
Early Slate

Josh Bell FD - 1B 3800 DK - 1B 4800
Opponent - TEX (Shelby Miller) Park - TEX
FD - 11.68 DK - 8.87
The Pirates have the highest implied runs(5.2) on the early slate and are very affordable on both sites making them my top team to target. At first base, I will be looking to Josh Bell he finally looks like the complete player the Pirates had hoped for when drafting him in 2011. He entered last night's game with a .280/.355/.591 slash line and leads the team with 19 RBI and 16 runs scored. Overall, the offense has struggled but is finally healthy with Polanco and Marte back in the lineup. The best part is the matchup against Shelby Miller who has walked an absurd 17% of batters he has faced and allowed 17 earned runs in just 20 innings(7.52 ERA, 7.76 xFIP).
Also Consider: Nate Lowe(TB) especially on FanDuel where he sits in the low $2K range
Main Slate


Yuli Gurriel FD - 1B 2300 DK - 1B/3B 3600
Opponent - MIN (Martin Perez) Park - MIN
FD - 9.59 DK - 7.43
If there is one thing we are learning about Yuli Gurriel since he joined the Astros in 2016(defected from Cuba) is he loves hitting against lefties. Overall, his .240 average is pretty poor but looking at the splits he has posted an elite .433 wOBA< 179 wRC+, and .273 ISO against southpaws. At these prices and against an average to below average arm in Martin Perez, I will have a piece of Gurriel in all formats tonight.
Also Consider: Rhys Hoskins(PHI) who gets a plus matchup against Daniel Norris and also has positive splits against lefties
Second Base
Early Slate


Whit Merrifield FD - 2B 4000 DK - 2B/OF 4300 
Opponent - TB (Ryne Stanek) Park - KC
FD - 10.39 DK - 8.13
What stands out here is the price on DraftKings where Merrifield is somehow the 10th most expensive 2nd base eligible player on a five-game slate. He has cooled off a bit after a hot start but still enters tonight with a .288/.346/.483 slash line and contributes in all offensive categories and sits with a 115 wRC+ on the season. I get that the matchup is not great against the Rays who lead the league in ERA, but on a small slate I can't pass up that value.
Also Consider: Adam Frazier(PIT) if he is again leading off for the Pirates
Main Slate


Ozzie Albies FD - 2B 4300 DK - 2B 5200
Opponent - SD (Cal Quantrill) Park - ATL
FD - 12.14 DK - 9.4
Second base is tough on the main slate with Cano still day-to-day, Altuve ice cold, and while he has a nice hitting streak, the price on FanDuel seems crazy for Eric Sogard. For this reason, I will be paying right up for Ozzie Albies who has been on a tear of his own lately as he went into Tuesday with hits in nine of his last 10 games with four home runs and 13 runs scored. The Braves get a decent matchup today against Cal Quantrill who will be making his major league debut but doesn't stand out a bunch with a minor league career 4.47 ERA and 1.44 WHIP.
Also Consider: Eric Sogard(TOR) on DraftKings, Robinson Cano(NYM) if he is back in the lineup, or Kike Hernandez(LAD) 
Shortstop
Early Slate


Gleyber Torres FD - SS 3700 DK - 2B/SS 4500
Opponent - ARI (Merrill Kelly) Park - ARI
FD - 10.42 DK - 18.28
If you have the salary, Tim Andeson is easily the top shortstop from a raw points perspective. I will take the savings and go with Torres on this smaller slate and while the overall numbers are pretty blah(.264/.297/.455 slash line), he has been better lately with hits in seven straight. Rookie pitcher, Merrill Kelly, has been pretty good to start his career with a 3.94 ERA, 4.28 xFIP but has a below average walk rate(9.4%) and strikeout rate(21%). Torres is in play in all formats.
Also Consider: Marcus Semien(OAK)
Main


Jean Segura FD - SS 4000 DK - SS 4600
Opponent - DET (Daniel Norris) Park - PHI
FD - 10.94 DK - 8.61
Segura is back after a stint on the 10-day IL and has looked good and is coming off a three-hit game/two run on Sunday. For the season, that gives him an elite .347/.405/.514 slash line and he also has strong splits against lefties with a .352 woBA, 126 wRC+, and .821 OPS since the start of the 2017 season. That matches up well against Daniel Norris who sits with an xFIP(4.92) almost one run higher than the ERA(3.93) while giving up an average ext velo of 90 mph with a 40% hard contact rate against. The Phillies lead all teams in implied runs today and Segura will be a part of my core in all formats.
Also Consider: Carlos Correa(HOU)
Third Base
Early Slate

Yandy Diaz FD - 3B 4000 DK - 1B/3B 4800 
Opponent - KC (Jake Junis) Park - KC
FD - 8.1 DK - 6.25
The Rays lead the American League with 19 wins and own the best winning percentage(.679) in baseball this season. The pitching has been the core leading the league in ERA but what stands out most about the offense is how deep it is with no real all-star caliber player. Diaz has been a huge contributor in the middle of the lineup and enters today with a .298/.395/.596 slash line with seven home runs and 18 RBI and 18 runs scored. While the stats suggest he is due for some regression I will ride the hot streak in a plus matchup against Jake Junis and his 5.57 ERA, average 90 mph exit velo, and 40% hard contact rate.
Also Consider: Rafael Devers(BOS)
Main Slate


Josh Donaldson FD - 3B 3900 DK - 3B 4900
Opponent - SD (Cal Quantrill) Park - ATL
FD - 12.94 DK - 9.67
The average(.258) isn't where he would like it in his first season with the Braves after an injury-plagued 2018 but there are a lot of positives here. First of all, he is getting on base an elite .395 clip and has flashed his big upside with five home runs and there should be more of that coming as he is averaging a whopping 94 mph exit velo and 54%(54%!!!) hard contact rate. Like I mentioned with Albies, the Braves get a plus matchup against Quantrill who hasn't shown much at the minor league level(4.47 ERA, 1.44 WHIP). Get out your umbrellas for the Bringer of Rain.
Also Consider: Alex Bregman(HOU)
Outfield
Early Slate

Starling Marte FD - OF 3200 DK - OF 4400
Opponent - TEX (Shelby Miller) Park - TEX
FD - 12.59 DK - 9.84

Melky Cabrera FD - OF 2900 DK - OF 3900
Opponent - TEX (Shelby Miller) Park - TEX
FD - 9.51 DK - 7.39
I mentioned with Bell that the Pirates are my top team to target on the early slate and I am going right back to them in the outfield. There should be a ton of base runners to cash in today as Miller has an ugly 17% walk rate and has been punished lately giving up four home runs in his last three starts with a 46% hard contact rate.
For safety and salary relief, I will be turning to Melky Cabrera who should continue to get at-bats with the DH in this series. He has been consistent lately(for the price) as he went into Tuesday night with a six-game hit streak including two doubles and two home runs. Marte is riskier just coming off the IL yesterday but provides a nice power/speed combination and has been stronger against righties for his career.
Also Consider: Andrew Benintendi(BOS) or Leury Garcia(CWS)
Main Slate

Jeff McNeil FD - OF 3200 DK - 3B/OF 4200
Opponent - CIN (Anthony DeSclafani) Park - NYM
FD - 9.54 DK - 7.45
McNeil impressed in a second-half call-up in 2081 posting a .329 average and .381 on-base percentage over 63 games. He has more than picked up where he left off in 2019 as he went into Tuesday night hitting .347 with .441 on-base percentage with the expected stats(via MLB Savant) sitting just slightly lower meaning this success is very sustainable. Anthony DeSclafini has been terrific in his last two starts but can often get himself in trouble with walks and overall, sits with a 4.26 ERA and 4.67 xFIP. McNeill is in play in all formats on both sites but his best value comes on FanDuel in the low $3K range.
Also Consider: Adam Eaton/Victor Robles(WSH)
GRAB A FREE TRIAL OF OUR PROJECTION SYSTEM, AND CHECK OUT DFSR PRO!
FREE EBOOK
SECRETS TO CRUSHING DAILY FANTASY FOOTBALL!
DON'T SET ANOTHER LINEUP BEFORE YOU READ THIS BOOK.