Baseball Picks Daily Fantasy
Expert Advice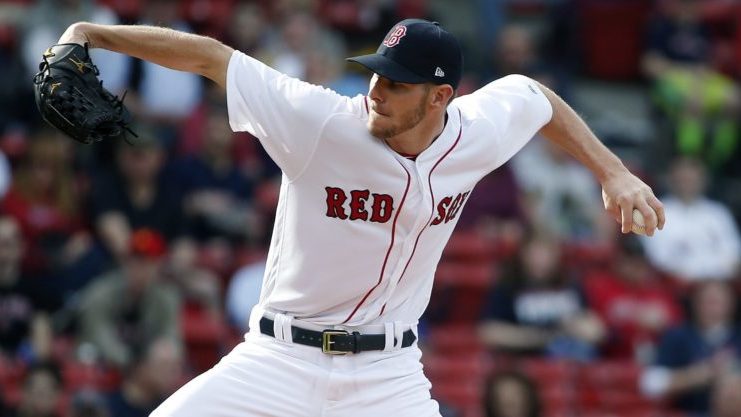 DraftKings and FanDuel MLB Picks for Wednesday 5/8/19
Now's your chance to get DFSR PRO, which will give you access to our MLB and NBA optimizers and our new player lab! Get started for free by clicking the button below.
Pitchers
Early


Charlie Morton FD - P 9300 DK - SP 10100
Opponent - ARI (Robbie Ray) Park - TB
FD - 37.62 DK - 0.09
We are paying a premium for Morton on this small four-game slate ut he checks every box and is my top target. Outside of the one start vs. Boston where he gave up five runs, he has been terrific holding opponents to two or fewer earned runs in each of his other six starts. Not only is he producing an elite 50%+ ground ball rate but he has also flashed a ton of upside striking out 30% of batters he has faced with a career-high 12.7% swinging strike rate(34% on balls outside the zone). Today he and the Rays are -160 home favorites in one of the best pitchers parks in the league facing a team that is much better against left-handed pitching. Morton is in play in all formats.
Also Consider: Robbie Ray(ARI) as a GPP pivot as the underdog in the same matchup but. He has K upside(27%) and faces a Rays team that is striking out 30% of the time vs. lefties
Main


Chris Sale FD - P 11000 DK - SP 10400
Opponent - BAL (Andrew Cashner) Park - BAL
FD - 41.59 DK - 23.82
Sale highlights the options on the main slate and while the price is back up in the elite territory, so is the performance. That is good news for Red Sox fans and fantasy owners alike as it was a rough start to the season, for sure. Over his last three starts, he has allowed just four total earned runs(none last start) while striking out 28 batters(39%) with a 13% swinging strike rate. He and the Red Sox open as huge -255 favorites against an Orioles team that ranks near the bottom of the league in almost all offensive categories and have been slightly worse against lefties while striking out 26% of the time in the split. Sale is our top projected pitcher by a wide margin and is a great play in all formats.
Also Consider: Matthew Boyd(DET) who sits with a pretty 3.05 ERA, 3.28 xFIP, and a 32% K rate on the season and faces an Angels team that ranks bottom 10 in almost all offensive categories

Listen to "Best DFS Baseball Plays for FanDuel and DraftKings - 5/8/19" on Spreaker.

Catcher/First Base
Early


Paul Goldschmidt FD - 1B 3500 DK - 1B 4300
Opponent - PHI (Jerad Eickhoff) Park - STL
FD - 12.78 DK - 9.63
What stands out here is the price as Goldy is the third most expensive player at first on FanDuel and the 8th most expensive first-base eligible option on DraftKings. I get the drop in price as he went into Tuesday night with a less than impressive .252/.329/468 slash line but he is running a career-low .299 BABIP while sitting with a career-high 52% hard contact rate which tells me regression to the mean is coming sooner than later. The matchup against Eickhoff isn't the greatest but the pickings are slim this small slate and Goldy gives us near elite PTS/$ value.
Also Consider: Josh Bell(PIT) who has hits in seven straight and 19 of his last 23 games and as a switch-hitter has better splits vs. right-handed pitching. Oh ya, he also gets a matchup against Shelby Miller who has a 7.99 ERA/7.59 xFIP 
Main


Justin Smoak FD - 1B 3300 DK - 1B 4100
Opponent - MIN (Kyle Gibson) Park - TOR
FD - 10.22 DK - 7.65
On the main slate, if you can make it work I do like Rizzo and Moreland in good spots but both are expensive. In cash games, I like the PTS/$ value with Smoak tonight allowing us to still pay up at pitching and run a very balanced lineup. This definitely hasn't been one of his best starts as he sits with a .245 average but a lot of the struggles have come from the right side of the plate. The switch-hitter has been much better against righties with a .358 wOBA, 126 wRC+, and .203 ISO and that matches up well against Gibson who struggles against lefties giving up a .354 wOBA and .529 slugging % in the split.
Also Consider: Mitch Moreland(BOS) who has been hitting in the middle of the lineup and gets a plus matchup against Andrew Cashner and the terrible O's bullpen
Second Base
Early


Adam Frazier FD - 2B 3200 DK - 2B 3900
Opponent - TEX (Shelby Miller) Park - PIT
FD - 10.84 DK - 8.42
Despite the Pirates sitting near the bottom of the league in almost all offensive categories, they are my top team to target on the early slate from a value perspective. It starts with the elite matchup against Shelby Miller who has walked(20) more batters than he has struck out(13) and has also given up four earned runs in four of his last five starts and sits with an ugly 7.99 ERA/7.59 xFIP on the season. For Frazier, he has been the Pirates primary leadoff hitter and enters tonight with hits in four straight and 10 of his last 12 games. Hitting leadoff brings more value than it has as the Pirates are finally healthy in the outfield(Marte/Polanco). Fire up Frazier in all formats in the sub $4K range on both sites.
Also Consider: Mike Moustakas(MIL)
Main


Whit Merrifield FD - 2B 3800 DK - 2B/OF 5000
Opponent - HOU (Brad Peacock) Park - HOU
FD - 9.23 DK - 7.22
On DraftKings, it is much closer where Merrifield has once again hit the $5K range but on FanDuel he is easily my top second basemen as the fifth most expensive at the position. Early on the numbers are a tick lower than the impressive showing in 2018 but still impressive as he entered Tuesday night with a .282/.337/.503 slash line and that will be going up as he just hit a grand slam as I write this. He can score fantasy points in multiple ways and gets a plus matchup against Brad Peacock who has struggled to a 5.82 ERA as a starter this season.
Also Consider: Eric Sogard(TOR)
Shortstop
Early

Elvis Andrus FD - SS 4100 DK - SS 5300
Opponent - PIT (Nick Kingham) Park - PIT
FD - 9.25 DK - 7.21
I normally only target Andrus against lefties but he has definitely held his own against righties with a .310 average, .370 wOBA, and 126 wRC+. Overall, he is getting on base at an elite .391 clip and has not only scored 19 runs but also driven in 23. Today, he and the Rangers face Nick Kingham who will be making his first start of the season after eight relief appearances where he posted a 6.39 ERA/4.42 xFIP while walking 11% of batters. As a rookie in 2018, he struggled in 15 starts posting a 5.21 ERA/4.63 xFIP and gave up a whopping 18 home runs(18.9% HR/FB rate). He is expensive but this game has all the makings of a shootout so get as much exposure as possible in all formats.
Also Consider: Paul DeJong(STL)
Main


Jorge Polanco FD - SS 4000 DK - SS 4700
Opponent - TOR (Trent Thornton) Park - TOR
FD - 10.81 DK - 8.38
The Twins have one of the best records in baseball and in large part to their offense which has been led by Jorge Polanco. He went into Tuesday night with an impressive .317/.388/.610 slash line but what stands out more than anything tonight are the splits of both the pitcher and hitter. Polanco is a switch-hitter who has been MUCH better from the left side of the plate posting a .395 wOBA, 149 wRC+, and .927 OPS since the start of his 2018 season. For Thornton, he has either been really good or really bad and has struggled much more against lefties giving up a .334 wOBA and .507 slugging %in the split(.259 wOBA, .279 SLG against RH bats). Everything lines up here for the Twins to once again take it to the Jays pitching staff.
Also Consider: Corey Seager(LAD) who is starting to show signs of life with hits and at least one run scored in three straight games
Third Base
Early


Matt Carpenter FD - 3B 3400 DK - 1B/3B 4000
Opponent - PHI (Jerad Eickhoff) Park - STL
FD - 12.2 DK - 9.09
The third base position is a tough one today so despite Carpenter's early season struggles, he does provide some much-needed PTS/$ value. He has also looked a bit better as of late as he went into Tuesday night with six hits in his last 15 at-bats including his fourth home run of the season. The matchup isn't great either but the good news is that Eickhoff has been known to get wild at times and has had issues with lefties throughout his career(.362 wOBA, .511 SLG vs .264 wOBA, .344 SLG against righties).
Also Consider: Asdrubal Cabrera(TEX)
Main


Rafael Devers FD - 3B 3500 DK - 3B 4800
Opponent - BAL (Andrew Cashner) Park - BAL
FD - 12.36 DK - 9.4
I talk about the Red Sox resurgence below with Betts/Benintendi as they have scored 64 runs(7.1) while winning seven of their last nine games coming into tonight. In his second full season as the Red Sox everyday third basemen, he has continued to struggle defensively but has made up for it with his bat. He has been consistent hitting .300 on the season and getting on base at a .380 clip which gives him a high floor for cash games on a trending team. He is in play on both sites but his best value comes on FanDuel where he is 7th in price at the position.
Also Consider: Nolan Arenado(COL) against a lefty in Coors or Vladimir Guerrero Jr.(TOR) who is much easier to stomach through the growing pains as the price keeps dropping
Outfield
Early

Gregory Polanco FD - OF 2900 DK - OF 4100
Opponent - TEX (Shelby Miller) Park - PIT
FD - 11.48 DK - 8.74

Starling Marte FD - OF 4000 DK - OF 4800
Opponent - TEX (Shelby Miller) Park - PIT
FD - 11.99 DK - 9.37
I mentioned the Pirates outfield health earlier and all three starters have spent time on the IL early in the season. Polanco and Marte are both back and producing with Marte having hits in five of six games since returning with three multi-hit efforts and two home runs. He is well on his way to getting the average back in the .270+ range where it has been throughout his career. Polanco made his debut on April 22 and while the average is down in the .250 range, he does have hits in eight of 11 games and blasted his first home run of the season last night. His best value is easily on FanDuel where he is still in the sub $3K range. Both players will be a part of my core in all formats.
Also Consider: Christian Yelich/Lorenzo Cain(MIL)
Main


Mookie Betts FD - OF 4300 DK - OF 5400
Opponent - BAL (Andrew Cashner) Park - BAL
FD - 15.7 DK - 11.94

Andrew Benintendi FD - OF 3800 DK - OF 4900
Opponent - BAL (Andrew Cashner) Park - BAL
FD - 13.22 DK - 10.09
After a slow start to the season for the defending champs, the Red Sox have heated up in a big way. They have not only won seven of their last nine games but have scored 64 runs in those games(7.1 per game). Today they get another elite matchup against the Orioles who have the 5th worst rotation ERA(5.23) and 2nd worst bullpen ERA(6.30). Andrew Cashner has actually been one of their best starters with a4.71 ERA/4.99 xFIP and that says it all really.
I will go right to the top of the Red Sox order to build my core. Benintendi hits leadoff and is the cheapest of the three B's in the outfield and has been very consistent to start the year with a .295/.380/.451 slash line and has scored 17 runs and driven in 18. The reigning AL MVP, Mookie Betts, has put his early season struggles in the rearview mirror and has a whopping .458 wOBA and 188 wRC+ since April 19. If you can afford both, they make an elite 1/2 punch for cash games.
Also Consider: Nick Snezel/Yasiel Puig(CIN) who both have strong splits against left-handed pitching
GRAB A FREE TRIAL OF OUR PROJECTION SYSTEM, AND CHECK OUT DFSR PRO!
FREE EBOOK
SECRETS TO CRUSHING DAILY FANTASY FOOTBALL!
DON'T SET ANOTHER LINEUP BEFORE YOU READ THIS BOOK.