Baseball Picks Daily Fantasy
Expert Advice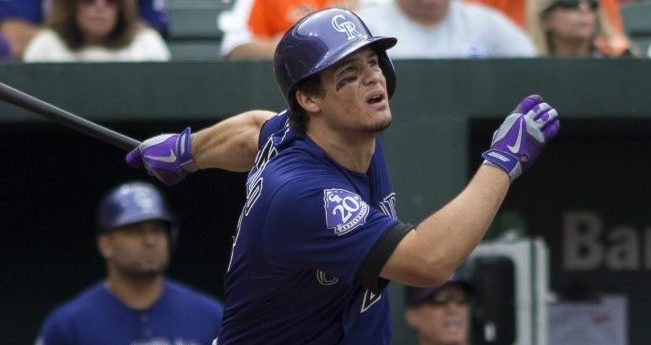 DraftKings and FanDuel MLB Picks for Friday 5/10/19
Friday's MLB action gives us a full slate of evening games for FanDuel and DraftKings. We've got a game in Coors, some higher run totals elsewhere and some pitching question marks that we'll need to wade through.

Now's your chance to get DFSR PRO, which will give you access to our MLB and NBA optimizers and our new player lab! Get started for free by clicking the button below.
Weather is the first thing that we need to check before filling out lineups and that's especially critical at this time of the year. The games we need to keep an eye on for this slate are HOU-TEX, MIA-NYM, LAA-BAL, SEA-BOS and PHI-KC. The good news is that none of these forecasts look too serious but it's imperative to check in on these forecasts prior to lineup lock, just to make sure. With that in mind, let's get to some of our plays!
Pitchers

Zack Wheeler FD - P 9200 DK - SP 9700
Opponent - MIA (Pablo Lopez) Park - NYM
FD - 38.52 DK - 20.47
Wheeler might be the safest pick among any pitcher on this slate, as he finds himself in a great situation to succeed. Let's start with the ballpark because Citi Field has surrendered the fewest runs in the majors dating back to the beginning of last season. That's why Mets pitchers tend to have low ERA's but this matchup may be the best part of this play. In fact, the Marlins currently rank dead-last in runs scored, wOBA and xwOBA. That's why Wheeler enters this matchup as a -200 favorite with Miami only projected to score three runs.

Kenta Maeda FD - P 7600 DK - SP 9200
Opponent - WSH (Anibal Sanchez) Park - LAD
FD - 35.89 DK - 19.39
Maeda's 4.66 ERA and 1.42 WHIP are nothing to get excited about but there's reason to believe that those numbers will start shrinking. The major reason we see a positive regression coming is because of Maeda's peripherals, as he currently owns a .316 xwOBA and 3.75 career xFIP. What also makes Maeda an intriguing option is his 26 percent K rate and that should become beneficial against a Washington team who sits dead-last in that statistic. Vegas obviously notices all of these variables in Maeda's favor, as he enters this matchup as a -200 favorite, with the Nationals projected to score only three runs.
If you're looking for a cheap pitcher, Dereck Rodriguez gets to pitch at home in one of the best pitcher's park in the majors against a Reds team who ranks last in batting average.

Tyler White FD - 1B 2200 DK - 1B 3500
Opponent - TEX (Lance Lynn) Park - HOU
FD - 9.54 DK - 7.21
We're going cheap at first base here and White makes for a great option with his power potential. Stacking Astros will be very chalky on this slate but getting White into your lineup is a good way to fade the chalk. White's career peripherals are impressive, with the right-hander posting a .330 wOBA and a .196 ISO. Those are usually the numbers of a $3,000 player on FanDuel and we get quite the bargain at $2,200. Facing Lance Lynn is the icing on the cake, with Lynn posting a 5.75 ERA and 1.57 WHIP so far this season.
Albert Pujols FD - 1B 2900 DK - 1B 4000
Opponent - BAL (Dan Straily) Park - BAL
FD - 11.12 DK - 8.49
Pujols just picked up his 2,000 career RBI on Thursday and the hall-of-famer appears to have recaptured some of his power. In fact, he now has two homers in his last five games batting in the heart of the Angels order. This is a rare day we want to stack Angels bats too, as they get the benefit of facing Dan Straily. The Orioles righty currently sits with a 7.43 ERA and 1.87 WHIP while posting a .432 xwOBA and .412 wOBA. That makes him one of the worst pitchers in the league and that's why this total is north of 10.
If you're in need of some catchers on DraftKings, consider Wellington Castillo and Danny Jansen, who both have supreme matchups. Also, consider Max Muncy at first base against Anibal Sanchez with his recent power surge.
Second Base

Robinson Cano FD - 2B 2800 DK - 2B 3600
Opponent - MIA (Pablo Lopez) Park - NYM
FD - 9.56 DK - 7.32
Cano got off to a slow start this season but recent results would indicate that he's out of it. Over his last 17 games, Cano is 19-for-57 at the plate, hitting six doubles in that span. That's the Cano that we all know and love, as he should have success against a weak righty like Pablo Lopez. Since the beginning of 2017, Cano owns an .863 OPS against right-handers while Lopez has a career ERA approaching 5.00 outside of Marlins Park.
Jason Kipnis FD - 2B 2400 DK - 2B 3000
Opponent - OAK (Frankie Montas) Park - OAK
FD - 8.38 DK - 6.38
The Indians have moved Kipnis up to the two-spot in the order and that alone makes him worth a shot in this price range. Since being moved up, Kipnis has multi-hit outings in two of his last four games. Some of his peripherals tell us that he has some major positive regression headed his way, with Kipnis xSLG and xBA nearly 100 points higher than his actual batting average and slugging percentage. We only want to use Kipnis against righties too, as his .789 career OPS is more than 100 points higher than his OPS against southpaws.
The second base position is super weak on this slate, so going with Jose Altuve against Lance Lynn isn't the worst option out there.
Shortstop
Corey Seager FD - SS 3100 DK - SS 3700
Opponent - WSH (Anibal Sanchez) Park - LAD
FD - 11.54 DK - 8.8
Seager is a mainstay in these articles and we're going to continue recommending him until he gets closer to $4,000 on both sites. This guy simply has too much talent to be this cheap, as he posted an ISO approaching .200 and an OBP nearing .400 for his career before an injury-riddled 2018. That's the hitting profile that made him one of the best hitting prospects in over a decade and he'll eventually start getting better. He finaly appears to be finding that form too, with Seager collecting five hits, two doubles, four runs, two walks and two RBI over his last four games. Facing Anibal Sanchez could help him to continue this hot stretch too, with Sanchez posting a 5.15 ERA and 1.66 WHIP this season.
Trevor Story FD - SS 4600 DK - SS 5600
Opponent - SD (Eric Lauer) Park - COL
FD - 16.18 DK - 12.28
Story is always worth using at home, especially against a left-hander. In fact, Story has an OPS north of 1.200 against southpaws at home since his call-up and he's simply one of the most dangerous bats in the league under these circumstances. The Rockies actually have one of the highest totals on the board north of five and Story should be the heart of that damage. He comes into this matchup rolling too, posting an OPS north of .900 since the opening week.
Andrelton Simmons has been in the heart of the Angels order recently and gets a superb matchup against Dan Straily.
Third Base

Nolan Arenado FD - 3B 4800 DK - 3B 5700
Opponent - SD (Eric Lauer) Park - COL
FD - 16.02 DK - 12.06
Arenado makes for a nice two-man stack with Story, as these two make minced meat of lefties at Coors Field. In fact, Arenado has an OPS north of 1.250 against southpaws since the beginning of 2017 and a 1.050 OPS at home in that same span. Over his last 21 games, Arenado is posting a .375 average while collecting 10 homers, seven doubles, 24 runs and 24 RBI. While this price is outlandish, it's clear that he's earned it in this type of situation with these ridiculous numbers under his belt.
Tommy La Stella FD - 3B 3100 DK - 2B/3B 4300
Opponent - BAL (Dan Straily) Park - BAL
FD - 13.6 DK - 10.47
LaStella just hit two dingers on Thursday and he's clearly in the midst of a breakout season. Not only did that give him nine homers on the season, he's also posting a career-high .311 ISO. That's one of the best marks at third base and it's amazing just how much of a power surge this guy has seen. It really isn't representative in his price either, as LaStella should be closer to $4,000 on FanDuel. Facing Straily is obviously huge too and his ugly statistics can be seen in the Pujols write-up.
While he's been struggling, Marwin Gonzalez is too cheap on both sites and has massive potential against Tyson Ross.
Outfield

Randal Grichuk FD - OF 3000 DK - OF 3800
Opponent - CHW (Dylan Covey) Park - TOR
FD - 12.22 DK - 9.23
Grichuk is another mainstay in these articles and much like Seager, he's too good to be priced this cheaply. It's hard to argue with his hitting profile, with Grichuk posting a .238 career ISO and .332 wOBA. Those are way too good of numbers for someone in this price range and he could build off those statistics in a matchup like this. For his career, Dylan Covey owns a 6.06 ERA and 1.57 WHIP, which is why the Blue Jays are projected to score five runs here.

J.D. Martinez FD - OF 4000 DK - OF 4800
Opponent - SEA (Erik Swanson) Park - BOS
FD - 15.89 DK - 11.93
Martinez hitting profile is absolutely ridiculous and this price is not indicative of just how good he is. In fact, Martinez is one of the league leaders with a .448 xwOBA and .647 xSLG. That alone makes him a value in this price range but hitting at Fenway Park is huge for any hitter too. The cherry on top is facing Erik Swanson, who's posting a .353 wOBA and 4.94 ERA so far this season.

Mike Trout FD - OF 4600 DK - OF 5700
Opponent - BAL (Dan Straily) Park - BAL
FD - 18.27 DK - 13.64
The aforementioned Straily numbers put all of the Angels bats in play, so it would be silly to overlook the best player in the game. Trout's .463 xwOBA is actually the fifth-best mark in the majors and it's clear that he's still hitting the crap out of the ball. His xSLG and xBA are also well below his actual batting average and slugging percentage, which simply means he has a hot streak right around the corner. That could start here against Straily, who has one of the worst xwOBA's in the majors.
Don't forget about the Padres in Coors Field, with players like Wil Myers, Manuel Margot, Hunter Renfroe and Franmil Reyes all in play.
GRAB A FREE TRIAL OF OUR PROJECTION SYSTEM, AND CHECK OUT DFSR PRO!
image sources
Nolan Arenado: By Keith Allison (Flickr: Nolan Arenado) [CC BY-SA 2.0 (http://creativecommons.org/licenses/by-sa/2.0)], via Wikimedia Commons
FREE EBOOK
SECRETS TO CRUSHING DAILY FANTASY FOOTBALL!
DON'T SET ANOTHER LINEUP BEFORE YOU READ THIS BOOK.