Baseball Picks Daily Fantasy
Expert Advice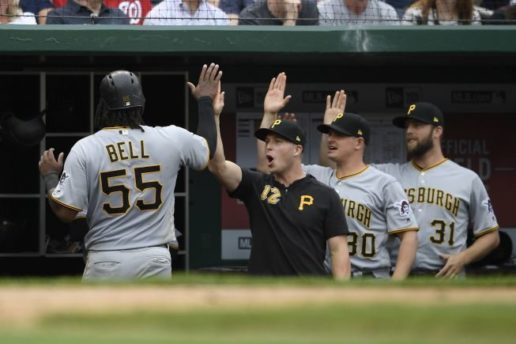 DraftKings and FanDuel MLB Picks for Thursday 5/16/19
Now's your chance to get DFSR PRO, which will give you access to our MLB and NBA optimizers and our new player lab! Get started for free by clicking the button below.
Pitchers
Early


Chris Bassitt FD - P 10000 DK - SP 8600
Opponent - DET (Spencer Turnbull) Park - DET
FD - 32.84 DK - 17.1
Pitching is a bit ugly on the early slate today but one name that stands out is Chris Bassitt of the Athletics. He is getting a shot every fifth day as a starter and making the most of it posting a 2.55 ERA/3.15 xFIP through four starts. He has had issues with home runs but appears to be running a bit unlucky considering his low 85 mph average exit velocity and 34% hard contact rate. More good news as he also has flashed a ton of upside with a 32% K rate with three pitches(Fastball, Curveball, Slider) in which he is generating a 13%+ swinging strike rate with. He now gets a plus matchup against a Tigers team that has really struggled against righties with a .283 wOBA, 75 wRC+, and 26% K rate. Fire up Bassitt in all formats.
Also Consider: Zack Wheeler(NYM) @ WAS
Main


Luis Castillo FD - P 10300 DK - SP 10600
Opponent - CHC (Jose Quintana) Park - CIN
FD - 37.54 DK - 20.72
The good news tonight is that the sites included this 6:40 pm ET game on the main slate that is lacking pitching but the bad news is the matchup for Luis Castillo. The Cubs sit as a Top 10 offense this season but Castillo has pushed himself near that elite territory where we can downgrade the impact of matchup a little bit. He has taken a huge step in his third season in the bigs and while he is still having some issues with walks(10.9%) he has reached a new level of upside with a 31.8% K rate and 15.7% swinging strike rate which has been impacted most by his changeup that he throws 32% of the time and is generating a 31% swinging strike rate(31%!!!). Considering the other options, I fully expect Castillo to be chalky but is easily the best option in all formats.
Also Consider: Marcus Stroman(TOR) @ CWS

Catcher/First Base
Early


Matt Olson FD - 1B 3000 DK - 1B 3800
Opponent - DET (Spencer Turnbull) Park - DET
FD - 10.43 DK - 7.79
Olson is off to a slow start in 2019 thanks to an injury in game two of the season where he broke a hamate bone. He has hits in just four of his eight games but is starting to show that upside with a home run in back to back games on Sunday and Monday. He and the A's face Spencer Turnbull who sits with an impressive 2.42 ERA but the xFIP (4.46) sits over two runs higher and the xSLG(.395) is 70 points higher than his SLG(.327) while he is walking just shy of 10% of batters he faces. I don't love the play here but on this small slate, we are going to need some value and Olson fits that mold and is in play in all formats.
Catcher Consideration: Yasmani Grandal(MIL)
Main

Josh Bell FD - 1B 4200 DK - 1B 5600
Opponent - SD (Eric Lauer) Park - SD
FD - 8.26 DK - 6.27
On the main slate, I will be paying up at the first base position and rolling with Josh Bell who has entered the "early season MVP" conversation. With his 15-game hit streak entering tonight, he now has an elite .329/.401/.692 slash line with 12 home runs(8th most), 39 RBI(3rd most), and a 181 wRC+(4th best). As a switch hitter, he is striking out 30% of the time vs. lefties but that is somewhat negated tonight as Eric Lauer is striking out more than 4% less than league average in the split. Despite sitting at the bottom of the list in implied runs tonight, I feel the Pirates can put up runs and I will be loading up for DFS as well as betting the team total over.
Also Consider: Paul Goldschmidt(STL)
Second Base
Early


Whit Merrifield FD - 2B 3800 DK - 2B/OF 5100
Opponent - TEX (Lance Lynn) Park - KC
FD - 12.22 DK - 9.56
Overall, the Royals rank mid-pack in terms of total runs scored on the season but would be much higher if not for their struggles against lefties. The good news is that they face a righty in Lance Lynn tonight who has not only struggled but has reverse splits giving up a .371 wOBA, .520 SLG, and 43% hard contact to right-handed bats. Merrifield is the first place I will go as he not only hits leadoff but has been incredibly consistent with a .297/.354/.529 slash line and leads the team with 33 runs scored and has also added seven steals. The price is hefty but Merrifield is more than worth it in all formats.
Also Consider: Rougned Odor(TEX)
Main

Kolten Wong FD - 2B 3100 DK - 2B 4000
Opponent - ATL (Julio Teheran) Park - ATL
FD - 7.91 DK - 6.1
The fact that Eric Sogard is the most expensive player at the position tonight says a lot about the scope of this slate. Instead of spending up I will take the discount on both sites with Kolten Wong who is practically the same hitter and comes with more upside as he has already driven in 22 and scored 18 runs this season despite hitting down in the order. He and the rest of the Cardinals left-handed bats have a good matchup today against Julio Teheran who has struggled in the split with a 5.73 xFIP, 16% walk rate and 40% hard contact rate against since the start of the 2018 season.
Shortstop
Early

Nicky Lopez FD - SS 2400 DK - 2B 3300
Opponent - TEX (Lance Lynn) Park - KC
FD - 11.21 DK - 8.58
As you are likely realizing on this small slate, I will have a ton of exposure to the Royals. One player I will be targeting for value is rookie Nicky Lopez who is fresh off making his major-league debut on Tuesday where he picked up his first career hit. He was ranked near the bottom of the Royals Top 10 prospects to start the season and doesn't really have power upside but has an elite contact profile and posted a .353 average and .457 on-base percentage through 31 games(138 at-bats) at AAA this season. In fact, over 88 games at the AAA level, he struck out just 34 times in 334 at-bats. He is also getting the opportunity to his 2nd in the lineup between Merrifield and Mondesi giving him elite PTS/$ value on this slate.
Also Consider: Jean Segura(PHI)
Main


Jorge Polanco FD - SS 4300 DK - SS 5000
Opponent - SEA (Erik Swanson) Park - SEA
FD - 11.17 DK - 8.66
The Twins lead all teams in implied runs(4.9) tonight and if you have the salary, Jorge Polanco is one of the top plays on the slate. He has been the driving force behind the Twins Top 5 offense as he sits with an impressive .327/.395/.614 slash line this season with 24 runs, eight long balls, and 19 RBI. He is a switch hitter but has been WAY better from the left side of the plate posting a .398 wOBA, 151 wRC+, and .934 OPS in the split since the start of the 2018 season. He and the Twins get a plus matchup against rookie Erik Swanson and are safe to stack in all formats.
Also Consider: Freddy Galvis(TOR)
Third Base
Early

Hunter Dozier FD - 3B 4100 DK - 1B/3B 4700
Opponent - TEX (Lance Lynn) Park - KC
FD - 9.71 DK - 7.43
I mentioned above how I love the matchup against Lance Lynn who struggles against righties so it makes sense to go with the Royals top hitter. He has taken a huge step this season after hitting .229 over 102 games a year ago. The biggest change is that he is walking twice as much(12.5%) while striking out over 8% less(20%) which has helped him post a .321/.413/.620 slash line(going into Weds night). He also matches up very well as he has crushed righties to the tune of a .470 wOBA, 200 wRC+, and 1.150 OPS. He is a player we can build around in all formats.
Also Consider: Matt Chapman(OAK)
Main


Vladimir Guerrero Jr. FD - 3B 3000 DK - 3B 4100
Opponent - CHW (Dylan Covey) Park - CHW
FD - 11.38 DK - 8.71
The projection system has been in love with Vladdy since he made his debut and while I don't feel he is safe in cash at this point, he does have a ton of upside. With hits in three of his last four games, he has brought his average up to .235 and looking at the advanced stats he sits with an xwOBA(.342) higher than his wOBA(.312) and xSLG(.443) higher than his SLG(.392). He has also been much better against righties hitting .297 with a .389 wOBA and 146 wRC+ with a massive 48% hard contact rate. He is also walking 12% of the time which matches up well against COvery who has walked eight in his first two starts of the season. On DraftKings I will likely go another direction in cash games but on FanDuel he is definitely on the short list of core plays at the position at just $3K.
Also Consider: Eugenio Suarez(CIN)
Outfield
Early


Shin-Soo Choo FD - OF 3700 DK - OF 4500
Opponent - KC (Homer Bailey) Park - KC
FD - 11.43 DK - 8.66

Willie Calhoun FD - OF 2100 DK - 2B/OF 3800
Opponent - KC (Homer Bailey) Park - KC
FD - 10.23 DK - 7.87
First of all, Homer Bailey is always the center of attention in or chat when he takes the bump and while he hasn't been as trashy as in years past we still have to go there on this small slate. Choo is a consistent bat at the top of the order who went into Wednesday night with an elite .386 OBP and has scored 25 runs on the season. I do like Joey Gallo and his huge upside but at his price I will reserve for GPP formats. In cash, I will look for value and one name that stands out if he is back in the lineup is Willie Calhoun who was just recalled. He was a part of the Yu Darvish trade and while he struggled in the bigs last year, he is getting another shot after posting a .304/.416/.557 slash line at AAA this season. He is in play on both sites but his best value is easily on FanDuel where he is nearly min price.
Main


Max Kepler FD - OF 3300 DK - OF 3900
Opponent - SEA (Erik Swanson) Park - SEA
FD - 11.42 DK - 8.66

Eddie Rosario FD - OF 4200 DK - OF 4700
Opponent - SEA (Erik Swanson) Park - SEA
FD - 11.64 DK - 8.97
On the main slate, I will be attacking the Twins bats in a plus matchup against rookie Erik Swanson. He has been very good in two starts vs. the Indians but struggled in his three other starts(@SD, vs. TEX, @BOS) giving up a combined 17 earned runs and while he doesn't walk many he doesn't have the swing and miss stuff to get out of jams.
Neither Kepler(.238/.309/.455) or Rosario(.247/.285/.532) has had a great start to the year but both hit near the top of the lineup and will have the best opportunity to score fantasy points for us today. With his mid to high $4K price tag, I will reserve Rosario for GPP formats but Kepler likely leading off is in play in all formats under $4K on both sites. You can also consider Nelson Cruz if he is back in the lineup tonight.
Also Consider: Yasiel Puig/Nick Senzel(CIN)
GRAB A FREE TRIAL OF OUR PROJECTION SYSTEM, AND CHECK OUT DFSR PRO!
image sources
Pirates Nationals Baseball: (AP Photo/Nick Wass)
FREE EBOOK
SECRETS TO CRUSHING DAILY FANTASY FOOTBALL!
DON'T SET ANOTHER LINEUP BEFORE YOU READ THIS BOOK.