Baseball Picks Daily Fantasy
Expert Advice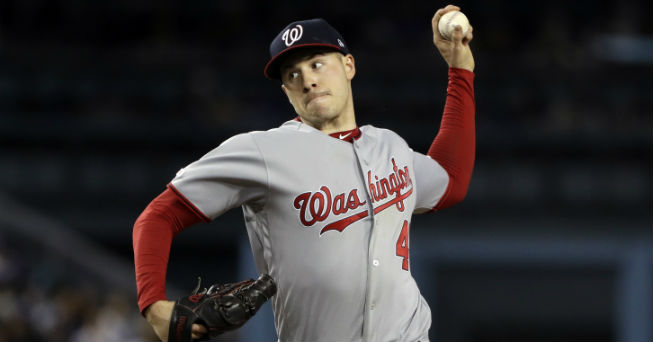 DraftKings and FanDuel MLB Picks for Wednesday 5/15/19
Now's your chance to get DFSR PRO, which will give you access to our MLB and NBA optimizers and our new player lab! Get started for free by clicking the button below.
---
Wednesday is a bit of a mess with three-game, early slate and eight-game main slate with a very early LAA @ MIN matchup that can be played on the all-day slate. I didn't want to get into a position by position breakdown of a three-game slate so here are my quick thoughts.
At pitcher, I side with Zack Greinke who has been brilliant since that nightmare Opening Day start posting a 2.19 ERA, 2.99 xFIP with 52 strikeouts(27.3%) and just six walks(3%). He now faces a Pirates team that has been better against righties but still ranks bottom 5 in the league in almost all offensive categories. If this spot worries you, Happ vs. Baltimore is also in play but be sure to check the weather.
For bats, I will be looking to target the Yankees against David Hess, the Blue Jays vs. Derek Holland and the Giants vs. Edwin Jackson who will start a game on a record 14th team in his career which is not fantasy relevant at all besides he has been good enough to stick around all these years but bad enough no one wanted him long term.
Let's jump into the main slate picks.
Pitchers

Patrick Corbin FD - P 9400 DK - SP 10000
Opponent - NYM (Wilmer Font) Park - WSH
FD - 37.41 DK - 20.34
We have two excellent options at the top tonight but from a PTS/$ perspective, I am leaning Corbin. He has been impressive in his first season with the Nats posting a 3.20 ERA/3.85 xFIP with a 28% K rate which is in line with his breakout 2018 with the D-Backs. He and the Nats open as -165 home favorites against the division-rival Mets who may be slightly better against lefties when looking at wOBA(.335) and wRC+(115) but strike out just over 28% of the time in the split adding to Corbin's upside. All things considered, I think it's a lot closer on DraftKings but on FanDuel with his $2,100 discount, I am definitely locking Corbin and running lineups with the optimizer tonight.

Justin Verlander FD - P 12000 DK - SP 11000
Opponent - DET (Undecided) Park - DET
FD - 37.51 DK - 21.15
Justin Verlander is the piece that makes it close on DraftKings as he is just $1,000 more than Corbin and is the better pitcher(talent-wise) with a longer track record. While he has allowed four earned runs in two separate starts(@LAA & @TEX), he has held opponents to one or fewer earned runs in six of his nine starts overall which is good for a 2.51 ERA/3.56 xFIP. On top of that, he continues to provide elite upside with a 30% K rate and 13.9% swinging strike rate. Verlander is always in consideration no matter the matchup but tonight gets a good one against a Tigers team that has been much worse against righties with a .284 wOBA, 76 wRC+, and 25.7% K rate. Verlander is our top projected pitcher from a raw points standpoint and safe in all formats.
Also Consider: Mike Soroka(STL) who owns an impressive 1.21 ERA/3.50 xFIP and 59% Groundball rate and faces a struggling Cards team that ranks in the bottom half of the league in most hitting stats over the last seven and 14 days(via FanGraphs)

Catcher/First Base

Freddie Freeman FD - 1B 4100 DK - 1B 4800
Opponent - STL (Michael Wacha) Park - ATL
FD - 12.83 DK - 9.73
Not only is Freddie Freeman my top first basemen tonight, but he is also one of the top players overall on this slate as he checks every single box. He has been extremely consistent with a slate-high(at 1B) .308 average and is one of just two players at the position(Rhys Hoskins the other) with a .400+ on-base percentage. The surprising part is that there is room to grow when looking at the advanced stats as he sits with an xwOBA(.422) 27 points higher than the wOBA and an xSLG(.597) that is 71 points higher than his current Slugging %. Combine all that with the matchup against a struggling Michael Wacha and you have a great play in all formats.

Robinson Chirinos FD - C 3300 DK - C 4400
Opponent - DET (Undecided) Park - DET
FD - 7.17 DK - 5.34

Brian McCann FD - C 2900 DK - C 4000
Opponent - STL (Michael Wacha) Park - ATL
FD - 9.22 DK - 6.95
At catcher, I like Chirinos and McCann at the top and right now side with McCann as he is not only cheaper but also gets a terrific matchup against Michael Wacha. He has also been tremendous through 18 games with a .311 average and 15 RBI.
Chirinos has been one of the best fantasy catchers all season with his .278/.412/.567 slash line and went into last night's action with hits in six of his last seven games.
Second Base

Kike Hernandez FD - 2B 2800 DK - 2B/OF 3600
Opponent - SD (Matt Strahm) Park - LAD
FD - 11.48 DK - 8.66
Middle infield is one of my favorite spots to find value and tonight I am looking at Kike Hernandez who is cheap due to his overall numbers (.226/.308/.431 slash line) but let's dig deeper. The splits are where he stands out and while this year is a small sample size, he has posted a .344 wOBA, 120 wRC+, and .194 ISO against lefties since the start of last year. The matchup isn't at the top of the list as Matt Strahm has been impressive in his full transition to the rotation but the price is right for a player who also gets a shot up the lineup most nights when he is in the lineup against a lefty.


Aledmys Diaz FD - 2B 3100 DK - 1B/2B 4100
Opponent - DET (Undecided) Park - DET
FD - 8.01 DK - 6.16
Diaz hasn't been an everyday player for the Astros but has been getting playing time lately and making the most of it. He comes into tonight with hits in six straight starts including home runs in three of his last four with an added 10 RBI. He does have better splits against righties so keep that in mind when Detroit announces a starter but at a tough position tonight, Diaz does offer some PTS/$ upside as a part of a red-hot lineup.
Shortstop
Elvis Andrus FD - SS 3900 DK - SS 5100
Opponent - KC (Jorge Lopez) Park - KC
FD - 10.7 DK - 8.34
The Texas Rangers currently lead all teams in implied runs(5.03) on the main slate and make a great place to start looking at building your core. For me, it starts at shortstop with Elvis Andrus who has been one of the more consistent options at the position all season as he enters tonight with a .327/.376/.516 slash line with 25 RBI and 24 runs scored. The main reason to look at the Rangers tonight is the matchup as they Jorge Lopez who is getting another shot after giving up four or more earned runs in five straight and six of his eight starts on the season. The price is up there but warranted with his consistency and matchup so fire him up in all formats.


Jean Segura FD - SS 3700 DK - SS 4300
Opponent - MIL (Gio Gonzalez) Park - PHI
FD - 10.77 DK - 8.49
If you want to talk about consistency look no further than Jean Segura whose .302/.343/.444 slash line is almost an exact mirror image of his lines in each of the last two seasons. He is now a part of a loaded Phillies lineup that is Top 10 in runs scored on the season hitting behind on-base machine Andrew McCutchen and in front of Rhys Hoskins and Bryce Harper. Gio Gonzalez has been good through his three starts in 2019 but it doesn't worry me as he doesn't have overpowering stuff. The Phillies aren't a team I will be stacking full in GPP formats but Segura is one player that stands out at a tough position and comes at a discount from the top players at the position(Andrus, Story). Fire him up in all formats.
Third Base

Nolan Arenado FD 4500 DK 5100
Opponent - BOS (Eduardo Rodriguez) Park - BOS
FD - 11.66 DK - 8.78
If you have the salary, Nolan Arenado is easily the top third basemen on the slate regardless of the matchup against E Rod who has been terrific for the Red Sox early in the season. Nado has caught fire since the start of May posting a .435/.481/.870 slash line thanks to multi-hit efforts in seven of those 11 games with five home runs and 14 RBI. Then we start looking at the splits and it is hard to ever ignore Arenado against a lefty as he is once again at the top of the league(with JD Martinez) with an insane .538 woBA, 228 wRC+, and .467 ISO across a 55 plate appearance sample size. He doesn't get to hit in Coors tonight but Boston isn't far behind in terms of park factor.


Mike Moustakas FD 3500 DK 4500
Opponent - PHI (Jake Arrieta) Park - PHI
FD - 13.22 DK - 10.02
Moose is what he is and will never provide a super high floor with his mid .200's batting average and low .300's on-base percentage but he does provide fantasy value. First of all, he hits in the middle of a loaded Brewers offense with Cain, Yelich, and Braun hitting in front of him and has a ton of power upside with 10 home runs on the season and is coming off back to back 28+ home run seasons. He also has a whopping 48% had contact rate against right-handed pitching so a struggling Jake Arrieta(3.78 ERA, 4.44 xFIP, 17% HR/FB rate) doesn't worry me tonight.
Outfield

Joey Gallo FD - OF 4200 DK - OF 5400
Opponent - KC (Jorge Lopez) Park - KC
FD - 12.77 DK - 9.41


Shin-Soo Choo FD - OF 3400 DK - OF 4700
Opponent - KC (Jorge Lopez) Park - KC
FD - 11.76 DK - 8.91

Hunter Pence FD - OF 4000 DK - OF 4900
Opponent - KC (Jorge Lopez) Park - KC
FD - 9.43 DK - 7.28
Back to the Rangers in the outfield in this elite matchup against Jorge Lopez who enters tonight with a 6.07 ERA after giving up four or more earned runs in five straight starts. For cash games, I will side with Choo who is the cheaper of the three on both sites and been very consistent all season(.295 AVG, .391 OBP) and despite not having a ton of upside alone, has run-scoring upside in this matchup in front of some power bats to drive him in. One of those bats is Joey Gallo who is on pace to once again his 40+ home runs(12 already with a 46% HR/FB rate) and owns a 67% hard contact rate against right-handed pitching while Lopez has given up a .432 wOBA and .667 SLG against lefty bats. Hunter Pence's price has gone up making him a GPP only play for me but is having an excellent comeback season in his first year with the Rangers slashing .316/.389/.658 over 26 games.


Ronald Acuna FD - OF 3900 DK - OF 4600
Opponent - STL (Michael Wacha) Park - ATL
FD - 12.34 DK - 9.45

Nick Markakis FD - OF 3400 DK - OF 4100
Opponent - STL (Michael Wacha) Park - ATL
FD - 9.38 DK - 7.21
If you can't quite afford the Rangers outfield stack, the Braves are nice secondary option tonight at a discount. It starts with the plus matchup against Michael Wacha who has been hit by the regression bug after his hot start holding the Brewers and Padres to one run apiece while walking 12 batters combined. Since then, he has allowed 20 earned runs(6 HR) in his last five starts(7.11 ERA/4.98 xFIP) with a 41% hard contact rate against. For cash games, I like Markakis who comes cheaper making it easier to pay up at pitching and actually has the better splits against right-handed pitching(.399 wOBA, 150 wRC+, .212 ISO, 45% hard contact rate). Acuna is also cheaper than all three Texas bats listed above and has been solid overall with a .279 average, .369 on-base percentage and has been hitting leadoff for four straight games. If stacking Acuna it starts with Acuna if he is back at the top of the order tonight.
Also Consider: Jorge Soler(KC) or Josh Reddick(HOU) as mid to low tier value plays
GRAB A FREE TRIAL OF OUR PROJECTION SYSTEM, AND CHECK OUT DFSR PRO!
image sources
AP_191301419247881: AP Images
FREE EBOOK
SECRETS TO CRUSHING DAILY FANTASY FOOTBALL!
DON'T SET ANOTHER LINEUP BEFORE YOU READ THIS BOOK.