Baseball Picks Daily Fantasy
Expert Advice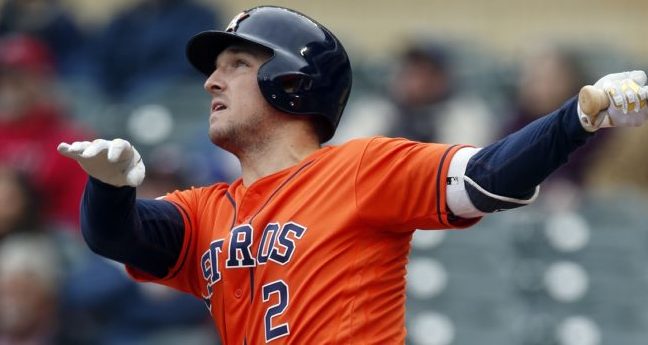 DraftKings and FanDuel MLB Picks for Wednesday 5/22/19
Now's your chance to get DFSR PRO, which will give you access to our MLB and NBA optimizers and our new player lab! Get started for free by clicking the button below.
Pitchers

Gerrit Cole FD - P 11700 DK - SP 12000
Opponent - CHW (Ivan Nova) Park - HOU
FD - 47.28 DK - 26.53
There is some excellent pitching on the main slate tonight including round two between Max Scherzer and Jacob deGrom. I have no issue with either of them tonight but for cash games, I am most definitely leaning Gerrit Cole. He has one outlier game where he allowed eight earned runs which has hurt his ERA(3.56) but not to worry as he leads all pitchers on this slate with a 2.34 xFIP, 38.3% K rate, and 16% swinging strike rate. I also love to see that his xwOBA(.261) and xSLG(.333) given up are both lower than his wOBA(.275) and SLG(.374). The matchup is the other piece of the puzzle tonight as the White Sox sit in the bottom third of the league in almost all offensive categories and strike out 26% of the time vs. right-handed pitching. Cole is my top in all formats tonight.


Max Fried FD - P 9000 DK - SP 8500
Opponent - SF (Jeff Samardzija) Park - SF
FD - 35.9 DK - 18.6
Fried split last season between Triple-A and the big leagues and with Atlanta, he only made five starts with nine relief appearances. He is finally getting his shot in the rotation in 2019 and making the most of it as he has posted a very impressive 2.96 ERA/3.16 xFIP over nine starts and while the K rate is just average(23%), he stays out of trouble with a very low 4.6% walk rate. Tonight, he gets a positive park shift and matchup going into San Francisco to face a Giants team that is bottom five in runs scored this season and really struggle against lefties with a .265 wOBA, 65 wRC+, and 25% K rate. All things considered, Fried is my top SP2 on DraftKings and I would also consider him in all formats on FanDuel allowing you to upgrade your bats.
Also Consider: Jon Gray (COL) who gets a boost away from Coors Field and has an xFIP(3.68) over a run lower than his ERA(4.73)

Listen to "Best DFS MLB Plays for FanDuel and DraftKings - Wednesday 5/22/19" on Spreaker.

Catcher/First Base

Gary Sanchez FD - C 4400 DK - C 5500
Opponent - BAL (Dan Straily) Park - BAL
FD - 13.96 DK - 10.45


Luke Voit FD - 1B 4200 DK - 1B 5300
Opponent - BAL (Dan Straily) Park - BAL
FD - 13.39 DK - 10.14


Kendrys Morales FD - 1B 2600 DK - 1B 3500
Opponent - BAL (Rick Porcello) Park - TOR
FD - 9.39 DK - 7.11
The Yankees are red hot right now as they went in Tuesday night with 10+ runs in back to back games and, as I write this, lead the O's 6-0 in the 3rd inning. Hard not to go back to the well on Wednesday as they get another tremendous matchup against Dan Straily who has given up five or more earned runs in five of his eight appearances(seven starts) giving him an ugly 8.51 ERA/7.24 xFIP on the season. The power upside is also there as he has already given up 10 home runs on a whopping 51% flyballs and 46% hard contact rate.
Up first is catcher Gary Sanchez who sits with just a .264 average since returning from injury but is getting on base at a .346 clip and has eight home runs and 18 RBI.  At first, I like Luke Voit who has stepped up in a huge way with all the injuries and has provided a nice floor with a .379 OBP and a ton of upside with 11 home runs and 34 RBI. If you are looking to punt the position, you can also consider newcomer Kendrys Morales who has hits in three of his first four games in pinstripes.


Justin Smoak FD - 1B 3300 DK - 1B 3800
Opponent - BOS (Rick Porcello) Park - TOR
FD - 10.54 DK - 7.88
We have even more value at first base with Justin Smoak. Despite sitting with an average(.218) barely over the Mendoza line, Smoak has provided a decent floor for cash games with 19% walk rate resulting in a .374 on-base percentage. That lines up well against Rick Porcello who sits with his lowest K rate(19%) since 2014 and highest walk rate(8.5%) of his career while posting a 4.80 ERA and even worse 5.09 xFIP. Smoak is under $4K on both sites hitting in the top half of the lineup making him a good play in all formats.
Also Consider: Robinson Chirinos(HOU) at catcher or Mitch Moreland(BOS) at first base
Second Base

DJ LeMahieu FD - 2B 3500 DK - 2B/3B 4700
Opponent - BAL (Dan Straily) Park - BAL
FD - 12.56 DK - 9.76
I talked about the Yankees matchup above and if we are targeting them tonight, it makes sense to load up on the leadoff hitter. LeMahieu has been a staple at the top of the lineup since mid-April and has been very consistent in his first season in pinstripes with a .315 average and .360 on-base percentage. He comes into tonight with hits in four straight and 16 of his last 18 games with 12 multi-hit efforts. LeMahieu is my top second basemen on this slate and is in play in all formats.


Jonathan Schoop FD - 2B 3400 DK - 2B 4100
Opponent - LAA (Matt Harvey) Park - LAA
FD - 9.95 DK - 7.62
The Twins have been one of the best offenses in baseball all season and have not let up at all sitting at the top of the offensive ranks over the last 14 and 7 days as well. They are once again on the radar tonight in a plus matchup against Matt Harvey who is worlds away from his impressive 2015 season with the Mets. Now with the Angels, he has posted a 6.35 ERA and 4.72 xFIP while walking 10% of batters he faces. Schoop isn't going to provide a high floor walking just 3% of the time but he is hitting .273 and has spent four of his last five games hitting at the top of the lineup. I would consider him in cash games if back near the top of the lineup and would reserve to GPP formats if back down in his regular 8th spot in the lineup.
Also Consider: Hanser Alberto(BAL) who is very cheap and has been money against lefties with a .455 wOBA, 189 wRC+, and 41% hard contact rate
Shortstop

Javier Baez FD - SS 4000 DK - SS 5000
Opponent - PHI (Cole Irvin) Park - CHC
FD - 12.28 DK - 9.41
Baez had been dealing with a heel contusion that held him out a couple of game but the good news is that he made a pinch-hit appearance last night and delivered the game-winning hit. I fully expect him back in the lineup tonight and that is great news as he has absolutely assaulted left-handed pitching to the tune of a .623 wOBA, 305 wRC+, and 59% hard contact rate. Before you go shouting small sample size consider this is over 32 at-bats and he is coming off a season where posted a .384 wOBA, 143 wRC+. Get him in your lineups tonight if he is in the starting lineup.
The shortstop position is absolutely loaded at the top with great options including Gleyber Torres, Carlos Correa, and Jorge Polanco who are all in great matchups. More value should arise when lineups start coming out so be sure to get over and check out our projections and lineup optimizer closer to lock.
Third Base

Alex Bregman FD - 3B 4300 DK - 3B 5500
Opponent - CHW (Ivan Nova) Park - HOU
FD - 15.24 DK - 11.49
If you aren't into loading up on Yankees tonight, the Astros are the easy pivot here. While they sit fourth in runs scored they lead the league with an elite .362 wOBA, 131 wRC+, and are second in home runs(88) and team ISO(.227). On top of that, they get a plus matchup against a very inconsistent Ivan Nova who has allowed just one earned run in four starts but five or more earned runs in the other five starts. Bregman hasn't recorded a multi-hit effort in over a week but I am not concerned as he has been terrific all season with .270/.391/.564 slash line and has a ton of upside sitting tied for 4th with 14 home runs while driving in 34 and scoring 30 runs. He is going to cost about 11% of your cap tonight and is easily one of the top pay-ups on this slate.


Vladimir Guerrero Jr. FD - 3B 2900 DK - 3B 4000
Opponent - BOS (Rick Porcello) Park - TOR
FD - 11.35 DK - 8.7
After a very slow start to his long-anticipated major league debut, Vladdy struggled in the early going with just six hits in his first 41 at-bats. Manager, Charlie Montoyo then moved him up to the two-hole and that seems to be the point where it all turned around as he now has 12 hits in his last 41 at-bats(.292 average) with five walks and a .417 OBP. He has also flashed the upside we have all been waiting for with four home runs, three of which were absolute no doubters. While the price is starting to rise again, this feels like a buy-low against a struggling Rick Porcello, especially considering Vladdy has been much better against righties with a .397 wOBA, 151 wRC+, and 49% hard contact rate.
Also Consider: Gio Urshela(NYY)
Outfield

Michael Brantley FD - OF 4000 DK - OF 5200
Opponent - CHW (Ivan Nova) Park - HOU
FD - 13.17 DK - 10.14

Josh Reddick FD - OF 3200 DK - OF 4400
Opponent - CHW (Ivan Nova) Park - HOU
FD - 11.39 DK - 8.72
It is unclear if George Springer will be back in the lineup tonight and if he is not, Josh Reddick is once again a nice PTS/$ value play if he is back in the leadoff role. He also comes in red-hot with hits in four straight and six of his last seven games pushing his average up to .331 on the season to go along with an elite .384 on-base percentage. After two seasons(2016/2017) dealing with injuries, Brantley bounced back and played 143 games last year for the Indians and posted a .309 average. He is duplicating that success in his first season in Houston as he went into Tuesday night with an elite .328/.377/.563 slash line with 10 homers and 32 RBI.
Good news for both these outfielders as they are facing Ivan Nova who has been especially bad against lefties giving up a .435 wOBA and .600 SLG while only striking out 11% of batters. Both Brantley and Reddick are in play in all formats.

Nick Markakis FD 3700 DK 4100
Opponent - SF (Jeff Samardzija) Park - SF
FD - 8.25 DK - 6.34


Austin Riley FD 3500 DK 4200
Opponent - SF (Jeff Samardzija) Park - SF
FD - 8.28 DK - 6.31
It has been awhile seen I targeted against the Shark and while it's not my top place to settle tonight, I will definitely have some exposure to the Braves. First of all, they could be lower owned for a couple of reasons starting with the fact it is the last game on the slate and the Braves are getting a park downgrade. While Samardzija hasn't been a dumpster fire this year(3.69 ERA), he is due for regression sitting with a 5.40 xFIP and very low .237 BABIP. On top of that, he is also allowing a whopping 50% flyball rate.
In the outfield for the Braves, I am looking at rookie Austin Riley and veteran Nick Markakis who are in the same price range tonight. Riley has impressed early with hits in six of his first seven games in the bigs while adding three home runs. Markakis continues to provide a high PTS/$ floor in 2019 as he enters tonight with a .292 average and elite .387 on-base percentage. If you are not paying up elsewhere with Yankees or Astros I would also consider getting Ronald Acuna Jr. in your lineup.
GRAB A FREE TRIAL OF OUR PROJECTION SYSTEM, AND CHECK OUT DFSR PRO!
FREE EBOOK
SECRETS TO CRUSHING DAILY FANTASY FOOTBALL!
DON'T SET ANOTHER LINEUP BEFORE YOU READ THIS BOOK.