Baseball Picks Daily Fantasy
Expert Advice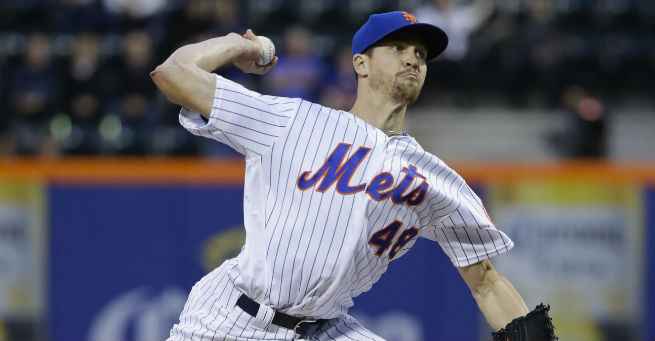 DraftKings and FanDuel MLB Picks for Saturday 6/1/19
Now's your chance to get DFSR PRO, which will give you access to our MLB and NBA optimizers and our new player lab! Get started for free by clicking the button below.
Pitchers

Jacob deGrom FD - P 9900 DK - SP 9400
Opponent - ARI (Zack Greinke) Park - ARI
FD - 40.24 DK - 22.93


Justin Verlander FD - P 11900 DK - SP 11900
Opponent - OAK (Brett Anderson) Park - OAK
FD - 41.09 DK - 23.09
If two DFS plays have ever been cut from such a similar cloth, it doesn't exactly spring to mind. Let's give you the tale of the tape. This year, Justin Verlander has averaged 6.58 innings pitched per start with a 10.78 K/9 and a 1.93 BB/9. His xFIP is 3.62 thanks to generating ground balls on just 35.7% of the balls put into play against him. Jacob deGrom has averaged 5.72 IP per start with 11 K/9 and a 2.57 BB/9, but his xFIP is slightly lower at 3.40 thanks to a slightly higher 43.3% ground ball rate. He's arguably the slightly better pitcher overall, but he's not going as deep into games. And then there's match-ups. The D-Backs have a .313 wOBA against righties this season, and the A's trail with a .312 wOBA. The Diamondbacks strike out slightly more with a 23.0% K rate as opposed to the A's 20.2%. Things slightly point deGrom here, but the extra distance Verlander has been able to go really does matter for both the raw points and the likelihood of snagging a win.
We've made it this far and not discussed their respective prices, though. By now you've realized that when two plays are this similar, price is going to often win the day. I'll go ahead and take deGrom and the savings, but I wouldn't mind running both on DraftKings.

Zack Greinke FD - P 10000 DK - SP 9200
Opponent - NYM (Jacob deGrom) Park - ARI
FD - 37.15 DK - 20.18
You're pretty unlikely to run Greinke alongside deGrom, but is this really a crazy play for big tournies? The 35 year old Greinke is pretty much the same (excellent) pitcher he's been over the last two seasons. The K's are down slightly, but he's walking exactly no one, and he's going deep into games as a result. His 3.37 xFIP is actually better than his career numbers, and he just looks terrific. And then there's his match-up. The Mets own the league's 19th best wOBA against righties with the 12th highest strikeout rate, which puts them squarely in the "solid match-up" category. Happy to play Greinke in any format, honestly, especially if you're fading deGrom for some reason.

Catcher/First Base

Paul Goldschmidt FD - 1B 3700 DK - 1B 4200
Opponent - CHC (Jose Quintana) Park - STL
FD - 13.3 DK - 10.01
Some people won't like to see Goldschmidt's name at the top of this list, but he's pretty much a tailor-made great DFS baseball play. Yes, Goldie's overall stats are down this season, and his price is down as a result. But is he "cheap for a reason," or is he a bargain? I'd lean toward the latter. For starters, Goldschmidt's underlying peripherals are almost identical to last season's except for one thing: his ISO. His .175 ISO is a career worst, and can understandably cause some worry. The weird thing, though? His hard hit % is a career best 51%, 5% higher than his second best year. I just don't buy that he's hitting the ball harder than ever but that his true talent will be to have the least power of his career. Quintana is a reasonable pitcher, but I'm just grabbing Goldschmidt at a discount against a left handed pitcher.

Kendrys Morales FD - 1B 2600 DK - 1B 2900
Opponent - BOS (Rick Porcello) Park - NYY
FD - 9.59 DK - 7.27
With Eduardo Rodriguez ruled out of this one, it's unclear who will be starting for the BoSox. If it's a righty, we might see Kendrys Morales bat 3rd once again. If he does, that alone basically puts him in play. Yes, he's been bad. But he's also been unlucky. He has walked exactly as many times as he's struck out this year, so his approach hasn't been off. His batted ball profile is essentially the same as it was last year. Unfortunately, he just has a .205 BABIP to show for it. If you wind up investing a lot of money elsewhere, Morales is a nice way to go cheap with what should be a high floor if his underlying numbers can be trusted.
EDIT: After this article was written, Rick Porcello was named the starter. Morales is in play against him.
Second Base
Eric Sogard FD - 2B 3400 DK - 2B/SS 4700
Opponent - COL (Jon Gray) Park - COL
FD - 10.67 DK - 8.17
Second base is pretty brutal today, if we're being totally honest. I'm also feeling pretty confident that I've never written up Eric Sogard in my entire life. So why now? Well, we have the obvious Coors factor working in our favor, for starters. Jon Gray is also putting together another year where he hovers around 1.5 HR/9 with an ERA that trails his xFIP. At some point we have so start wondering if he's a Ricky Nolasco type - a guy whose ERA just never "catches up" to where the xFIP thinks he should be. Sogard himself is just your classic high floor second base option. The 33 year old should bat first against the righty, and you're basically hoping to score points in chunks thanks to his excellent approach. Sogard is cheap at a bad position in Coors, and honestly that just might be enough.

DJ LeMahieu FD - 2B 3600 DK - 2B/3B 4400
Opponent - BOS (Porcello) Park - NYY
FD - 9.96 DK - 7.73
Leaving Coors has been a lot friendlier to LeMahieu than many believed it would be, as the Yankees' second baseman has actually improved across all three of his triple slash stats thanks to his BABIP numbers returning to 2017 and prior levels. Bringing him out of the leadoff spot gives him extra opportunity and an excellent floor, and he's just underpriced against Rick Porcello and his 5.27 xFIP.
Shortstop

Alex Bregman FD - SS 4300 DK - 3B 4700
Opponent - OAK (Brett Anderson) Park - OAK
FD - 12.59 DK - 9.49
Bregman continues to be a superduperstar, and Brett Anderson most certainly is not. Bregman's OPS is .040 points higher than last year's 7.6 WAR season. Brett Anderson's K/9 has dipped below 5. Bregman has 17 homers so far, and Anderson has a 5.19 xFIP. This is an incredibly dire mismatch, and I'm looking for Bregman to take full advantage here.

Manny Machado FD - SS 3200 DK - 3B/SS 4200
Opponent - MIA (Jose Urena) Park - SD
FD - 10.85 DK - 8.26
Machado is a part of a long line of superstar hitters that have come to San Diego and disappointed, but I guess he's not hitting in San Diego for this one? But really, when you account for park factors, Machado is basically the same guy he was before his breakout during his contract year. All that to say - he's a very solid player, and he's got a great match-up with Jose Urena here. Urena has now logged 554 major league innings with a 6.04 K/9 and a 4.80 xFIP. This to say, it just isn't happening. Machado should be a high floor option at a very reasonable price tag for his underlying talent.
Also considered: Paul DeJong, who should be a monster against Jose Quintana.
Third Base

Vladimir Guerrero Jr. FD - 3B 3400 DK - 3B 4100
Opponent - COL (Jon Gray) Park - COL
FD - 12.53 DK - 9.6
Baby Vlad looked to have left his rookie jitters behind him with 3 homers in 5 games in mid-May, but it's been tough sledding ever since. That's the way of the road for a 20 year old rookie, but our projection system thinks we still have a lot of great things ahead for the game's best prospect. Throw him in Coors likely in the two hole against Gray and he's just a great value option.

Justin Turner FD - 3B 3400 DK - 3B 4200
Opponent - PHI (Cole Irvin) Park - LAD
FD - 11.79 DK - 8.96
With Zach Eflin being placed on the DL, Turner and the Dodgers will take on Cole Irvin in this one. In case you were wondering, that's a very very good thing. Irvin had a 5.54 K/9 in AAA this year, and as you can imagine, it hasn't gone much better in the Bigs. Irvin's a control pitcher with little in the way of K stuff, and this just makes him a great target to stack against for cash games and big tournaments alike. Turner is just one of the more underrated players in the game, topping a .400 OBP over the last three seasons. I love him in any format against a lefty who can't do much to pressure him. Keep an eye on his status though, because he is currently listed as day to day.
Outfield

Mike Trout FD - OF 4800 DK - OF 5700
Opponent - SEA (Tommy Milone) Park - SEA
FD - 15.92 DK - 11.88
Shohei Ohtani FD - OF 3100 DK - OF 3700
Opponent - SEA (Tommy Milone) Park - SEA
FD - 12.71 DK - 9.59
It's taken this long to get to the batters facing Tommy Milone? It's just an indictment against the Angels in general. As you know, though, they do have the best player in baseball history on their team. On a day where we can get some excellent savings elsewhere, it's looking like we might see some Trout in our lineups once again. Milone has had two absurdly good starts so far, but I'm not ready to pencil the 32 year old soft tosser in for a 4+ K/9 increase thanks to his change of scenery. Milone is a career 6.60 K/9 guy, and taking the strikeouts off the table should put the Trout, Ohtani, and the Angels in an excellent spot here.
Raimel Tapia FD - OF 3400 DK - OF 4500
Opponent - TOR (Marcus Stroman) Park - COL
FD - 13.34 DK - 10.4

David Dahl FD - OF 4000 DK - OF 4900
Opponent - TOR (Marcus Stroman) Park - COL
FD - 14.55 DK - 11.14
The Coors game is in play, as always, as our projection system wants to just go with this pair of underpriced left handed outfielders once again. Dahl and Tapia should be batting toward the top of the lineup once again, and they are still too cheap for what they provide in these games with absurdly high implied run totals. The only fly in the ointment of a Rockies' stack in big tournaments is Stroman's heavy ground-ball tendencies, but don't be fooled by the sub 3 ERA - his peripherals suggest more of a slightly below league average pitcher. In spite of the ground balls, I'm happy to run either of these guys in any format.
Jose Martinez FD - OF 2400 DK - OF 3500
Opponent - CHC (Jose Quintana) Park - STL
FD - 10.2 DK - 7.85
Aaron Hicks FD - OF 3200 DK - OF 4100
Opponent - BOS (Rick Porcello) Park - NYY
FD - 10.77 DK - 8.1
We've touched on the pitchers these guys are facing already, but I like both Hicks and Martinez in positive platoon spots here. Both are underpriced thanks to some early season run-bad, and both make excellent lineup filler as you're trying to spend up elsewhere. Hicks in particular could be $1,000 too cheap based on the underlying talent thanks to his very small sample size so far, and he looks like an excellent value play at these prices in most match-ups.
Also considered: Aaron Hicks against Eduardo Rodriguez.
GRAB A FREE TRIAL OF OUR PROJECTION SYSTEM, AND CHECK OUT DFSR PRO!
FREE EBOOK
SECRETS TO CRUSHING DAILY FANTASY FOOTBALL!
DON'T SET ANOTHER LINEUP BEFORE YOU READ THIS BOOK.