Baseball Picks Daily Fantasy
Expert Advice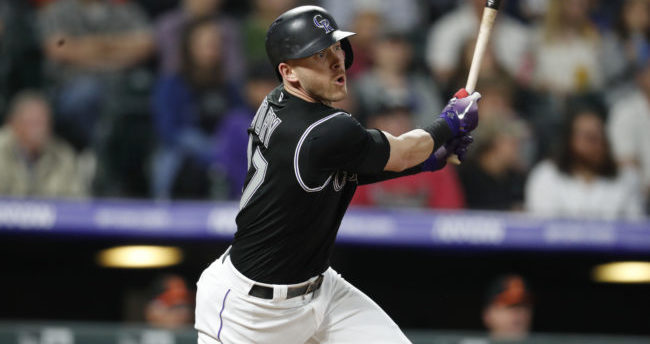 DraftKings and FanDuel MLB Picks for Tuesday 6/11/19
Tuesday's MLB slate is lining up to be an interesting one especially in making decisions around the pitchers' slots. But there's also a game in Coors to contend with as well as some offenses in great spots against weaker arms.

Now's your chance to get DFSR PRO, which will give you access to our MLB and NBA optimizers and our new player lab! Get started for free by clicking the button below.
Pitchers
Chris Paddack FD - P 9300 DK - SP 10600
Opponent - SF (Tyler Beede) Park - SF
FD - 35.04 DK - 19.02
While Paddack isn't necessarily a good value on DraftKings, we absolutely love him on FanDuel. To show the disparity between the two sites, DK has him as their highest-priced pitcher while FanDuel has him ranked sixth among pitchers. We think he should be somewhere in between but he's really hard to fade in this matchup. Pitching at Oracle Park is huge in itself but Paddack also gets to face a Giants team who ranks 26th in wOBA, 27th in OPS and 28th in runs scored. This San Diego righty was arguably the best pitcher in the league across his first seven starts too, pitching to a 1.55 ERA and 0.69 WHIP while striking out 46 batters across 40.2 innings. His last three starts haven't been as impressive but we can excuse them because they were all tough matchups.
James Paxton FD - P 9400 DK - SP 10100
Opponent - NYM (Zack Wheeler) Park - NYY
FD - 38.5 DK - 21.55
Paxton is one of the most injury-prone pitchers in the league but he's tough to fade whenever he takes the mound. Dating back to 2017, Paxton is posting a 3.36 ERA and 1.11 WHIP while providing a K rate north of 30 percent. That's simply elite production and it's pretty much on par with what he's been doing this season. Many people were concerned about Paxton pitching in Yankee Stadium this season but his 0.34 ERA and 0.71 WHIP in three home starts should quiet those notions. Facing the Mets is not a matchup to fear either, as they're a league-average offense based on nearly every metric,

Catcher/First Base
Howie Kendrick FD - 1B 3000 DK - 1B/3B 5300
Opponent - CHW (Manny Banuelos) Park - CHW
FD - 10.89 DK - 8.46
This is yet another occasion where we're banking on a guy on one site and not another. This $5,300 price tag on DraftKings shows just how good Kendrick has been, as FanDuel is clearly slow to adjust with their $2,900 price tag. The fact that he's so much more on DK just tells you that he's hard to avoid on FD and he should really be closer to $4,000 on that site. So far this season, Kendrick is providing a .327 average and .960 OPS. Those are simply all-star numbers and he's been even better against lefties. In 54 at-bats against southpaws this season, Kendrick has an OPS north of 1.000 and a SLG of .623.

C.J. Cron FD - 1B 3500 DK - 1B 4400
Opponent - SEA (Mike Leake) Park - MIN
FD - 13.15 DK - 9.99
Cron has developed into one of the best power hitters in the league and it's weird that not many people recognize that. His numbers speak for themselves, with Cron hitting .277 while collecting 14 homers en route to an .882 OPS. This is a guy with 44 home runs over his last 198 games, as he's posting a .250 ISO in that span. Getting to face Mike Leake is nothing we need to worry about either, with the Mariners righty posting a FIP of 5.30 so far this season.
Second Base

Brian Dozier FD - 2B 2700 DK - 2B 4000
Opponent - CHW (Manny Banuelos) Park - CHW
FD - 11.21 DK - 8.44
Dozier has quietly been playing really well recently and it's hard to overlook a guy who can become one of the hottest hitters in the game at any time. This is a former all-star who had 40-homer, 20-steal seasons and it's just a matter of time before he returns to some of that form. Recent results would indicate that he's getting there, with Dozier hitting .396 over his last nine games while providing three homers, seven runs scored and seven RBI. He's been obliterating lefties this season too, posting an 1.134 OPS against southpaws so far this year.

Cesar Hernandez FD - 2B 2900 DK - 2B 3600
Opponent - ARI (Jon Duplantier) Park - PHI
FD - 10.66 DK - 8.25
Hernandez hasn't been great since moving up to the leadoff spot but the fact that he's getting five at-bats a game makes him a guy we don't want to overlook. Any guy with 20-20 potential hitting atop one of the best lineups in baseball is worth a look, especially when he has an OPS approaching .800. He's typically better against righties too, with Hernandez accruing an .844 OPS against right-handed pitching so far this season.
Shortstop
Trevor Story FD - SS 4600 DK - SS 5800
Opponent - CHC (Jose Quintana) Park - COL
FD - 16.79 DK - 12.75
If you've been playing DFS the past couple of years, you know that Story is a must use against lefties at home. In fact, Story has a 1.013 OPS against lefties since the beginning of 2017 while posting a .963 OPS at home in that same span. That equates to an OPS approaching 1.200 when he faces a southpaw at home and his 1.104 OPS at Coors Field this season proves that he's unusually comfortable in those friendly confines. That makes him worth using pretty much at any price, with the Rockies projected for nearly six runs.

Manny Machado FD - SS 3400 DK - 3B/SS 3600
Opponent - SF (Tyler Beede) Park - SF
FD - 11.65 DK - 8.87
I've been waiting for a few Padres, as they're probably my favorite sneaky stack of the day. What I love about them is that they get to face Tyler Beede and we'll go over that more thoroughly in our outfield write-up. For Machado, we simply believe he's too cheap. We're talking about a guy who's typically a $4,000 player on FanDuel and $5,000 on DraftKings. That means we're getting a heck of a bargain in a premium matchup and we're going to bet on him retrurning to his old form here.
Third Base
Marwin Gonzalez FD - 3B 2900 DK - 3B/OF 3700
Opponent - SEA (Mike Leake) Park - MIN
FD - 11.53 DK - 8.83
While Gonzalez doesn't necessarily have huge upside, he's too good to be priced this cheaply. Dating back to 2017, Gonzalez is providing an .802 OPS and typically bats in the heart of this potent Twins lineup. Vegas appears to really like Minnesota too, with them projected for more than five runs in this matchup. While he's a switch-hitter, Gonzalez usually bats better from the left side, posting an .811 OPS against righties in that same span.

Vladimir Guerrero Jr. FD - 3B 3000 DK - 3B 4000
Opponent - BAL (John Means) Park - BAL
FD - 11.08 DK - 8.49
Guerrero is probably my favorite value play on the board, as there's a lot in his favor. The first thing is the platoon advantage, with Vlad posting an OPS north of 1.100 against southpaws in his minor league career. That alone is impressive and recent results indicate that he's starting to hit his stride. Over his last 21 games, Guerrero is posting an .895 OPS and should have no problem hitting in a hitter's haven like Camden Yards against a league-average pitcher like John Means.
Outfield

Kyle Schwarber FD - OF 3900 DK - OF 5200
Opponent - COL (Peter Lambert) Park - COL
FD - 14.27 DK - 10.61
Schwarber actually homered in the midst of writing this article and we have to love him in a park like Coors Field. Hitting in that little league ballpark is huge for anyone, especially the leadoff guy for a lineup who's projected to score six runs. Schwarber has been playing his best ball since being moved to the leadoff spot too, with Schwarber generating a .450 OBP over his last seven games while collecting three doubles, three homers, seven runs scored and seven RBI. Getting to face a righty is the cherry on top, with Schawarber posting an .828 OPS against righties since 2017.

Randal Grichuk FD - OF 3000 DK - OF 4000
Opponent - BAL (John Means) Park - BAL
FD - 11.14 DK - 8.42
Grichuk makes for a beautiful two-man stack with Guerrero, as this lineup is a nice contrarian play. Not many people will be on these two but they have a quality matchup with the platoon advantage in their favor. Quietly, Grichuk has 100 homers since 2015, which is quite the mark considering he's only had 1.850 at-bats in that span. That's a pretty good rate and it shows that he's got the ability to go yard at any time. While Grichuk's splits are pretty much even, we can't argue with the fact that he gets the platoon advantage in his favor too.

Wil Myers FD - OF 2800 DK - OF 4000
Opponent - SF (Tyler Beede) Park - SF
FD - 10.74 DK - 8.17

Franmil Reyes FD - OF 2900 DK - OF 4200
Opponent - SF (Tyler Beede) Park - SF
FD - 10.99 DK - 8.32
Alright, the wait is over. Let's get some of these Padres into our lineup against arguably the worst pitcher in the league. Tyler Beede is currently pitching to a 8.15 ERA and 2.21 WHIP so far this season, which are easily some of the worst statistics you'll see. Those are laughable numbers and it puts all of the Padres bats in play. While Myers has been struggling this season, it's hard to argue with his .390 OBP and .890 OPS over his last 15 games. Reyes is the guy that we really want, as his 19 homers put him near the top of the NL leaderboard in that statistic. That makes these prices hard to understand and Reyes .386 xwOBA and .311 ISO emphasizes just how much power this guy possesses.
GRAB A FREE TRIAL OF OUR PROJECTION SYSTEM, AND CHECK OUT DFSR PRO!
FREE EBOOK
SECRETS TO CRUSHING DAILY FANTASY FOOTBALL!
DON'T SET ANOTHER LINEUP BEFORE YOU READ THIS BOOK.