Baseball Picks Daily Fantasy
Expert Advice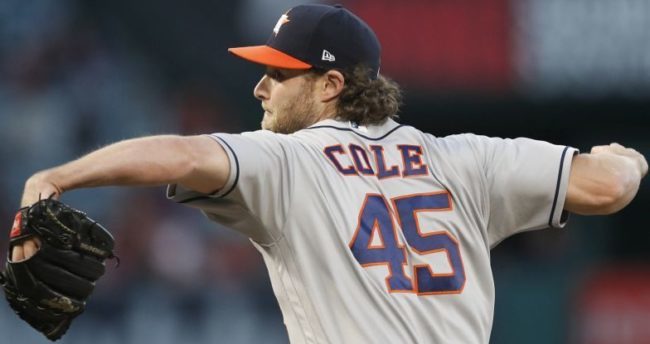 DraftKings and FanDuel MLB Picks for Friday 6/14/19
It's a big Friday in baseball with some true ace-level arms like
Gerrit Cole
and
Max Scherzer
taking the mound. But there's also a game in Coors opening with a 12.5 over/under. There's a lot to like on
FanDuel
and
DraftKings
.
Now's your chance to get DFSR PRO, which will give you access to our MLB and NBA optimizers and our new player lab! Get started for free by clicking the button below.
Pitchers

Gerrit Cole FD 12000 DK 11900
Opponent -
TOR (Aaron Sanchez)
Park -
TOR
FD
- 48.32
DK
- 27.45
Cole is easily the best pitching option on the board. The reason for that is because he currently leads the league in total strikeouts and K rate. In fact, his 39 percent K rate happens to be one of the best marks in Major League history. That makes him worth playing against anyone but specifically, Toronto. The Blue Jays currently rank 27th in runs scored, 28th in OPS and 21st in K rate. That's why they're projected for only three runs, with the Astros coming into this matchup as a -270 favorite.

Chris Bassitt FD 7500 DK 7800
Opponent -
SEA (Marco Gonzales)
Park -
SEA
FD
- 36.8
DK
- 19.32
Bassitt has allowed three runs or fewer in eight of his nine starts this season, as he's quietly been one of the most consistent pitchers in the league. That's led to a 3.46 ERA and 1.15 WHIP, which should be even better. Over his first six starts, Bassitt posted a 1.93 ERA and 0.92 WHIP. He's also matched his 53 Ks with 53 innings pitched this season, which simply makes him way too valuable to be priced below $8,000. The icing on the cake is this matchup, with Seattle ranking bottom-10 in K rate, runs scored and OBP since the beginning of May. That's why Bassitt enters this game as a -190 favorite in a pitcher's park like Oakland Coliseum. 
Daniel Poncedeleon
is way too cheap on both sites, considering he gets to face a weak Mets offense in a pitcher's park like Citi Field. 
Listen to "Double Podcast! MLB Picks and Plays Plus NBA Finals Reactions - 6/14/19" on Spreaker.

Catcher/First Base
Jesus Aguilar FD - 1B 2400 DK - 1B 3200
Opponent -
SF (Drew Pomeranz)
Park -
SF
FD - 10.8 DK - 8.1
Brewers are going to be something of a theme on this slate for this article, so strap in early. Aguilar isn't going to hit all that high in the order these days, even against the lefty. But he's still a guy I want to play in these platoons. Sure, the OPS is dog-sh@# this season, sitting around .600 but he does seem to be running ultra bad in both BABIP and Hr/FB rate. Sure, the hard
contact
rate is down some but that doesn't full explain the dip in power. There sure seems like home runs are coming from this bat and he's coming near punt prices against Pomeranz.

Daniel Murphy FD - 1B 4000 DK - 1B 5400
Opponent -
SD (Cal Quantrill)
Park -
COL
FD - 14.02 DK - 10.77
Speaking of themes, the Rockies could be popular plays as well especially if you choose to go a little cheaper at pitcher. Murphy should hit in the fifth spot against the righty Quantrill on Monday in Coors and dude brings in an excellent career
contact
rate and should see the power tick up the more games he plays in Coors. He's never taken a lot of walks, but is tough to strikeout as well with a career 12% K rate. The Rockies have a great implied run line and Murphy isn't all that cost prohibitive.
Strongly consider
Eric Hosmer
(FD $3700 DK $4700) especially if he's back in the two spot on Monday.
Second Base

Jose Peraza FD - 2B 2200 DK - 2B/OF 3500
Opponent -
TEX (Drew Smyly)
Park -
CIN
FD - 8.55 DK - 6.77
Look,
Jose Peraza
isn't that much of a hitter, but second base isn't really much of a position when it comes to fantasy these days. It seems like a nightly struggle to effectively fill this position which often means going cheap is the way to take it. Though he's a lightweight, dude at least is better against lefties for his career and has a respectable .728 OPS in that platoon for his career. He's very tough to strikeout (10%) and
Drew Smyly
's been a walk machine in his 45 IP this season. The Reds, in general could have a lot of upside, and I'm fine punting away second with a gut like Peraza.
There are some conflicting reports about the Rangers' starter though. If it is Jesse Chavez, then Derek Dietrich (FD $2900 DK $4600) would vault to the top of the list as he'd get the start with that platoon.
After these guys, second base is its almost nightly problem.
Brian Dozier
(FD $3000 DK $3800) is in a good platoon spot against
Robbie Ray
.
Shortstop

Manny Machado FD - SS 4000 DK - 3B/SS 4300
Opponent -
COL (Jeff Hoffman)
Park -
COL
FD - 14.7 DK - 11.19 Machado hasn't lived up, by a long shot, to the contract he signed in the offseason. The .726 OPS is a moderate disaster for what he's being paid. Some of that is a dip in BABIP to the .274 mark (career .300) and there are some encouraging signs. He's walking more than at any other point of his career at 11% and he's around a 30 HR pace for the season. The K's are up some, but he also has a 42% hard
contact
rate. I love his prices going into Coors for the weekend.

Francisco Lindor FD - SS 4000 DK - SS 5200
Opponent -
DET (Ryan Carpenter)
Park -
DET
FD - 14.48 DK - 11.05
After a slow start to the season, Lindor is back on track and now has the OPS over .900. He's running a little hot in the power department with 11 home runs in his first 214 plate appearances, but he's also shown year-over-year improvement in that category so there's some reason to believe it's sustainable. He'll face
Ryan Carpenter
who could be the worst arm on the slate with a 5.63 xFIP in 29 IP this season. Dude can't K anyone (5.76 K/9 and could really struggle with this Indians' lineup on Friday.
Third Base

Miguel Sano FD 3600 DK 4600
Opponent -
KC (Brad Keller)
Park -
KC
FD - 12.05 DK - 8.97
Marwin Gonzalez FD 3100 DK 4100
Opponent -
KC (Brad Keller)
Park -
KC
FD - 11.3 DK - 8.65
The strikeouts are still an issue for Sano (36%) but he's shown that prodigious power as well with six home runs in 83 plate appearances and a .914 OPS. The Twins will face
Brad Keller
and the K's all of a sudden become less of an issue for Sano. The former strikes out only six batters per nine and walks close to four. This is a dream matchup for the Twins' third basemen because his biggest weakness becomes much less of a problem.
Meanwhile, Gonzalez should be hitting around the middle of the lineup and makes for an higher floor play. He has a mid-.700s OPS on the season. He strikes out about 24% of the time, but again, that is much less a concern against Keller. There's a reason the Twins have one of the highest implied run lines of the day and these guys are still coming as value plays.
Outfield

Lorenzo Cain FD - OF 3300 DK - OF 4000
Opponent -
SF (Drew Pomeranz)
Park -
SF
FD - 12.31 DK - 9.58

Ryan Braun FD - OF 3100 DK - OF 4300
Opponent -
SF (Drew Pomeranz)
Park -
SF
FD - 11.63 DK - 8.88
Cain and Braun continue the stack against Pomeranz that we're looking at for the Brewers on Friday. Cain has really struggled this season, hitting to the tune of a sub .700 OPS thanks in part to a BABIP (.286) about 40 points below his career number. This part of the issue is a *reduction* in hard
contact
rate from last season's 38%. He's down to 31% which is more in line with his career numbers. Now that being said, we should see a tick back up over the second half of the season if he can get the ball out of the infield (11% IFFB rate, worst of his career). This is still a guy with the speed upside to overcome some of the issues and I do expect the numbers to turn around.
Meanwhile, while steroid-Braun isn't walking back through that door and dude has struggled against lefties this season, that hasn't always been the case. For his career, he has a 160wRC+ and .416 wOBA in that split (drug-aided, but still) and some of his struggles this season in that platoon are luck related. He's still very much a value at the top of the order.

David Dahl FD 3900 DK 5300
Opponent -
SD (Cal Quantrill)
Park -
SD
FD - 13.75 DK - 10.53
A middle of the order Dahl is coming at sub 4K on
FanDuel
, putting him as one of the better *big money* value plays on the board. While Quantrill does have moderate K stuff, there's a reason the Rockies has the biggest run line on the board. Dahl carries in a .912 OPS thanks in part to a .201 ISO that's clearly better at home. He should be a rather popular play on
FanDuel
, especially where he's underpriced.
Strongly consider
J.D. Martinez
(FD $4100 DK $5000) and
Mookie Betts
(FD $4300 DK $5200) against
Andrew Cashner
.
GRAB A FREE TRIAL OF OUR PROJECTION SYSTEM, AND CHECK OUT DFSR PRO!
FREE EBOOK
SECRETS TO CRUSHING DAILY FANTASY FOOTBALL!
DON'T SET ANOTHER LINEUP BEFORE YOU READ THIS BOOK.