Nascar picks Daily Fantasy
Expert Advice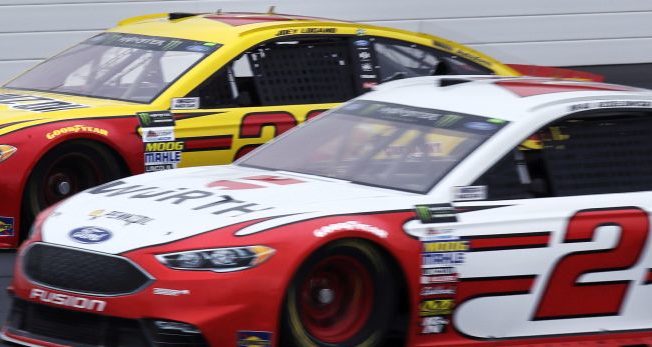 Daily Fantasy NASCAR Race Preview & Picks for DraftKings - Coke Zero Sugar 400
Chris Durell will be bringing you his weekly race breakdown, top trends, and pre-qualifying targets to help you cash on DraftKings and FanDuel. You can also grab a copy of his free DFS NASCAR Cheatsheet that includes a ton of stats and a customizable model.
Now's your chance to get DFSR PRO, which will give you access to our MLB optimizer and our new player lab! Get started for free by clicking the button below.
First time with MLB? Be sure to read our free MLB Ebooks on building lineups, general strategy and more. We've got you completely covered.
Coke Zero Sugar 400
Daytona International Speedway - Daytona Beach, FL
Track - 2.5 Mile Tri-Oval Superspeedway
31° of Banking
This week the Monster Energy NASCAR Cup series heads back to Daytona International Speedway for the Coke Zero Sugar 400 under the lights on Saturday night. It will be a very special race for some as it marks the final time the Daytona Summer race weekend will fall in or around Independence Day, a tradition that has been around since Fireball Roberts won the first summer race here back in 1959. The race will now host the regular season finale which, in my opinion, adds a ton of intrigue for not just the fans but the teams as well knowing it would essentially be a wildcard race with the Playoffs starting the final week and we know almost anyone can win here.
When it comes to fantasy, qualifying is going to paint the picture as place differential points are King this week. There have been 10 or more drivers to pick up double-digit place differential in five straight races here and five or more drivers to start outside the Top 20 and finish Top 10 in two straight and four of the last five. The other element of superspeedway racing is working with teammates and/or like manufacturers in the draft leading to a stacking lineup construction.
Last Six Winners at Daytona
2019 Daytona 500 - Denny Hamlin(started 10th)
2018 Summer - Erik Jones(started 29th)
2018 Daytona 500 - Austin Dillon(started 14th)
2017 Summer - Ricky Stenhouse Jr.(started 6th)
2017 Daytona 500 - Kurt Busch(started 8th)
2016 Summer - Brad Keselowski(started 5th)
Weekend Schedule
Practice #1 - Thursday @ 1:05 pm ET
Practice #2 - Thursday @ 4:05 pm ET
Qualifying - Friday @ 5:05 pm ET
Race - Saturday @ 5:05 pm ET
Track History at Daytona
Denny Hamlin picked up his second career Daytona 500 win this Spring and is one of just three drivers in the field with multiple wins at the track. Joining him on the multiple win list is Kevin Harvick who has both a Daytona 500 and summer win here but has really struggled lately with six straight finishes of 19th or worse. The other driver is seven-time champ, Jimmie Johnson, who has two Daytona 500 wins and one in the summer and like Harvick has not been great here lately with just one Top 10 in his last seven races at the track.
When breaking down track history here at Daytona, one thing that stands out over anything else is the names that pop up that we don't normally see in this category every week. It starts with Austin Dillon who won the 2018 Daytona 500 and has now finished Top 10 in seven of his 12 career races here. Next up is Ryan Newman has who been consistent here lately with four Top 10's and six Top 15 finishes in his last eight races. His teammate, Ricky Stenhouse Jr, hasn't been as consistent but has flashed more upside winning the summer race here in 2017 and also finished Top 5 in the summer race in 2016. Bubba Wallace also stands out from a value perspective as he returns to Daytona with three Top 15 finishes in four career races including a thrilling runner-up at the 2018 Daytona 500.
We also can't talk Daytona without mentioning one of the best plate(no longer restrictor plates) racers in the series, Joey Logano. He broke through with a win at the Daytona 500 in 2015 and since has finished 6th or better in five of his last eight races here and has the fourth best career average finish(17.1) among active drivers with 10 or more starts.
Track Type History(Daytona/Talladega)
I talked about Joey Logano above and he leads all drivers by a mile(not literal) when it comes to Daytona/Talladega performance. Looking at the last 10 races on the track combined, he has three straight Top 5's and has finished 6th or better in seven of those 10 races and ended up in a crash in each of the other three.
Aric Almirola ended his tenure with RPM with three straight Top 5's at restrictor plate tracks and has a win(Talladega) and four finishes of 11th or better in six races at the track type with Stewart-Haas.
Ryan Newman has had success and been consistent at both tracks as well with Top 10 finishes in six of his last eight races at the two tracks.
Since joining Hendrick Motorsports full-time at the start of the 2018 season, Alex Bowman has a 13.5 average finish in six races with three Top 10's including a runner-up at Talladega earlier this year.
While the sample size is very small, rookie Ryan Preece has proved to be a solid superspeedway racer with Top 10's at both tracks this season.
Both Ricky Stenhouse Jr.'s Cup Series wins have come on the superspeedways as he won both the first Talladega race and Daytona summer race in 2017. He has been inconsistent since, however, with just two Top 10's in the last seven races on the track type.
Current Form
Alex Bowman is coming off his first career win last week at Chicagoland and now sits atop the form ranks with four Top 10's and an 8.2 average finish over the last six races. Going back further, Bowman has six Top 10's in his last eight races with no finish worse than 15(Pocono) and now sits inside the Top 10 in standings and is already locked into the Playoffs.
Teammates Brad Keselowski and defending Series Champion, Joey Logano are up next as they sit tied with an 8.5 average finish over the last six races. Both have a win, three Top 5's, and four Top 10's in that time. From a season-long perspective, they sit first(Logano) and third(Keselowski) in the standings with five combined wins.
Kyle Busch has fallen to fourth in my form ranks coming off a 22nd at Chicago and also has a 30th at Kansas but sandwiched right in between are four Top 5's including his fourth win of the season at Pocono.
Rounding out the Top 5 when looking at recent form is seven-time series champion, Jimmie Johnson. He is coming off a season-high 4th place finish at Chicagoland where he also led the field with a 4.0 average running position. In his last six races, he has three Top 10's and no finish outside the Top 20. Things are looking up for his Playoff chances as he has now moved on the good side of the bubble.
Top Targets
Joey Logano
He has got caught up in crashes in each of the last two summer races here at Daytona but overall has finished 6th or better in six of his last nine including his Daytona 500 win in 2015. He will start on the pole and have teammate Brad Keselowski starting right behind him which could lead to a number of laps led and the pair are two of the best superspeedway drivers in the series.
Erik Jones
Jones has really struggled at Talladega early in his career but he has really shined here at Dayonta. He finished 3rd here at the Daytona 500 this year, won the summer race here last year and has three Top 10's in his five races with the other two finishes being wrecks in his first two Daytona 500's. I am not weighing practice very high this week but it was positive to see Jones finish third in both one-lap and 10-lap averages in final practice. He will be a core driver on both sites but hs best value comes on FanDuel at just $8,200.
Ryan Newman
Newman might be my favorite PTS/$ play this week. He comes in the sub $8K range on both sites and returns to Daytona with Top 15 finishes in six of his last eight races here with four Top 10's. With the field set by owner's points, Newman will start 18 giving him some place differential upside as well.
Brendan Gaughan
Another driver who gets a huge fantasy boost due to the qualifying cancelation is Gaughan. Since joining Bear Motorsports in 2017 to run the superspeedways, Gaughan has finished Top 30 in all five Daytona races with three Top 15's and also has a 17.4 average finish at Talladega in five races as well.
Matt DiBenedetto
The value is always loaded as the player pool opens right up at Daytona and Talladega and DiBenedetto is another driver I will have a ton of exposure to this week. He will start 25th Saturday night and has a 16.8 average finish here in his last five races with two Top 10's.
Ryan Preece
It is a very small sample size but rookie Ryan Preece has been excellent on the superspeedways with an 8th place finish at the Daytona 500 and followed that up with a podium finish(3rd) at Talladega. Regression is definitely coming but at his price and starting 26th, I will have a ton of exposure.
Below you will find a copy of my DFS NASCAR cheathsheet which includes Track History, Current Form, DraftKings points averages, Track Type History, Practice/Qualifying Ranks and much more.

Chris Durell has been playing Daily Fantasy Sports for five years and fantasy in general for more than a decade. He is an active player in NFL, MLB, NHL, PGA, and of course NASCAR. He lives in Saskatchewan, Canada with his wife and two daughters. You can follow him on Twitter at @Jager_Bombs9 for advice, strategy, answers to any NASCAR questions or how he copes with the winters up north.
FREE EBOOK
SECRETS TO CRUSHING DAILY FANTASY FOOTBALL!
DON'T SET ANOTHER LINEUP BEFORE YOU READ THIS BOOK.