Baseball Picks Daily Fantasy
Expert Advice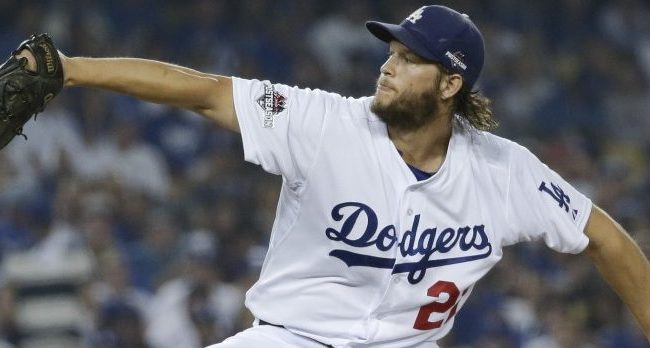 DraftKings and FanDuel MLB Picks for Saturday 6/5/19
The All-Star break is literally days away and now's the time to get in some lineups before we have to go without baseball for three days. Now's your chance to get DFSR PRO, which will give you access to our MLB and NBA optimizers and our new player lab! Get started for free by clicking the button below.

Friday's are always the best day of the week and it's always fun to have nearly every team playing between a three-hour span. With that in mind, it's hailing ferociously in Denver right now and probably destroying my car, so be sure to check weather forecasts prior to submitting lineups.
Pitchers

Clayton Kershaw FD - P 10200 DK - SP 10700
Opponent - SD (Eric Lauer) Park - LAD
FD - 35.1 DK - 19.06
Kershaw is easily the safest pitching on the board and it's really not indicative in his price. His 3.23 ERA and 1.07 WHIP shows why he's such a good option, as that's actually higher than his career averages. What's really impressive about Kershaw is his floor, with the southpaw throwing at least six innings in all 14 starts this season. That has allowed him to score at least 26 FanDuel points in all but one game, which is an incredible floor. Facing San Diego is simply the icing on the cake, with the Padres sitting 27th in K rate, 25th in OBP and 24th in xwOBA. That's why Kershaw is a -200 favorite in this game, as his 2.02 ERA and 0.96 WHIP in 36 starts against the Padres only adds to his upside.
Julio Teheran FD - P 7500 DK - SP 6600
Opponent - MIA (Jordan Yamamoto) Park - ATL
FD - 31.45 DK - 16.42
It's hard to recommend Teheran with his recent play but there's a lot to like here. While he's struggled mightily over his last three starts, Teheran actually pitched to a 2.92 ERA and 1.19 WHIP over his first 15 appearances. That prior form paired with this matchup makes Teheran tough to fade, as he should cruise right through this lineup. In two starts against Miami this season, Teheran has pitched 12 scoreless innings while allowing just seven baserunners. That's really no surprise when you consider the fact that the Marlins rank bottom-two in runs scored, OPS, wOBA and xwOBA. That doesn't even take into consideration that the Braves are a -195 favorite in this game.
While he's been dreadful, our projection system loves Aaron Sanchez against a bad offense like the Orioles.

Catcher/First Base

Justin Smoak FD - 1B 2800 DK - 1B 3700
Opponent - BAL (Dylan Bundy) Park - TOR
FD - 12.4 DK - 9.27
This guy has been much better than his season-long statistics would indicate and it's just a matter of time before he goes on a tear. The biggest indicator of that is Smoak's .399 xwOBA and .535 xSLG which are way off of his .345 wOBA and .431 SLG. That simply means that he's been terribly unlucky and those statistics will only get closer as the season continues. What really makes Smoak enticing here is that he gets to face a weak righty, with Smoak posting a .523 SLG and .904 OPS with the platoon advantage in his favor this season.

Paul Goldschmidt FD - 1B 3100 DK - 1B 3600
Opponent - SF (Drew Pomeranz) Park - SF
FD - 13.26 DK - 9.99
Gosh, Goldschmidt has been terrible this season but this price is getting a little ridiculous. We're still talking about one of the best pure hitters in the game and it's just a matter of time before he's closer to $4,000 on each site. We're still talking about a guy with a career wOBA north of .400 and an ISO above .200. His numbers are even better against lefties and that really adds to his value here. Drew Pomeranz is currently pitching to a 6.25 ERA and 1.72 WHIP and will likely struggle with a guy like Goldy.
If you're in need of a catcher, Austin Barnes pops up highly with the platoon advantage in his favor. We also really like Jesus Aguilar against a lefty, if he finds himself in the Brewers lineup.
Second Base
Eric Sogard FD - 2B 3300 DK - 2B 4600
Opponent - BAL (Dylan Bundy) Park - TOR
FD - 11.38 DK - 8.71
Sogard has quietly had a breakout season for the Blue Jays and it's really hard to understand why FanDuel is pricing him at $3,100. That's evident by the fact that he's setting career-highs with a .307 AVG and .878 OPS. Those are sensational numbers and he's been doing a lot of that damage atop this lineup. Toronto happens to be one of our favorite lineups on this slate too because they're facing Dylan Bundy. The Orioles righty is pitching to a 4.91 ERA and 1.34 WHIP while allowing the most home runs in the Majors dating back to 2016.

Jose Altuve FD - 2B 3700 DK - 2B 4000
Opponent - LAA (Andrew Heaney) Park - HOU
FD - 13.77 DK - 10.67
It's always fishy to see a FanDuel price higher than a DraftKings price and that alone puts Altuve squarely in play. We're still talking about a perennial all-star who's well on his way to another great year. Getting to face a lefty is what makes him intriguing here though, with Altuve posting a 1.131 OPS against left-handers so far this season. The little second baseman is scorching right now too, going 7-of-14 at the plate over his last three fixtures.
Shortstop

Marcus Semien FD - SS 3400 DK - SS 4000
Opponent - SEA (Yusei Kikuchi) Park - SEA
FD - 11.73 DK - 9
Semien is quietly one of the hottest hitting shortstops in the league right now and it's clear that these DFS sites are slow to adjust to his increase in production. Over his last 28 games, Semien is hitting .308 while collecting nine doubles, six homers, 23 runs scored and 22 RBI in that span. That's fantastic production atop this lineup and it's huge that he gets to face a left-hander. Semien is currently posting an .862 OPS against southpaws this season and Yusei Kikuchi is pitching to a 8.42 ERA and 2.35 WHIP over his last seven starts.

Trea Turner FD - SS 4000 DK - SS 5300
Opponent - KC (Brad Keller) Park - WSH
FD - 15.46 DK - 12.03
Turner is easily one of the best players in fantasy baseball and it's worth using him on pretty much any slate. The reason we want to use him here is because he's facing Brad Keller, who's pitching to a 4.63 ERA and 1.42 WHIP this season. That's particularly scary because Keller has allowed at least six runs in two of his last three starts. That definitely puts any leadoff hitter in play against him, especially someone as talented as Turner. Over his last 10 games, Turner has nine runs scored, three doubles and five steals en route to a .311 AVG and nearly 15 FanDuel points per game.
Third Base

Josh Donaldson FD - 3B 3100 DK - 3B 3900
Opponent - MIA (Jordan Yamamoto) Park - ATL
FD - 13.23 DK - 9.89
Donaldson has re-discovered his power stroke over recent weeks and it's clear he's back. Over his last 22 games, Donaldson has nine homers and 18 RBI en route to an OPS north of 1.000. That makes these prices really hard to understand, as he should be at least $500 more on each site. Jordan Yamamoto is definitely a guy we expect to see some negative regression too, with the Marlins pitcher's xFIP more than 2.50 runs higher than his ERA. That's one of the biggest disparities in the league and it's just a matter of time before he's blown-up.

David Freese FD - 3B 2700 DK - 1B 4800
Opponent - SD (Eric Lauer) Park - LAD
FD - 10.82 DK - 8.26
There's some thought that Freese will return for this game and that would definitely put him in play against a lefty. When the Dodgers face a southpaw, Freese typically finds himself right in the heart of one of the best lineups in baseball. That's really no surprise when you look at his splits, with Freese posting an .865 OPS against lefties dating back to 2017. That's pretty close to his career averages and it's really hard to overlook him on FanDuel at $2,700 with so much in his favor.
Outfield
Jarrod Dyson FD - OF 2900 DK - OF 4800
Opponent - COL (Antonio Senzatela) Park - ARI
FD - 10.81 DK - 8.5
Dyson has found himself atop the Diamondbacks order this season and it's done wonders for his fantasy value. That's evident by his .347 OBP and .720 OPS, which happen to be career-highs. That may not necessarily sound special but those are some hefty numbers from a speed-demon like Dyson. The thing that makes him enticing here is that he gets to face Antonio Senzatela, who's pitching to a 4.83 ERA and 1.62 WHIP. That not only puts the platoon advantage in Dyson's favor, it also gives him a much better chance to steal a bag against a righty. With all that said, Dyson is obviously a better play on FD at $2,000 cheaper than DK.

Khris Davis FD - OF 3300 DK - OF 3800
Opponent - SEA (Yusei Kikuchi) Park - SEA
FD - 12.55 DK - 9.34
Davis is simply too cheap. This is a guy who leads the league in homers since 2016 and it's not like his power stroke has fallen off that much this season. He's still got an ISO in the .300 range in that span and it's just a matter of time before he goes on a home run rampage. That could very well start against Kikuchi, who has a WHIP approaching 2.50 and an ERA north of 6.00 over his last six starts. Kikuchi also happens to be a left-hander and Davis has a .939 OPS against southpaws so far this season. All that would make one believe that Davis is a $4,000 player on FD and $5,000 player on DK, as he's truly a $1,000 bargain on both sites.

Kike Hernandez FD - OF 2800 DK - 2B/OF 3800
Opponent - SD (Eric Lauer) Park - LAD
FD - 12.46 DK - 9.4
Hernandez is the final piece to our Dodgers stack. The difference between Kike' and the rest of the Dodgers is that Hernandez is actually cheap. He should be right in the heart of the order and he makes for a great piece to a Dodgers stack. The reason for that is because he does serious damage against lefties, posting a .491 SLG and .838 OPS against southpaws since 2017. Eric Lauer is not a pitcher we need to worry about either, as his 4.22 ERA and 1.34 WHIP are league-average numbers at best.
GRAB A FREE TRIAL OF OUR PROJECTION SYSTEM, AND CHECK OUT DFSR PRO!
image sources
NLDS Mets Dodgers Baseball: (AP Photo/Gregory Bull)
FREE EBOOK
SECRETS TO CRUSHING DAILY FANTASY FOOTBALL!
DON'T SET ANOTHER LINEUP BEFORE YOU READ THIS BOOK.