Basketball Picks Daily Fantasy
Expert Advice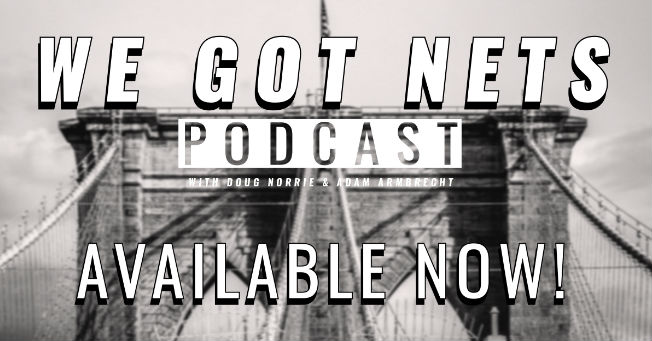 We Got Nets Episode 6 - A Brooklyn Nets Podcast: Summer League Wraps Up, Nets Win Total and Kevin Durant Keeps to Himself 7/15/19
It's time for Episode 6 of the the
We Got Nets
,
Brooklyn Nets Podcast
. And even in the middle of the summer, there's plenty to talk about in for this team.
Listen on Spreaker
:
Listen to "We Got Nets Episode 6 - Summer League Over, Nets Win Total and Durant Keeps to Himself 7/15/19" on Spreaker.
Adam starts off by tying him attending a Jimmy Eat World concert and the path of the Nets over the last couple of seasons. It doesn't come out as crazy as it sounds.
They do a quick post mortem on the NBA Summer league and whether there were any major takeaways from the Nets' performance. Obviously, they spend a little time on the key role players like Rodion Kurucs and more importantly
Jarrett Allen
who ended up logging quite a few minutes this summer.
Then they break down the Nets Points Bet win total this season. Doug begins detailing a new wins' model he's creating that actually currently projects the Nets to come in under that number. They discuss whether there's credence to Brooklyn possibly underperforming this season. And Adam tries to talk Doug off the ledge.
And finally, they follow up the Sean Marks and Kenny Atkinson press conference from earlier in the week and some tidbits that gave insight into the offseason process.
All of this and more on another summer We Got Nets
Podcast
.
You can also follow along all season to new episodes wherever you listen to podcasts.
Listen the We Got Nets - A Brooklyn Nets Podcast on iTunes
Listen the We Got Nets-
A Brooklyn Nets
Podcast on Spotify
Listen to the We Got Nets -
A Brooklyn Nets Podcast
on YouTube
Listen to the We Got Nets Podcast on Google Podcasts
Follow on Twitter
Follow on Facebook
FREE EBOOK
SECRETS TO CRUSHING DAILY FANTASY FOOTBALL!
DON'T SET ANOTHER LINEUP BEFORE YOU READ THIS BOOK.