Baseball Picks Daily Fantasy
Expert Advice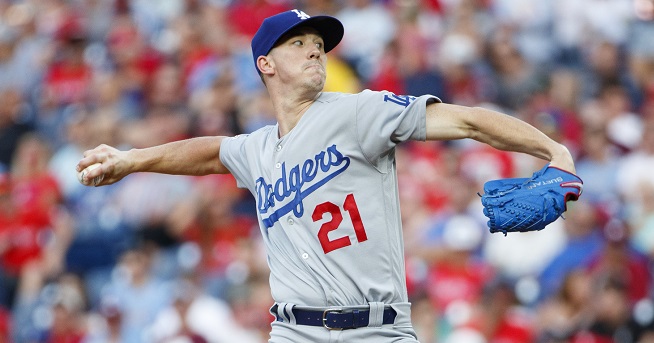 DraftKings and FanDuel MLB Picks for Sunday 6/21/19
Now's your chance to get DFSR PRO, which will give you access to our MLB and NBA optimizers and our new player lab! Get started for free by clicking the button below.

It's been a rough weekend for me in terms of DFS but it's time to bounce back and give you some great plays for the Sunday slate. The good news is that the weather has been relatively friendly recently and it looks like we don't have too much to worry about here. That makes things so much easier on us and that's big news with all of the games being played within three hours of one another.
Pitchers

Walker Buehler FD - P 10800 DK - SP 10800
Opponent - MIA (Jordan Yamamoto) Park - LAD
FD - 39.71 DK - 22.1
How could we not like this matchup? Buehler has been one of the best pitchers in the league over his last 15 starts, especially if you take out a Coors Field dud. In those other 14 games, Buehler is pitching to a 2.35 ERA and 0.85 WHIP while striking out 107 batters across 92.1 innings. That's the stellar rookie that we saw for most of last season and it's clear he's one of the best arms in the Majors right now. Getting to face the Marlins at home is simply the icing on the cake, with Miami ranking bottom-three in runs scored, OPS, wOBA and xwOBA. That's why Buehler enters this game as a -300 favorite with the Marlins projected for only three runs.
Blake Snell FD - P 10000 DK - SP 11000
Opponent - CHW (Dylan Cease) Park - TB
FD - 42.59 DK - 23.85
Snell has been wildly inconsistent this season but he has too much upside in a matchup like this. We're talking about a guy with a 3.24 xFIP dating back to last season, which is backed up by one of the three-best swinging strike rates in the Majors. That's why Snell has a 32 percent K rate in that span, which is huge against a lineup like this. The White Sox currently rank 23rd in K rate, 25th in wOBA and 28th in runs scored. That's why Snell will likely enter this game as a projected –280 favorite with Chicago projected for fewer than four runs.
We also like Brandon Woodruff and his 29 percent K rate at home against the Diamondbacks.

Catcher/First Base

Paul Goldschmidt FD - 1B 3300 DK - 1B 4100
Opponent - CIN (Anthony DeSclafani) Park - CIN
FD - 12.98 DK - 9.77
Goldy has had a terrible year by his lofty standards but this price is getting way too cheap. We're still talking about a guy who has a wOBA and OBP approaching .400 for his career while providing an ISO north of .200. That's all we can ask for and it's not like he's completely lost it. Recent results are hopefully a sign of things to come, with Goldy generating a .945 OPS over his last 13 games, collecting three doubles, four homers and 13 RBI in that span. DeSclafani is a pitcher we're definitely not worried about either, with the Reds righty pitching to a 4.29 ERA and 1.32 WHIP this season.

Joey Votto FD - 1B 3200 DK - 1B 3700
Opponent - STL (Jack Flaherty) Park - CIN
FD - 12.99 DK - 9.74
Much like Goldschmidt, Votto got off to a terrible start this season but has turned things around recently. Over his last 43 games, Votto is hitting .311 while providing an OPS just shy of .900 in that span. That makes these price tags truly hard to understand, as this is more indicative of a bench player who bats near the bottom of the order. We're still talking about a .400-OBP player who hits in the heart of a talented lineup. He's always been better against right-handers too and Jack Flaherty's 5.49 ERA and 1.30 WHIP over his last seven starts makes him a sneaky pitcher to stack against.
If you're in need of a catcher, Yasmani Grandal is our highest projected catcher on the board.
Second Base

Max Muncy FD - 2B 3800 DK - 1B/2B 4700
Opponent - MIA (Jordan Yamamoto) Park - LAD
FD - 12.78 DK - 9.51
This will be the first of a few Dodgers in this article, as we definitely want to use guys against Yamamoto. The reason for that is because the Marlins righty is due for some serious regression. While his 1.59 ERA and 0.94 WHIP are obviously impressive marks, his 4.81 xFIP and 4.85 SIERA tells us a different story. That means he's been very fortunate to land his absurd ERA and WHIP, as we expect that negative regression to start here. Muncy is definitely a candidate to start that regression, with the left-hander posting a .945 OPS and .300 ISO in his two seasons with the Dodgers. He's scorching right now too, hitting eight homers over his last 17 games.

Ozzie Albies FD - 2B 3300 DK - 2B 7200
Opponent - WSH (Austin Voth) Park - ATL
FD - 12.44 DK - 9.62
Albies has quietly been really good in his two years with the Braves and it's hard to understand why he remains so cheap. This is a guy who has a .273 career BA, which is backed up by his .785 OPS. That doesn't even take into consideration that he's got 20-steal potential, as this is one of the most talented second basemen in the Majors. The reason we like him today is because he gets to face Austin Voth, who's pitching to a 5.18 ERA and 1.30 WHIP for his career. Not to mention, Albies is hitting .329 over his last 36 games while providing a .977 OPS in that span.
Jason Kipnis and Gleyber Torres pop up highly in our projection system as well.
Shortstop

Francisco Lindor FD - SS 4000 DK - SS 5100
Opponent - KC (Glenn Sparkman) Park - CLE
FD - 17.29 DK - 13.19
The Indians are one of the hottest teams in the league right now and Lindor is a major reason why. The stud shortstop has career averages of a .289 AVG, .489 SLG and .838 OPS. That's pretty much on par with what he's doing this season, as he's truly one of the best players in our game. He comes into this matchup rolling right now too, collecting four doubles and three homers over his last 11 games en route to an .883 OPS. Despite Sparkman's gem in his most recent game, we definitely want to exploit his 4.54 ERA and 1.34 WHIP.
Corey Seager FD - SS 2800 DK - SS 3800
Opponent - MIA (Jordan Yamamoto) Park - LAD
FD - 11.71 DK - 8.92
We already discussed why we like the Dodgers with Yamamoto's negative regression right around the corner, as Los Angeles is projected for about five runs in this spot. That's a big number in a pitcher's park like Dodger Stadium and we expect Seager to play a major part of that. For his career, Seager has a .309 BA against right-handers while generating a .379 wOBA. That's all you can ask for, especially when you consider the fact that Seager has a .907 OPS against righties so far this season.
Didi Gregorius is one of the only Yankees lefties who has the platoon advantage against German Marquez, who just surrendered 11 runs to the Giants in his last start.
Third Base

Josh Donaldson FD - 3B 3600 DK - 3B 8400
Opponent - WSH (Austin Voth) Park - ATL
FD - 13.85 DK - 10.35
Donaldson has truly found his power stroke over recent weeks and we have to love him for DFS purposes until he cools off. Over his last 33 games, Donaldson has six doubles, 14 homers, 31 RBI and 22 walks en route to a 1.096 OPS. That means that he's seeing the ball extremely well right now and we can't fade him against a guy like Voth in a hitter's haven like SunTrust Park.

Jose Ramirez FD - 3B 4100 DK - 3B 4600
Opponent - KC (Glenn Sparkman) Park - CLE
FD - 15.27 DK - 11.56
Ramirez was one of the biggest disappointments in season-long fantasy up to this point but he's been stellar over the past month. In fact, J-Ram has a .308 AVG over his last 27 games while providing an OPS just shy of 1.000 in that span. His last 13 games have been even better, with Ramirez collecting five doubles, four homers, 13 runs scored and 15 RBI in that span. That ridiculous form definitely puts him in play against a bad pitcher like Sparkman and it also puts Ramirez on the left side, which is his better side.
Justin Turner is in consideration with the rest of the Dodgers.
Outfield

J.D. Martinez FD - OF 3800 DK - OF 4500
Opponent - BAL (Asher Wojciechowski) Park - BAL
FD - 20.31 DK - 15.25

Mookie Betts FD - OF 4400 DK - OF 5400
Opponent - BAL (Asher Wojciechowski) Park - BAL
FD - 21.6 DK - 16.43
Andrew Benintendi FD - OF 3500 DK - OF 4600
Opponent - BAL (Asher Wojciechowski) Park - BAL
FD - 16.47 DK - 12.58
Alright, let's get in all of these Red Sox bats. This is simply the best hitting outfield in the Majors and we have to love them against the Orioles. This pitching staff ranks dead-last in total ERA and they're well on their way to shattering a record for most home runs allowed. That's why Boston has an implied run total north of six in this game and it's really no surprise that they dropped 16 runs in Saturday's game.
Let's go over Asher Wojciechowski, as his 5.74 ERA and 1.34 WHIP fits in perfectly with the rest of this nightmare pitching staff. Those numbers are actually below his career averages and some would argue that he should be even worse.
These hitters speak for themselves, with all three of these guys being three of the top hitters in the game. Martinez and Betts both rank Top-10 in total fantasy points since the beginning of last season while Benintendi gets the platoon advantage in his favor.
The simple fact is, this offense is going to score at least five runs and you need to get as many of their bats in there as possible. Martinez is one of the league leaders in xwOBA and xSLG while Betts has scored at least 12 FanDuel points in 12 of his last 17 games while averaging more than 15 fantasy points per game in that span.

Max Kepler FD - OF 3400 DK - OF 4600
Opponent - OAK (Daniel Mengden) Park - MIN
FD - 13.29 DK - 10.07
Kepler has quietly had a great year atop the Twins lineup and he's always in play when they face a righty. So far this season, Kepler has provided a .538 SLG and .876 OPS with the platoon advantage in his favor. He's also scored 48 of his runs when facing right-handers, which is close to a run per game. Daniel Mengden is not a pitcher we need to fear either, with the Oakland righty pitching to a 4.57 ERA and 1.26 WHIP for his career.
Dwight Smith and Jesse Winker should be in great spots of their respective orders and that puts both guys in play at their cheap price tags.
GRAB A FREE TRIAL OF OUR PROJECTION SYSTEM, AND CHECK OUT DFSR PRO!
FREE EBOOK
SECRETS TO CRUSHING DAILY FANTASY FOOTBALL!
DON'T SET ANOTHER LINEUP BEFORE YOU READ THIS BOOK.