Baseball Picks Daily Fantasy
Expert Advice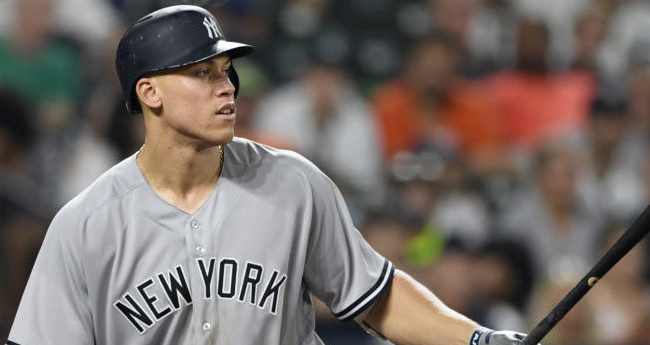 DraftKings and FanDuel MLB Picks for Friday 8/9/19
Now's your chance to get DFSR PRO, which will give you access to our MLB and NBA optimizers and our new player lab! Get started for free by clicking the button below.

This isn't my favorite slate of the season and we have some tough decisions to make. You're really going to notice that by our pitching selections, with the top-notch options being priced so highly. That's why we're going to aim for a couple of value pitchers to help get in some of the stud bats we have recommended.
Pitchers
Julio Teheran FD - P 9000 DK - SP 8800
Opponent - MIA (Caleb Smith) Park - MIA
FD - 31.08 DK - 16.24
It's tough to recommend a pitcher who's xFIP is two runs higher than his ERA but the simple fact is, Teheran is getting it done. Any guy with a 3.46 ERA and 1.30 WHIP is in consideration, particularly in a matchup like this. The Marlins currently rank bottom-three in runs scored, OBP, OPS, wOBA, xwOBA, SLG and xSLG. That's really no surprise when you consider that this is the toughest park to hit in. That's why we're looking at a total of 8, with Miami projected for fewer than four runs. All of those Miami stats are evident in Teheran's first three starts against them, as he's pitched 18 scoreless innings while striking out 15 batters.

Kyle Freeland FD - P 6300 DK - SP 4800
Opponent - SD (Cal Quantrill) Park - SD
FD - 27.33 DK - 13.7
This is a total punt play and it's going to be tough to click that little green plus next to Freeland's name. The simple fact is, this dude has been terrible this season. That's why he's earned this price tag but there's reason to believe he can provide value here. We're talking about a guy who had a breakout 2018 campaign, in which he pitched to a 2.89 ERA and 1.25 WHIP. He's shown some flashes of that recently, allowing two runs or fewer in two of his last three starts. What makes him intriguing here is this matchup, with the Padres ranking 27th in K rate, 23rd in runs scored and 24th in OPS. The move from Coors Field to Petco Park is the biggest bonus though, with Freeland's road ERA (4.91) nearly half of his home ERA this season (9.50).

Catcher/First Base

Paul Goldschmidt FD 3500 DK 4000
Opponent - PIT (Chris Archer) Park - PIT
FD - 12.46 DK - 9.38 This most definitely isn't the version of Paul Goldschmidt the Cardinals thought they were getting in the Arizona trade, but that doesn't mean we need to avoid the guy all together in DFS. The OPS is hovering around .800 and he's still on pace for around 30 home runs this season. Chris Archer has K stuff, but that's about the only superlative on his resume. Dude is walking everyone, has an xFIP around 5.00 and is just looking like he's in serious decline. I don't mind stacking some Cards on this slate.
Jesus Aguilar FD - 1B 2700 DK - 1B 3500
Opponent - SEA (Undecided) Park - SEA
FD - 9.54 DK - 7.15
Aguilar has hit either third or fourth in four of his last five games and it's clear that the Rays want to give this guy every opportunity to succeed. While it's unclear who will start for the Mariners, that's a good sign considering it will likely be a Triple-A arm. That's scary when you consider Aguilar's recent form, with the powerful first baseman hitting .328 over his last 24 games en route to a .590 SLG and .967 OPS. That makes these price tags truly mind-boggling and he's easily one of the best per-dollar plays on the board.
Second Base
Brock Holt FD - 2B 2300 DK - 2B 3300
Opponent - LAA (Jaime Barria) Park - BOS
FD - 9.96 DK - 7.66
Red Sox and A's are going to be the focuses of this article and Holt is one of the only guys who's a true value of these stacks. What we like here is that he gets the platoon advantage against Jaime Barria, with the Angels righty pitching to a 6.36 ERA and 1.52 WHIP this season. Many people think of Holt as an average utility man but his .288 AVG, .369 OBP and .777 OPS dating back to last season would say otherwise.
Hanser Alberto FD - 2B 2600 DK - 2B/3B 3400
Opponent - HOU (Wade Miley) Park - BAL
FD - 8.63 DK - 6.66
It was tough picking another second basemen but Alberto is always in play against left-handers. In fact, the Orioles typically bat Alberto leadoff against southpaws and it's really no surprise when you look at his numbers. So far this season, Alberto is hitting .401 against lefties while generating a .517 SLG and .934 OPS. Those are downright shocking numbers when you look at this price tag and it's not like Wade Miley is necessarily a scary pitcher either, thanks to a 4.42 xFIP.
Shortstop

Xander Bogaerts FD - SS 4000 DK - SS 5000
Opponent - LAA (Jaime Barria) Park - BOS
FD - 15.68 DK - 11.97
Bogaerts is the second piece to our Boston stack and it's hard to fade a guy who's in the midst of a career year. In fact, Bogey is setting career-highs across the board with a .310 AVG, .389 OBP, .566 SLG and .955 OPS. Those are MVP caliber numbers and it's time for people to start including Bogaerts in that discussion. Getting to face those unsightly numbers from Barria only adds to Bogey's value, with the Red Sox projected for six runs in this game and the shortstop projected to bat third.

Didi Gregorius FD 3400 DK 4000
Opponent - TOR (Sean Reid-Foley) Park - TOR
FD - 11.95 DK - 9.16 With all of the Yankees' injuries this season, their lineup has seen massive upheaval but no matter the combination or different players, they've had no issues at all scoring runs. Gregorius will likely hit third behind Aaron Judge on Friday against the righty Reid-Foley. The Pinstripes have an implied run line creeping to around six and though Didi has had some struggles at the plate this season, he's still very tough to strike out (13%). I'm worried about the hard contact rate (29%) but you are getting him at something of a discount hitting in a prime spot on Friday.
Third Base

Alex Bregman FD - 3B 4000 DK - 3B/SS 5400
Opponent - BAL (Dylan Bundy) Park - BAL
FD - 16.07 DK - 12.11
It's always strange to get through most of the article without seeing any Astros but let's go ahead and get in Bregman. This guy is an absolute stud and we have to love him against the Orioles. Baltimore is currently on pace to set a record for most home runs allowed and Dylan Bundy is a major part of that. In fact, Bundy has allowed the most home runs in the league dating back to 2016. That's evident by his 5.15 ERA and 1.37 WHIP this season, as he'll likely struggle to get through this potent lineup. What really adds to Bregman's intrigue is how hot he is right now, with the little third baseman providing a .556 OBP and 1.425 OPS over his last six games.

Matt Carpenter FD 3000 DK 3700
Opponent - PIT (Chris Archer) Park - PIT
FD - 12.03 DK - 8.96 Much like his teammate Goldschmidt, Carpenter has greatly underperformed expectations this season leaving the price lower across the board. The OPS isn't even over .700 and he's dealt with some injury issues. But there's still patience (13% walk rate) which is a good sign against someone as wild as Archer. The DraftKings price is especially attractive if Carpenter is in the leadoff spot which he should be on Friday.
Outfield

J.D. Martinez FD - OF 4300 DK - OF 5000
Opponent - LAA (Jaime Barria) Park - BOS
FD - 17.66 DK - 13.26
Martinez hasn't quite matched his ridiculous numbers from 2018 but he's still having a fantastic season. Anyone would pray for a .302 AVG, .377 OBP, .546 SLG and .923 OPS but the advanced statistics would tell us that he should be even better. In fact, his .408 xwOBA and .574 xSLG indicate that he's been pretty unlucky this season, as those are some of the best numbers in the Majors. That's especially scary considering that J.D. is starting to get hot, generating a .388 AVG, .468 OBP, .716 SLG and 1.184 OPS over his last 17 games.

Aaron Judge FD - OF 4200 DK - OF 4200
Opponent - TOR (Sean Reid-Foley) Park - TOR
FD - 16.47 DK - 12.23
Anytime you see a DraftKings price match a FanDuel price, you know something is fishy. That means we simply can't fade Judge on DK, as he's one of the best values of the night slate. The advanced statistics tell us more than the real statistics, as Judge is the league leader in exit velocity while posting elite wOBA, xwOBA's and barrel rates. That simply means he's hitting the crap out of the ball and it's just a matter of time before positive regression hits like a brick wall. Facing Sean Reid-Foley is a good way to start that positive regression, with the Toronto righty pitching to a 6.36 xFIP and 1.52 WHIP this season.

There are plenty of other outfield bats to consider in these stacks as well. Mookie Betts (FD $4300 DK $5000) and Andrew Benintendi (FD $3700 DK $5100) would obviously work their way into Boston stacks along with J.D.

I also don't mind Lorenzo Cain (FD $2900 DK $4100) and some other Brewers righties against the lefty Allard.
GRAB A FREE TRIAL OF OUR PROJECTION SYSTEM, AND CHECK OUT DFSR PRO!
image sources
Yankees Orioles Baseball: (AP Photo/Nick Wass)
FREE EBOOK
SECRETS TO CRUSHING DAILY FANTASY FOOTBALL!
DON'T SET ANOTHER LINEUP BEFORE YOU READ THIS BOOK.