Baseball Picks Daily Fantasy
Expert Advice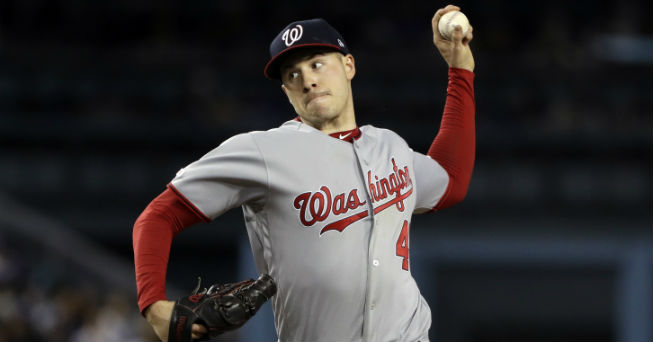 DraftKings and FanDuel MLB Picks for Thursday 9/12/19
Now's your chance to get DFSR PRO, which will give you access to our MLB and NFL optimizers and our new player lab! Get started for free by clicking the button below.
Pitchers
Early

Lucas Giolito FD - P 11000 DK - SP 11900
Opponent - KC (Jorge Lopez) Park - CHW
FD - 42.14 DK - 21.95
Early in the season it looked like Giolito would be in the CY Young mix and while he hasn't been quite as good in the second half, he has still been very good. He has had a bit of an issue with the long ball(13 homers in 11 starts) but has held opponents to two or fewer earned runs in seven of those 11 starts for a 3.44 ERA/.345 xFIP. More good news as his K rate has also increased by 4% in the second half(34%) and while he faces a Royals team that is getting healthy again, he has been dominant against lefties(.246 wOBA/.333 SLG) and is likely to face five today. All things considered, Giolito is my top pitcher in all formats on the early slate.
Also Consider: Yu Darvish(CHC)
Main

Patrick Corbin FD - P 10000 DK - SP 10500
Opponent - MIN (Kyle Gibson) Park - MIN
FD - 33.72 DK - 18.47
The main slate is a tough one for pitching in that Verlander is $12K+ on both sites, Rich Hill is coming off an extended absence due to injury, and even Brendan McKay in the mid-range will likely be limited once again. This has me turning to Patrick Corbin who is $2K cheaper than Verlander on both sites and is also having himself a terrific season entering the night with a 3.16 ERA/3.64 xFIP and has also provided upside with a 28% K rate backed up by a 14% swinging-strike rate. He draws a tough matchup against the Twins but he is coming at his cheapest point in awhile and is a core play for me in all formats.
Also Consider: Tyler Mahle(CIN) as a cheap SP2 option on DraftKings

Catcher/First Base
Early
Brandon Belt FD - 1B 2800 DK - 1B 3700
Opponent - PIT (Joe Musgrove) Park - SF
FD - 10.38 DK - 7.83
I will be loading up on the top-priced pitchers today which sends me down the value path, for the most part, when it comes to my bats. At first base, I am looking at Brandon Belt who is maybe having a down season overall but has been productive lately since being moved back up the lineup with his in four of five starts with three doubles. The matchup doesn't jump off the page at first glance as Musgrove has definitely been serviceable this season(4.67 ERA/4.49 xFIP) but has had his biggest issues with lefties giving up a .337 wOBA and .503 SLG. I will have exposure to Belt in all formats today.
Also Consider: Jose Abreu(CWS) or Paul Goldschmidt(STL)
Main
Matt Beaty FD - 1B 2900 DK - 1B/OF 4300
Opponent - BAL (Dylan Bundy) Park - BAL
FD - 11.96 DK - 9.16
On the main slate, we run into the same scenario as the early where there are multiple elite pitchers and if we want to roster those guys we are going to need some value. Great news as the Dodgers are in a plus matchup tonight against Dylan Bundy and having clinched they will likely be giving some younger players a ton fo run down the stretch. One of those is Matt Beaty who has been solid despite splitting time between the minors as he has posted a solid .284/.332/.495 slash line. He is also projected to be hitting 5th in the lineup and is in play in all formats on both sites.
Also Consider: Reese McGuire(TOR) at catcher or Mitch Moreland(BOS) at first base
Second Base
Early

Adam Frazier FD - 2B 3000 DK - 2B 4000
Opponent - SF (Jeff Samardzija) Park - SF
FD - 8.11 DK - 6.29
I love this Giants/Pirates game for value on the early slate and on the Pirates side, will be looking at Adam Frazier. He went into Wednesday night hitless in two straight starts but I am not at all concerned as he had hits in 15 of his previous 17 before that. He has bounced around the lineup this season and obviously gets a huge boost if back near the top today but regardless, I will have exposure in a matchup against Samardzija who has struggled more against lefties especially in the power department as he is almost giving up two home runs per 9 to lefties with a 41% hard contact rate. Fire up Frazier in all formats.
Also Consider: Kolten Wong(STL) if back hitting 2nd in a game in Coors or Ketel Marte(ARI) as a Coors pivot
Main

Ozzie Albies FD - 2B 3400 DK - 2B 4600
Opponent - PHI (Drew Smyly) Park - PHI
FD - 13.4 DK - 10.37
The Braves are #1 in my stacks model on my sheet tonight playing in a park that gives up a ton of home runs against a pitcher who gives up a ton of home runs. Smyly has been better in his last two starts but has not once this season gone three games in a row holding opponents to three or fewer earned runs and has battled the long ball this season giving up 29 in 18 starts(21.6% HR/FB rate). For Albies, he has been terrific since being moved back up to the two-hole in late July with .290/.350/.519 slash line and has also assaulted lefties all season to the tune of a .442 wOBA and 173 wRC+ in the split. Fire up Albies in all formats.
Also Consider: Gavin Lux(LAD) or Brock Holt(BOS) as value plays if they are starting
Shortstop
Early

Tim Anderson FD - SS 3300 DK - SS 5000
Opponent - KC (Jorge Lopez) Park - CHW
FD - 10.71 DK - 8.38
It is going to be hard for me to not go back to the White Sox again today, especially on FanDuel where they have multiple underpriced players. Tim Anderson is one of those players as he is the 3rd most expensive SS on DraftKings but 6th most expensive on FanDuel. On top of that, he has also heated back up with seven multi-hit efforts in his last 10 games for an average of 10.8 DK/14.2 FD points per game and has a very impressive .369/.389/.567 slash line since the start of August. For cash games on DraftKings, I will be going another direction but on FanDuel I will have a ton of exposure to Anderson in all formats.
Also Consider: Nick Ahmed(ARI) as a value play on both sites
Main
Corey Seager FD - SS 3600 DK - SS 4500
Opponent - BAL (Dylan Bundy) Park - BAL
FD - 14.14 DK - 10.78

Willy Adames FD - SS 2500 DK - SS 3300
Opponent - TEX (Kolby Allard) Park - TEX
FD - 10.53 DK - 8.1
There are two routes I will be taking at the shortstop position tonight. Corey Seager is player I will be paying up for in a plus matchup against Dylan Bundy and while he has been inconsistent for the most part all season, he does get opportunity hitting near the top of the order ahead of MVP hopeful, Cody Bellinger. The value play I am targeting at this moment is Willy Adames of the Rays and while he doesn't provide much upside, he comes in with hits in four straight and five of his last six games and makes a great wrap-around(9-1-2-3) stack candidate to save some money on a Rays top of the order stack. I will have exposure to both players in all formats.
Also Consider: Tre Turner(WAS)/Xander Bogaerts(BOS) as GPP pivots off Seager
Third Base
Early

Yoan Moncada FD - 3B 3500 DK - 3B 5000
Opponent - KC (Jorge Lopez) Park - CHW
FD - 10.57 DK - 8.07
Moncada is another White Sox infielder who provides us with a ton of value on FanDuel as the 7th most expensive player at the position. Like his teammate I talked about above, Moncada has also been red-hot with hits in six straight with five multi-hit efforts and is averaging 14.2 FD/11 DK points per game over his last 10 going back to the end of August. They will face Jorge Lopez who has been up and down all season but the good news is that he has struggled against lefties much more(.395 wOBA, .571 SLG) while Moncada is a switch hitter who has been much better against righties(.392 wOBA, 149 wRC+). Like Anderson, GPP only on DraftKings but all formats on FanDuel.
Also Consider: Colin Moran(PIT) as a GPP value play on both sites
Main

Vladimir Guerrero Jr. FD - 3B 3000 DK - 3B 3700
Opponent - BOS (Jhoulys Chacin) Park - TOR
FD - 11.88 DK - 9.1
All the talk for the Jays shifted towards Bo Bichette after he was called up as he started out on a monumental pace but Vlad Jr. has quietly been very good in that time as well. Over those 34 games(going into Weds night), he is hitting .306 with a .377 on-base percentage with a 138 wRC+ and while the power numbers are down a bit(5 HR in that sample size) so is the price giving him monster PTS/$ upside. More good news as he has also been much better against right-handed pitching with a .365 wOBA, 129 wRC+, and low 17% K rate. Fire up Vlad in all formats.
Also Consider: Josh Donaldson(ATL) especially on FanDuel in the mid $3K range or Rafael Devers(BOS) especially on DraftKings under $5K
Outfield
Early
Dexter Fowler FD - OF 3900 DK - OF 4500
Opponent - COL (Tim Melville) Park - COL
FD - 12.68 DK - 9.61
The Cardinals offense has been a giant dud in Coors this series but my hope here is that they can salvage some offense in the third game. If that is to happen, there is a good chance Fowler will be involved as he has been the primary leadoff hitter for over a month and comes in with hits in eight of his last 10 starts. He is the cheapest of the three Cardinals starting outfielders and arguably in the best position to hit value today and will be in my player pool in all formats.
Also Consider: Eloy Jimenez/Leury Garcia(CWS) or Trent Grisham(MIL) as a value play if back in the leadoff spot tonight
Main

Ronald Acuna FD - OF 4100 DK - OF 5500
Opponent - PHI (Drew Smyly) Park - PHI
FD - 14.58 DK - 11.17

Adam Duvall FD - OF 2500 DK - OF 3900
Opponent - PHI (Drew Smyly) Park - PHI
FD - 11.08 DK - 8.36
I am going back to the Braves in the outfield and love it as they offer top plays in all price ranges. If you have the salary and can pay up, Ronald Acuna Jr. is a great play and one of the best all-around players in the game as he enters tonight with a .283/.365/.516 slash line and has already obliterated his career-highs in home runs(38), RBI(94), runs scored(117), and stolen bases(34). If paying up for pitching or bats at other positions, consider Adam Duval as a value play who should get the start vs. a lefty and has hits in both games since being recalled by the Braves.
Also Consider: The Dodgers outfield(Bellinger, Pollock, Pederson), Aristides Aquino(CIN) who has an eye-popping .478 wOBA, 196 wRC+, and .412 ISO against lefties
GRAB A FREE TRIAL OF OUR PROJECTION SYSTEM, AND CHECK OUT DFSR PRO!
image sources
AP_191301419247881: AP Images
FREE EBOOK
SECRETS TO CRUSHING DAILY FANTASY FOOTBALL!
DON'T SET ANOTHER LINEUP BEFORE YOU READ THIS BOOK.