Baseball Picks Daily Fantasy
Expert Advice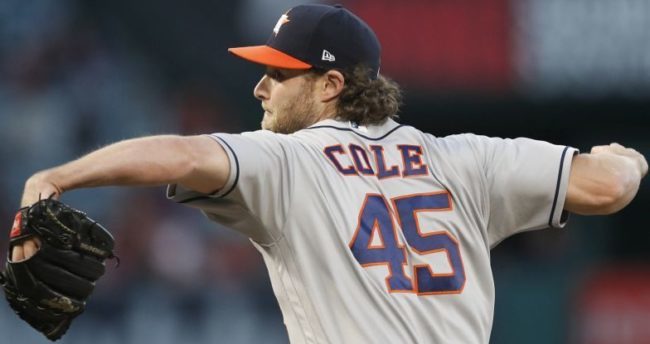 DraftKings and FanDuel MLB Picks for Friday 9/13/19
We have about two weeks left in the regular season and it's time to build some bankroll for the NFL season. There are more amateurs than ever in these contests because of the start of football, so it's imperative to build a lineup and build some cash flow before the season ends. With that in mind, let's get to some of our plays.
Now's your chance to get DFSR PRO, which will give you access to our MLB and NBA optimizers and our new player lab! Get started for free by clicking the button below.
Pitchers

Gerrit Cole FD 12000 DK 12200
Opponent -
KC (Danny Duffy)
Park -
KC
FD
- 50.27
DK
- 28.59
I mean, how can we fade Cole on this slate? This dude is probably the best pitcher in the Majors right now and we simply can't avoid him in such a stellar matchup. Let's start with that matchup, with the Royals ranked 28
th
in runs scored, 25
th
in OBP, 27
th
in OPS and 24
th
in wOBA. That's a disaster when you see Cole's statistics, with the right-hander pitching to a 2.73 ERA, 0.92 WHIP, 2.51 xFIP and 39.4 percent K rate so far this season. That doesn't even take into consideration that he has at least 14 Ks in three straight starts. Not to mention, Cole and the Astros enter this matchup as a -400 favorite.
Jon Lester FD 7100 DK 8300
Opponent -
PIT (Steven Brault)
Park -
PIT
FD
- 32.37
DK
- 16.58
Lester is not the sort of guy I like to trust for fantasy purposes but we always like to exploit the Pirates against a lefty. The reason for that is because Pittsburgh ranks bottom-five in runs scored, OBP and OPS against left-handed pitching. That's evident by the fact that Lester has allowed just two runs in 14.2 innings against the Buccos, throwing a six-inning shutout about a month ago in his most recent start. He's been showing promising signs recently too, scoring at least 32
FanDuel
points in 10 of his last 18 starts. Lester is typically risky but a matchup like this limits that volatility, especially when he and the Cubs are a projected as a -220 favorite.

Catcher/First Base
Eric Hosmer FD 3600 DK 4700
Opponent -
COL (Jeff Hoffman)
Park -
COL
FD - 13.81 DK - 10.58
Hosmer is not really the sort of guy I like to use for DFS but anyone is in play at Coors Field. That alone makes Hosmer intriguing but this matchup makes him a great play. Let's start with his opposition, with
Jeff Hoffman
pitching to a 7.06 ERA and 1.65 WHIP this season. More importantly, it gives Hosmer the platoon advantage. Against right-handers since 2017, Hosmer has a .307 AVG, .372 OBP, .490 SLG and .862 OPS.
Daniel Vogelbach FD 3300 DK 4200
Opponent -
CHW (Dylan Covey)
Park -
CHW
FD - 12.5 DK - 9.36
Much like Hosmer, we love to use Vogelbach whenever he faces a right-hander. So far this year, Vogelbach is posting a .363 OBP, .506 SLG and .860 OPS with the platoon advantage in his favor. That's really all you can ask for from someone priced so cheaply, especially against a pitcher like this. Vogelbach and the Mariners get to face
Dylan Covey
, who's pitching to a 7.69 ERA and 1.69 WHIP this season.
Second Base
Greg Garcia FD 2900 DK 4200
Opponent -
COL (Jeff Hoffman)
Park -
COL
FD - 11.9 DK - 9.2
Anytime we get a potential leadoff hitter priced this cheaply in Coors Field, we have to consider them. The reason for that is because the Padres are projected for nearly seven runs, which is obviously very beneficial for any leadoff hitter. That makes Garcia very enticing against a pitcher with an ERA above 7.00 and a WHIP well north of 1.50. The lefty second baseman has had a nice season against right-handers too, amassing a .373 OBP and .760 OPS against them.
Luis Arraez FD 2600 DK 4300
Opponent -
CLE (Aaron Civale)
Park -
CLE
FD - 9.1 DK - 6.97
While
Aaron Civale
is a pretty good pitcher, it's just insulting how low these DFS sites keep Arraez' price. This dude has done nothing but rake since getting called up, accruing a .347 AVG and .861 OPS in 78 games played. How is a guy with these sorts of numbers priced this low? What makes it equally as bizarre is the fact that Arraez gets the platoon advantage against Civale, with Arraez generating a .371 AVG, .505 SLG and .921 OPS against righties so far this year. That's why he always bats in the heart of this order and it makes him worth a shot in this price range.
Shortstop

Marcus Semien FD 3700 DK 5400
Opponent -
TEX (Brock Burke)
Park -
TEX
FD - 12.87 DK - 9.87
Semien has quietly been one of the best shortstops in the game and it's easy to see why the A's have chosen him as their leadoff hitter. What makes him really hard to overlook is his recent form, with Semien totaling a .337 AVG, .402 OBP, .723 SLG and 1.125 OPS over his last 25 games. That absurd form is even scarier for
Brock Burke
, as he also gives Semien the platoon advantage. That's really frightening for a pitcher with a 5.29 xFIP at the Majors this season and a 5.49 xFIP at Triple-A, with Oakland projected for six runs in one of the best ballparks in baseball.

Jonathan Villar FD 3300 DK 4400
Opponent -
DET (Jordan Zimmermann)
Park -
DET
FD - 11.94 DK - 9.32
This price simply makes no sense. Villar actually ranks Top-20 in season-long formats and that makes these prize tags all the more mind-boggling. He's one of the only hitters in the league with at least 20 homers and 30 steals and it's about time that these sites start treating him like the fantasy stud he is. He's been particularly good recently, generating a .338 AVG, .408 OBP, .587 SLG and .995 OPS over his last 44 games. He also has 16 steals in that span too and that's bad news for
Jordan Zimmermann
and his 6.27 ERA and 1.43 WHIP.
Third Base

Manny Machado FD 4100 DK 4800
Opponent -
COL (Jeff Hoffman)
Park -
COL
FD - 15.95 DK - 12.14
If we're stacking the Padres, we have to use their best hitter. Since a series in Colorado three months ago, Machado has a .274 AVG, .518 SLG and .852 OPS over his last 75 fixtures. His numbers in Coors Field are absolutely absurd, with Machado providing an OBP north of .500 and an OPS above 1.500 in seven games there this season. That's really no surprise when you consider this ballpark and terrible pitching staff, as Hoffman is in for some troubles here against Manny.

Giovanny Urshela FD 3000 DK 4200
Opponent -
TOR (Anthony Kay)
Park -
TOR
FD - 11.54 DK - 8.83
Urshela has been one of the best hitters since the All-Star break and he's being priced like a league-average player. Over his last 33 games. Urshela is hitting .403 while collecting a .721 SLG and 1.146 OPS. Those are some of the best numbers around and he should find himself in a potent part of this lineup with the likes of
Giancarlo Stanton
,
Gary Sanchez
and
Edwin Encarnacion
all sidelined. We're certainly not worried about
Anthony Kay
either, with the southpaw posting a 1.53 WHIP at the minors this season. He also happens to be a lefty, which gives Urshela the platoon advantage as well.
Outfield

Mark Canha FD 2900 DK 4600
Opponent -
TEX (Brock Burke)
Park -
TEX
FD - 11.13 DK - 8.43
The A's are sneakily one of the best stacks on the board, as they should go off in a hitter's haven like Globe Life Park. Not only does that stadium rank as the second-best hitting environment in the Majors, they also tend to throw out some bad pitchers too. While
Brock Burke
isn't terrible, pitching from the left side against this right-heavy lineup is a dangerous recipe. I expect Canha to be a major part of that abuse, as he's one of the hottest hitters in the AL. In fact, Canha is accumulating a .326 AVG, .434 OBP, .573 SLG and 1.007 OPS over his last 24 fixtures. Not to mention, Canha has a SLG just shy of .500 against lefties for his career.

Wil Myers FD 3400 DK 5300
Opponent -
COL (Jeff Hoffman)
Park -
COL
FD - 13.63 DK - 10.37
Nick Martini FD 2900 DK 4000
Opponent -
COL (Jeff Hoffman)
Park -
COL
FD - 12.46 DK - 9.57
Let's finish off our article by capping off our Padres stack. What makes them such a fascinating option here is the fact that they're an affordable stack. How often can you say that about a team hitting in Coors Field? Especially, a team facing a pitcher with a 7.06 ERA and 1.65 WHIP. Both of these guys are expected to hit in the top-five of the order and that's huge with this team projected for seven runs.
Myers is definitely the cream of the crop, considering he's probably the hottest hitter in this lineup. Over his last 11 games, he's hitting .471 with a 1.281 OPS in that span. He also has three steals to add to the rampage and he's simply one of the best players in fantasy right now. Martini isn't quite as good but he's still projected to bat second for this high-leverage lineup. That's big for a guy who's hitting .333 against righties this year en route to an .832 OPS.
GRAB A FREE TRIAL OF OUR PROJECTION SYSTEM, AND CHECK OUT DFSR PRO!
FREE EBOOK
SECRETS TO CRUSHING DAILY FANTASY FOOTBALL!
DON'T SET ANOTHER LINEUP BEFORE YOU READ THIS BOOK.