Basketball Picks Daily Fantasy
Expert Advice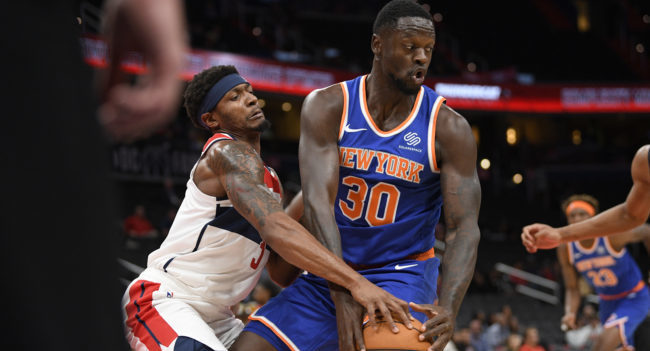 Is there Betting Value in Julius Randle, RJ Barrett and the New-Look New York Knicks?
New York Knicks
2018-2019 Record 17-65
2018-2019 Point Differential -9.2
2018-2019 Pythagorean Record 16-66
Offseason Additions


RJ Barrett - 3rd pick overall
Julius Randle
Bobby Portis
Marcus Morris
Taj Gibson
Elfrid Payton
Offseason Losses


DeAndre Jordan
Mario Hezonja
Emmanuel Mudiay
Projected Starting Lineup


(This is a fluid situation)
Dennis Smith, RJ Barrett,
Marcus Morris
,
Julius Randle
,
Mitchell Robinson
Key Bench Players


Bobby Portis
,
Kevin Knox
,
Taj Gibson
,
Elfrid Payton
2019 Over/Under 28.5


Overview
The Knicks stunk last season, getting in the tank early and often with the hopes of securing Zion Williamson in the draft as well as ensuring they opened up enough cap space to grab two max-level superstar types in the offseason. To sum it up: shit didn't work. Not only did
Kevin Durant
and
Kyrie Irving
sign across town with the Nets, but the Knicks' pick fell to three in the draft and they *settled* for RJ Barrett.
So it's easy to have a doom and gloom approach to the Knicks heading into the 2019-2020 seasoned based on the prior expectations, various pieces of organizational mismanagement and just a general feeling that the Knicks are a mess.
Though, even with everything going *wrong* this is still a much improved team from last year. For starters, it's very unlikely they'll once again be committed to a full on tank. They, almost for sure, saw the downside of that approach (right?) after last season considering it may have signaled more a general malaise than a strict *plan*. Because if the tank doesn't work out (so to speak) then you are looking at a fairly grim situation.
Their offseason signings, after striking out on the big boys, signaled a different approach going forward. They got every power forward type imagineable with
Julius Randle
,
Bobby Portis
,
Marcus Morris
and
Taj Gibson
while inking everyone on two-year or less
deals
. It theoretically paves the way for another run at after the 2020-2021 season when there's a load of dudes hitting the market once again. Like the Nets and Clippers (by way of example) the Knicks might take the win-now approach in an effort to be a more attractive free agent destination.
And the players they are bringing in do have some upside in a weakened Eastern Conference. The big addition is Randle coming off a single season in a screwed up New Orleans situation that at times saw him sharing the court with
Anthony Davis
and other times being part of the Pelicans' tanking plans. This was following a stint with, at the time, a rudderless Lakers' team.
Yet last year Randle still managed to make some strides in his overall approach. Long a downhill to the basket bruiser (and he still is), Randle added a three-pointer to the repertoire, averaging 2.7 three-point attempts per game (0.5 the season before) and knocking them down at a 34% clip. In fact, here are the side-by-sides of his past two seasons. Look at the marked shift in approach and his ability to get to almost league average right out of the gate from beyond the arc.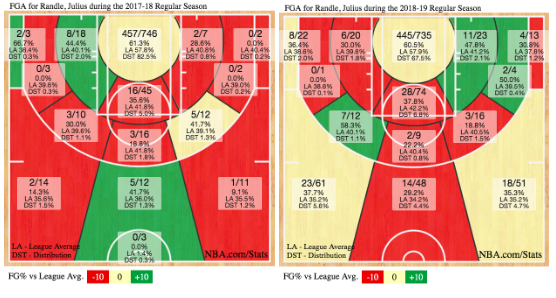 This is such an encouraging outcome and should speak to his ability to share the court with
Mitchell Robinson
for long stretches. Randle, for all his flaws, is a massive upgrade over what the Knicks had last season (which was nothing) and Robinson's defensive prowess on the interior could work to mask some of Randle's deficiencies on that end. The latter still needs to ditch the disastrous midrange stuff, but that appears curable.
On the defensive end, he finished the season with 1.9 Defensive Win Shares according to Basektball Reference, which lends credence to his working into a more well-rounded player.
One offseason move won't account for the 10 wins the Knicks would need to improve on to hit their over on this wins bet. This season, the Knicks will likely give a full run of minutes to
Mitchell Robinson
at the five, following a fantastic defensive rookie campaign. Robinson finished with 2.2 Defensive Win Shares as a rookie, ranking him 88th overall in the league. This doesn't sound all that impressive until you realize he played about 600 fewer minutes than most players above him. Take him to about 2K minutes (around the norm) and all of a sudden the dude is in the top 30 in the league. Maybe that math is too dirty, but the Knicks should only be helped on the defensive end with Robinson playing more minutes over guys like
Luke Kornet
,
Enes Kanter
and the mishmash of other bigs they ran.
They've also added increased depth and veteran experience along their front lines with the additions of
Bobby Portis
,
Marcus Morris
and
Taj Gibson
. While none of these guys are world-beaters, they are monumental improvements in terms of roster depth and experience. Sure, it may look like a few too many power forward types, but that's less of an issue than the void in talent they had last season.
The main area of concern for New York heading into the season is the guard play. Dennis Smith has had negative win shares (per
Basketball Reference
) since entering the league so giving him more playing time isn't necessarily a net positive. It's not a mistake they signed
Elfrid Payton
as a back up and still have (potential bust) Frank Ntikilina hanging around. Those three would make for a possibly below-average point guard situation out of the gate. Smith is still very young, 22 years old at the start of this season, and for sure has lottery pedigree. I'm not crossing off growth going forward and I expect him to have a longer leash. Additionally, and this sounds nuts, but this year's Knicks' team will be the most talent he's played with consistently in his first two seasons. The same goes for Ntikilina who'll enter the season as a 21-year-old. These guys are still so, so young.
And finally, much of the Knicks *success* this season could come down to 3rd-overall pick RJ Barrett and his timeline into fully adjusting as an NBA player. He was a volume shooter during Summer League and so far in the preseason and looked willing to get on the glass. He's big, and not a prototypical shooting guard, but the Knicks could run out a combo of him and
Kevin Knox
in the 2-3 giving them a lot of size but also a lot of potential variance on both ends of the court. Considering Smith isn't necessarily a distributing guard, this is where I do think things could end up breaking down for the Knicks. If they become a "everyone needs to get theirs" starting lineup (outside of Robinson) then the team could look totally out of whack.
Overall though I'm buying on the athleticism, pedigree, and newfound motivation around a team that is coming in with almost an entirely new look for this season. While I think there will be some growing pains, a weakened (and somewhat consolidated) Eastern Conference should open up a few more wins and the Knicks as a whole have the depth on their roster to even withstand an injury or two to key pieces. Let's get bullish on New York this season.
Suggested Bet: Knicks OVER 28.5 Wins

Also consider Knicks to make the playoffs +600
Follow Doug Norrie on Twitter
FREE EBOOK
SECRETS TO CRUSHING DAILY FANTASY FOOTBALL!
DON'T SET ANOTHER LINEUP BEFORE YOU READ THIS BOOK.