Basketball Picks Daily Fantasy
Expert Advice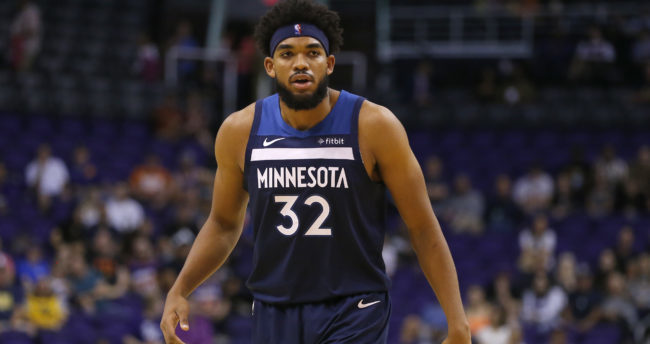 FanDuel NBA Picks and DraftKings NBA Picks - Wednesday 10/23/19
After a shorter two-game slate to start the season, Wednesday feels like the day things really tip off with 11 games across the league. There are plenty of ways to speculate on minutes and new roles in what's a turned over league. Let's go through some cash game plays for
FanDuel
and
DraftKings
.
Head on over a for your chance to get DFSR PRO, which will give you access to our NBA FanDuel and DraftKings optimizer, our NFL Optimizer and NHL Projections as well. Plus our new player lab! Get started for free by clicking the button below.
First time with NBA or NFL? Be sure to read our free NBA and NFL Ebooks on building lineups, general strategy and more. We've got you completely covered.
Point Guard

Terry Rozier
FD
- $7000
DK
- $7300
Opponent -
CHI
Proj Pts
FD
- 35.61
DK
- 36.57
The Hornets are going to be terrible, of that there is little doubt. They lost
Kemba Walker
in the offseason and got only really a max-contract
Terry Rozier
back in *return*. This is going to be a rough season for the Charlotte fan(s). But it doesn't mean we can't get DFS value going from a bad team. Rozier was their "prize" from free agency. He led the team in usage for the preseason which isn't surprising and that should be the case over the course of the year as well. We don't have a fantastic idea of what his stats will look like now that he's out of Boston and is the focal point of the offense. But if the plan is for him to take over even like 75% of Walker's shots from last season, or something like 14-15 shots at least, then he has major upside on these prices. Again, you can play players from bad teams and maybe the only thing we are fading with Rozier is the blowout.

De'Aaron Fox
FD
- $8600
DK
- $7700
Opponent -
PHO
Proj Pts
FD
- 40.45
DK
- 40.21
The Kings have a team they think can make a playoff push this season, and I can't say I doubt them. They put pieces together in the offseason that signal a push toward "respectability" with guys like
Harrison Barnes
(overpaid),
Trevor Ariza
(overpaid) and
Dewayne Dedmon
(nice piece). But for all of their signings, those minutes won't cut into Fox at all who actually could see a tick up in court time this season. He played 31 minutes per game last season and I wouldn't be shocked for that go up a couple. He averaged 17 points, seven assists and 1.6 steals, all which would stand to increase some year-over-year. And they'll play a Suns team that could see a tick up into a top-10 pace team (12 last season) with Rubio running point full-time. This is a great spot for Fox on the opening slate.
Other thoughts
Ish Smith
(
FD
$4700
DK
$5300) is taking over point guard duties in Washington. At times, this has translated to some fantasy relevance even playing next to
Bradley Beal
.
Also, the aforementioned
Ricky Rubio
(FD $6900 DK $5800) is at the helm in Phoenix. If he's a 35-minute guy out of the gate, in a fast-pace offense with Booker and Ayton as funnels, then we really could see some healthy fantasy lines.
Shooting Guard
Caris Levert
FD - $6400 DK - $6800
Opponent -
MIN
Proj Pts FD - 32.02 DK - 32.53
The Nets made a huge splash in the offseason, signing
Kevin Durant
and
Kyrie Irving
to max contracts and ushering in a new era of Brooklyn basketball. Which is all well and good except the former won't play at all this season. That should mean plenty of opportunity for LeVert who is now the Nets' second-best player and should be in line for role increases on offense. He was a higher usage guy in the preseason (though Kyrie didn't play but one game) and I think the Nets work to stagger Irving's and LeVert's minutes to ensure a ball-dominant scorer is on the court at all times. Both the 2019-2020 scoring (13.7 ppg) and assists (3.9) should see major increases this season and he's coming too cheap for what should be significantly more opportunity.
Dwayne Bacon
FD - $3600 DK - $5300
Opponent -
CHI
Proj Pts FD - 22.31 DK - 22.49
I mentioned
Terry Rozier
as a DFS play on this slate and god help me, I'm going for a second Charlotte Hornet. Like I said, even bad teams can have fantasy guys. Bacon is locked into a starter role and was second on the team in preseason shots per minute after Rozier. While this isn't a 1:1 comp on the plan for the regular season, it's at least a sign that he'll see more of an offensive output than we've seen in the past. And we saw flashes of it near the end of the 2018-19 season when he had three-straight double-digit scoring games with double-digit shots in each. He won't add much in the assist or rebound category, but at the minimums on FD and DK we really aren't asking for all that much. Shooting guard is often a spot to go cheap and Bacon offers just a modicum of safety considering his role with the team.
Other thoughts
Jeremy Lamb
(FD $5800 DK $5800) could see some major minutes here for the Pacers in a new role. He's been a solid scorer in the past and rebounds the position well. The latter might not be there a ton with the Pacers going double big at the 4-5, but this new spot for Lamb could have him crushing fantasy value early considering Indy is without Oladipo.
If
Tyler Herro
(FD $3600 DK $4800) is starting for the Heat (and I think he will) then he could be the min-priced play instead of Bacon. Keep an eye on this news.
I'm also an
RJ Barrett
(FD $6000 DK $5900) fan to start the season considering the Knicks seem to want to play him a ton.
Small Forward

Gordon Hayward
FD - $6500 DK - $6000
Opponent -
PHI
Proj Pts FD - 34.31 DK - 34.93
Kyrie Irving
and
Al Horford
are gone and the Celtics are in something of a state of transition here. But they are still a very good team and there's a chance we see a step forward from Hayward to start the season. The biggest change here, a year removed from full rehab on the ankle, is the minutes stand to dramatically increase. Last year he played 26 minutes per game and his role was shuffled between the starting lineup and sixth man. That uncertainty is gone now and I think we see a return to low-30s minutes on lock. Remember, this guy was a 20 point per game scorer in Utah who also chipped in rebounds and assists. Maybe he doesn't get all the way back to those numbers but 12-13 shots per game, 40% from three and some other ancillary stats would have him easily outperforming these prices.

Taurean Prince
FD - $5000 DK - $4400
Opponent -
MIN
Proj Pts FD - 25.17 DK - 26.1
Two Brooklyn Nets to start the season? Only thing that could be worse for cash would be two Charlotte Hornets, right? Oh wait. Regardless, the Nets are another one of these new situations I think we can speculate on some right out of the gate. Prince came over in the
Allen Crabbe
trade and the Nets resigned him before the season. He'll start at the four for Brooklyn where they'll look to get him open looks from beyond the arc. He shot 39% from three last year with the Hawks and should see significantly better looks on this Brooklyn team considering how they run a ball movement style of offense. I do think the minutes stabilize some more for Brooklyn as well this season considering how they've built their team and are no longer working with a bunch of line change style rotations.
If
Isaac Bonga
(FD $3500 DK $3600) is in the starting lineup for the Wizards then he could make an acceptable punt play at the minimums.
Power Forward

Kristaps Porzingis
FD - $7700 DK - $8200
Opponent -
WAS
Proj Pts FD - 41 DK - 40.68

Maximilian Kleber
FD - $3700 DK - $4200
Opponent -
WAS
Proj Pts FD - 26.56 DK - 26.16
Porzingis will make his Mavericks' debut on Wednesday after more than a year of rehab on the knee and an exit out of New York. The is a much-anticipated pairing with
Luka Doncic
and Zinger looked, for all the world in the preseason, like he was fully healthy and ready to ball. In his last preseason game, against the Clippers, he dropped an 18 point 13 rebound line in 23 minutes. He and Doncic dominated the usage in the preseason with the starters and that should very much be the case to open the season. If you think he comes out of the gate with even moderated starter's minutes (31-33) then the
FanDuel
price is looking way too cheap. I suppose there's some *training wheels* worry with him starting the season considering how long it's been since he played in an actual NBA game, but the Mavs didn't signal any worries in the preseason. I think they let him loose and we should only see his price climb in the short-term.
Meanwhile,
Dwight Powell
is going to miss the start of the season which means we should get more minutes out of
Maxi Kleber
. Dude isn't a crazy fantasy contributor, and likely won't see a ton of shots in this offense, but he's coming cheap on both sites and does have a higher minutes floor because of the way Dallas uses him. As a starter last season, Kleber averaged eight points, five rebounds while adding some steals and blocks as well.

Markieff Morris
FD - $4300 DK - $3600
Opponent -
IND
Proj Pts FD - 26.32 DK - 26.89
Blake Griffin
is going to miss the start of the season as the Pistons take precautions around his knees. I think that leave
Markieff Morris
as the starter and he'll likely soak up a fair amount of those power forward minutes and shots as well. Morris has never been shy about getting the ball in the air and isn't likely to hold back here with the Pistons light on scoring options without Blake. With Washington last season, Morris averaged close to ten shots per game in only 26 minutes and definitely wasn't shy about chucking from three with more than four attempts per game in that time. Considering he's priced like Griffin is playing, I think we have a solid buy-low opportunity here on Morris who seems unlikely to kill you in this situation.
Center

Karl-Anthony Towns
FD - $11000 DK - $10100
Opponent -
BKN
Proj Pts FD - 55.11 DK - 57.13
Towns enters the season as one of the very best fantasy producers in the game even if it is sometimes lost to the masses because he plays on such an underwhelming team. The chicken or egg part of that isn't what we're here to debate though. For this slate, Towns makes about as good a pay-up option as possible. He'll face a Nets' team that was blitzed by opposing centers last season. They brought in
DeAndre Jordan
in the offseason but will start
Jarrett Allen
at the five. Towns averaged 24 points and 12 rebounds last season while also chipping in three assists and 1.5 blocks. He really does it all and shouldn't meet all the much resistance from the Brooklyn interior. The Nets allowed 11% more scoring and 9% more rebounding than league average to centers and, like I said, not much should change this time around. Towns should be something of a popular play on this slate considering some of the savings at other positions.
Dewayne Dedmon
FD - $5300 DK - $5100
Opponent -
PHO
Proj Pts FD - 30.61 DK - 29.83
Dedmon comes over in the offseason and will take
Willie Cauley-Stein
's spot at center for the Kings. It's a nice move by Sacramento, adding a stretch five to an athletic roster. I don't think the minutes will top 30 for Dedmon considering they'll likely play a lot of
Marvin Bagley
at the five, especially to close games. But Dedmon is coming at a nice, mid-tier price point for a guy who definitely has double-double potential and can range out from beyond the arc. He averaged a 10 point, eight rebound line in just 25 minutes a game last season and likely sees something of a pace (and skill) uptick from the rest of the lineup in Sac-Town. I definitely like Towns as the premiere option at center here, but Dedmon is a low risk pivot.
I actually like
Deandre Ayton
(FD $8500 DK $8000) quite a bit as well. I think the minutes become more stable this season and he now has a clear PG controlling the action. This could, for sure, be a buy-low spot.
GRAB A FREE TRIAL OF OUR PROJECTION SYSTEM, AND CHECK OUT DFSR PRO!
FREE EBOOK
SECRETS TO CRUSHING DAILY FANTASY FOOTBALL!
DON'T SET ANOTHER LINEUP BEFORE YOU READ THIS BOOK.